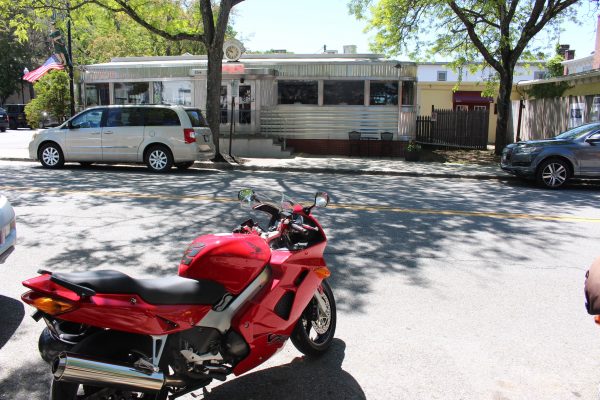 MILLBROOK, NY – If Goldilocks owned a motorcycle and had only a few hours to ride through the forest, she might say that the Catskills or Adirondacks are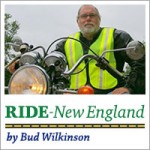 too far and that the usual haunts in Litchfield County are too near, but that the Duchess County village of Millbrook, N.Y. is just right for a pleasant ride and leisurely visit.
Easily accessible, low-key and offering diverse dining options, Millbrook is an upscale enclave that is best visited on a Saturday. That's because of the Farmers' Market that runs from 9 a.m. to 1 p.m. Saturdays from Memorial Day weekend through the end of the October. It offers much, much more than vegetables.
Riding buddy Bob Rosen and I visited Millbrook last year and were immediately taken by the trendy establishments on Franklin Avenue. With a population of roughly 1,500 residents, Millbrook is one of the most affluent towns in the state. The median family income is reportedly borders on $100,000, and it shows in the village's well-kept appearance.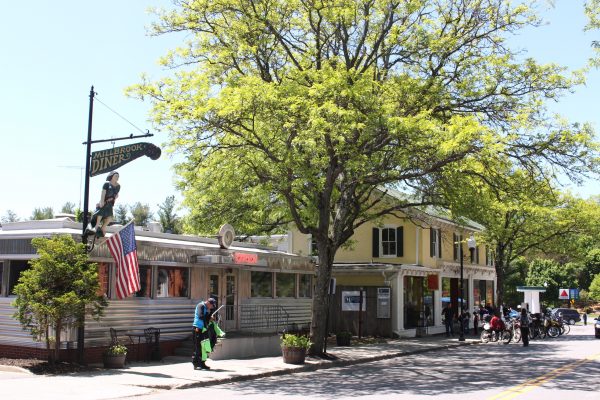 Having parked across the street from the Millbrook Diner, we immediately noticed a large group of motorcycles down the way and witnessed riders coming out of the diner. Just as truckers once knew of the best places to chow down in the days before Interstate highways, riders often know destination eateries. We took note, yet decided to first check out the Farmers' Market on the west end of the tree-shrouded main drag.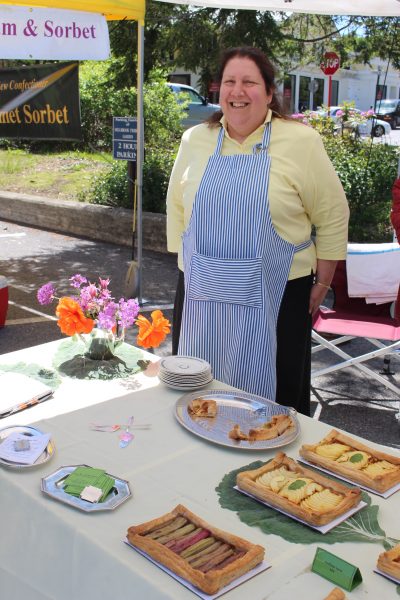 "It's the oldest Farmers' Market in Duchess County – going on 25 years," Kate Weiner later told me. Weiner's business is The Art of the Tart, a purveyor of both sweet and savory puff pastry treats. Weiner's previous career was as a magazine editor. She worked in Manhattan for such publications as "Life," "People," "Vanity Fair" and, for 11 years, "Town & Country." She started The Art of the Tart (theartofthetart.com) in 2007. "For me, it's been kind of a lifestyle. I want support local farmers," she said.
Her pastry contains no sugar, which enables her to use the same dough no matter what gets paired with it. What she uses "literally goes through the season. It starts with rhubarb with fresh ginger and toasted pecans. The spring savory tart is asparagus and cheese with scallions," she said. Fruit tarts include sour cherries poached in red wine and star anise and apricots poached in saffron syrup.
Weiner's tarts aren't inexpensive. A medium tart (10" by 6") is $20. A large tart (14" by 10") is $35. She recently began making tartlets (3" by 3"). They sell for $6 each. "People contact me during the week. They order tarts ahead of time. I tend to sell out," she said.
Nearby The Art of the Tart was a stand for Ruth's Southern Classic Desserts. Ruth is Ruth Anderson, who turns out all-natural pies, cakes and cobblers. Among the pie selections are sweet potato, pecan, buttermilk coconut, bean and lemon chess.
Some of the other vendors this year will be The Corgi Kitchen, Sol Flower Farm, Butchy's BBQ, Walbridge Farm and Aberdeen Farm, which has maple cream, a spreadable maple syrup candy. Meadowland Farm has grass-fed lamb, free range pork and rabbit. (That reminds me of the time that I had dinner with Wolfman Jack and he convinced me to try rabbit marinara.)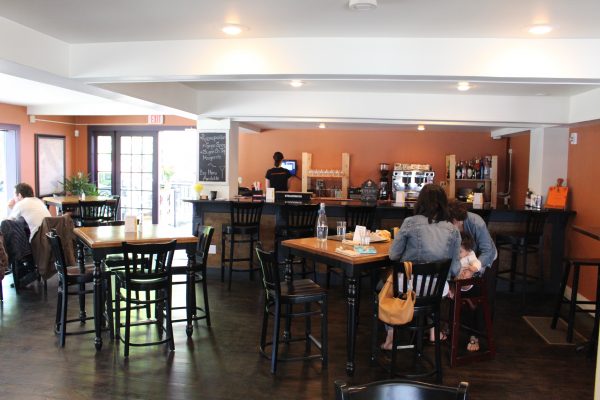 Bob and I managed to show some restraint at the Farmers' Market, but the tantalizing offerings did stir our appetites. We strolled back up Franklin Ave. in search of lunch. Bob noted the quality of Babette's Kitchen, a deli and caterer that he'd visited previously, but we instead opted to go a little more formal at Trattoria San Giorgio.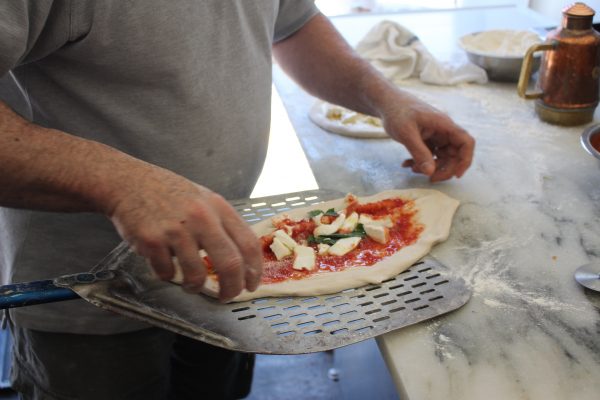 The house speciality is wood-fired pizza – with the oven and prep area in open view – but we went for penne al telefono ($12) and prosciutto panuozzo ($10). Both were tasty. Next time, though, we will have to try the pizza – or stop in at the diner to verify the opinions of other riders.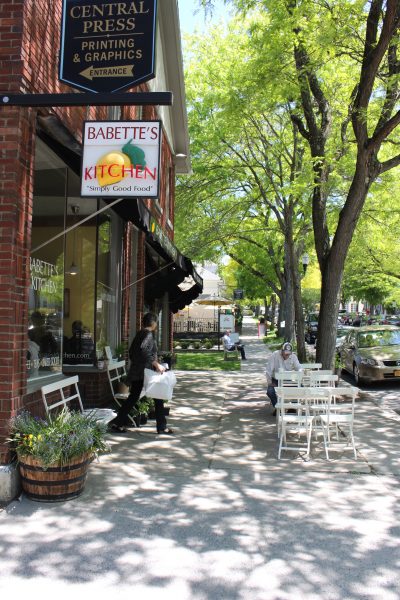 During our walk, we couldn't help but notice another "kitchen" near Babette's. It was Groomingdale's Dog Treat Kitchen, a doggie boutique featuring organic dog treats and dog ice cream. A sandwich board on the sidewalk out front touted "banana peanut barker" frozen yogurt. Why is it that pet owners pamper their charges so? Then again, why do some motorcyclists clean their bikes after every ride?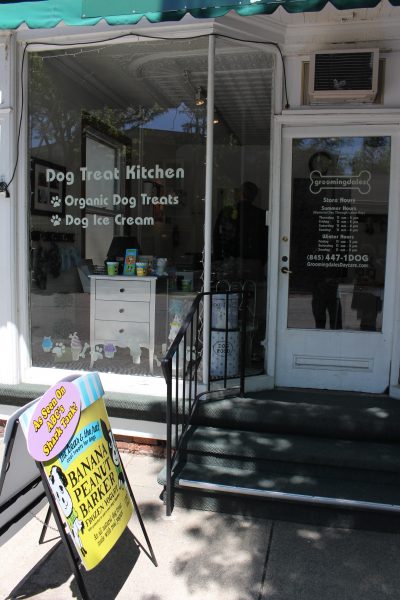 Millbrook is easy to locate. From northwestern CT, take Route 4 west from Goshen to Sharon, follow Route 343 to Amenia, N.Y. and keep going west on Route 44 until you see a sign for a left turn to Millbrook. From the north, take Route 22 south until you hit Amenia, then head west on Route 44. From the south take Route 22 north, go to Amenia and do likewise. Time permitting, the state roads surrounding Millbrook present a scenic and curvy allure either before or after a visit.
The only downside to going to Millbrook for me is the ride home on Route 44. The sharp, downhill left curve heading east on the hilltop above Amenia rattles my nerves. I feel like I'm riding on the deck of an aircraft carrier, looking out at the horizon, and am about the plunge off the bow. Hey, an excuse to take the long way home.