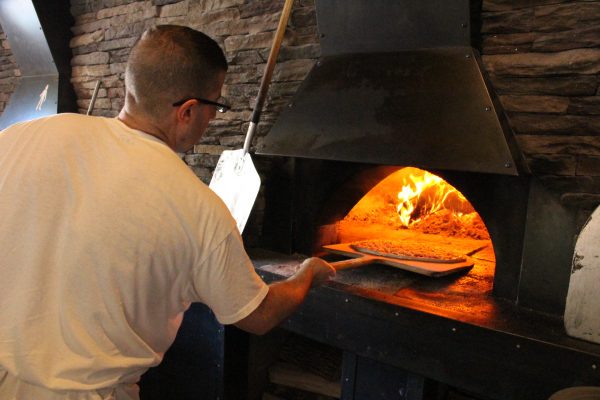 PHOENICIA, NY – Just inside the front door of Brio's Pizzeria & Restaurant is a wood-fired pizza oven. "Signature" and "Gourmet"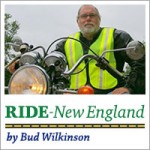 pies are the eatery's specialty, but riding companion Bob Rosen and I were in the mood for something else when the opening leg of a two-day ride through the Catskills last week put us here around lunchtime.
The Ulster Country hamlet, just off of Route 28, was relatively quiet, with only a few cars and motorcycles making their way up and down the main drag. It was a Harley-Davidson parked in front of Brio's at 68 Main St. that provided a beacon for some excellent food.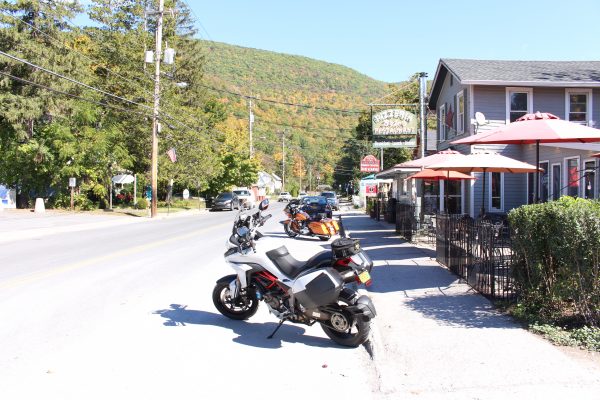 We found a table and quickly got to bantering with a friendly, attentive waitress, who warmly offered suggestions for potential roads to ride. After studying the expansive menu, Bob opted for one of the day's specials, curried chicken salad with dried cranberries and candied pecans, while I chose an apple, bacon and cheddar grilled cheese sandwich with roasted red onion mayo.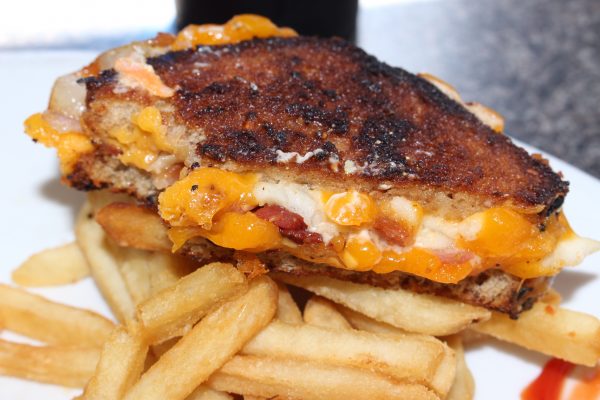 The hefty sandwich was exquisite, with the thin slices of apple adding flavor and texture. It came not only with French fries, but with a tasty macaroni salad side. Our lunches were so filling that we skipped sampling from a nearby display case filled with various custom cakes, including red velvet and chocolate mousse.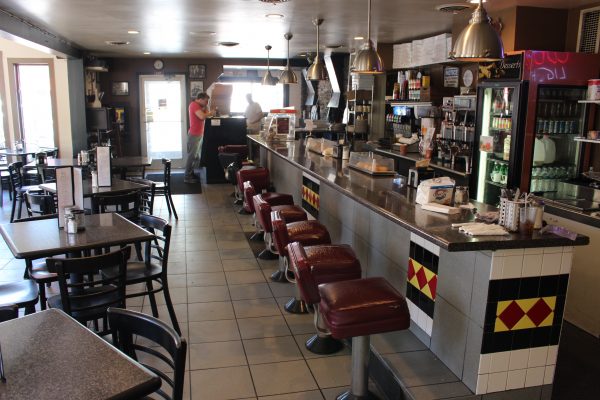 Having completed the satisfactory lunch, Bob and I walked Main Street and looked in shops. I briefly detoured across the street to investigate a playhouse at 10 Church Street having been lured by the masks of comedy and tragedy affixed high on the side of the building that is the home of the Shandaken Theatrical Society.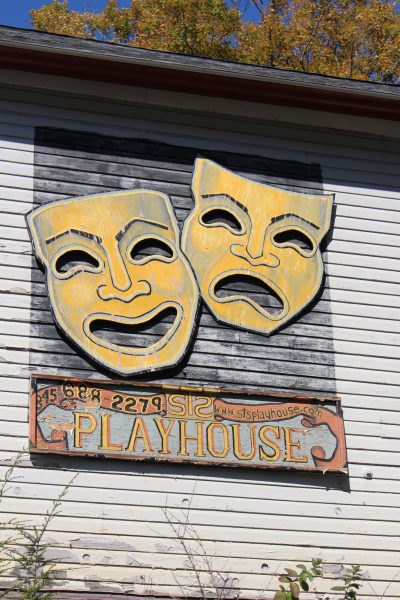 Formed in 1976, STS is celebrating its 40th anniversary. The non-profit has staged more than 80 full-scale productions over the years, drawing former professional actors, first-timers, college students and community theatre veterans to its intimate stage.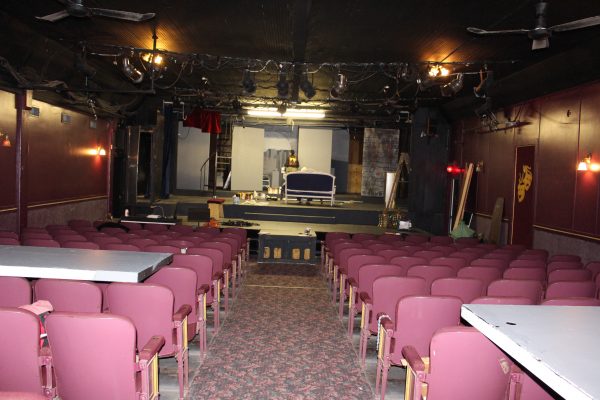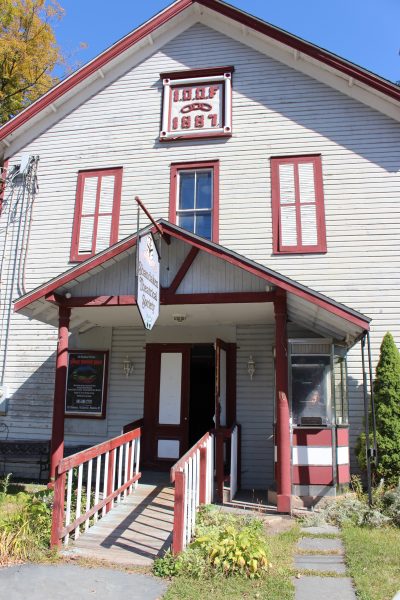 A girl in the box office allowed me to step inside and even found me a program from STS's most recent production back in July, "Oklahoma!" Up next is "The Rocky Horror Show," which runs from Oct. 14 through 30.
There was no time to do the "Time Warp," though. Bob and I got back on our bikes and headed out of town, going northwest on Route 28, then north on Route 42 into Greene County, east on Route 23A and south on Route 214, which brought us back to Phoenicia. We weren't in search of a second lunch. It was simply a picturesque 40-mile loop in advance of reaching our destination for the night in Woodstock, NY.
We'd return again to Phoenicia the next morning to retrace our route, this time heading north on Route 214 to Route 23A east and our morning goal of Hudson, NY, back across the Hudson River.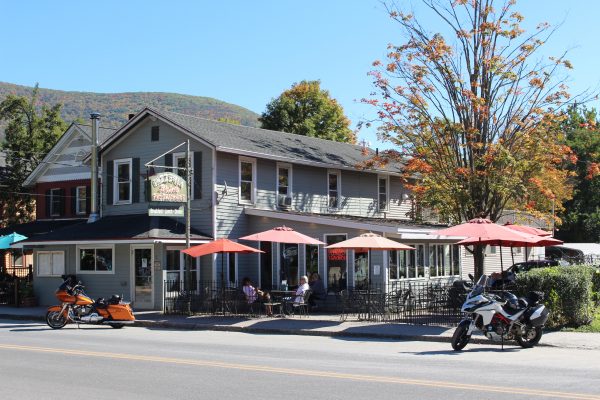 I do want to someday sample Brio's pizza. The "Signature" line features Seafood & Pesto (with shrimp, scallops and calamari); Broccoli Rabe, Sausage and Goat Cheese; and Santa Fe Chicken (with chicken, black beans, jalapeno, onions and cheddar). The "Gourmet" offerings include Grilled Eggplant (with roasted peppers and portabella mushrooms) and Wild Mushroom (with a sesame seed crust and truffle oil).
Fortunately, Phoenicia is close enough to northwestern Connecticut that a day trip is possible.