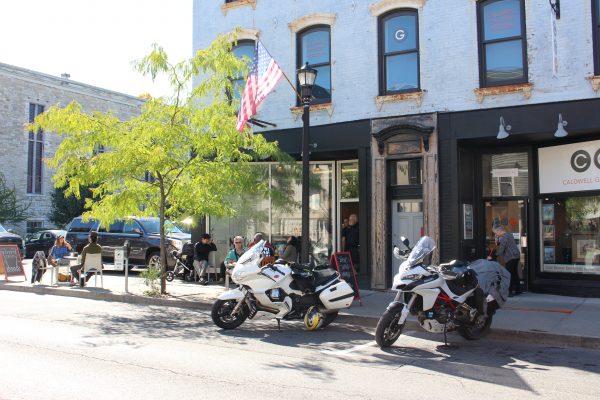 HUDSON, NY – Business is back to normal at Moto Coffee Machine. Java lovers in search of fall sunshine relaxed at sidewalk tables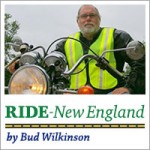 outside the coffee cafe, motorcycle apparel and repair shop, and used bike outlet at 357 Warren St. this week.
Inside, some customers gathered at their laptops at the food counter, while others perused the merchandise displayed on tables and hung on racks at the rear of the business, amidst the numerous vintage bikes that are for sale.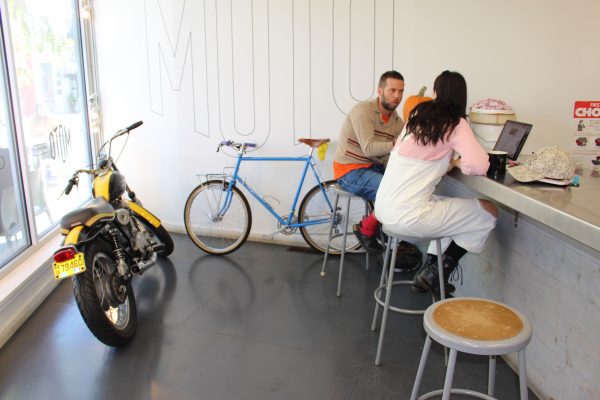 The calm atmosphere was radically different from three Fridays ago when a 94-year-old man whose BMW was parked in front inadvertently backed over a 1979 Moto Guzzi SP1000 belonging to Moto Coffee Machine owner Antony Katz and on to the hood of a Toyota. The BMW crushed the motorcycle and smashed the front of the Toyota before flipping on to its side.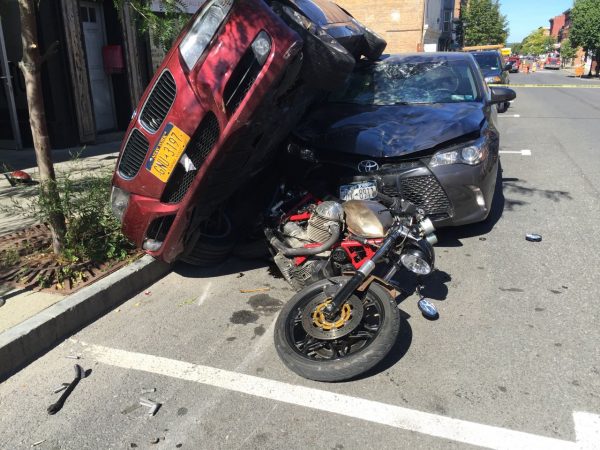 Katz was in the rear of Moto Coffee Machine when the accident happened. "I heard it happen. It sounded like Kate had dropped every plate," he said, referring to Kate Darling, who is chef in the establishment. He immediately looked to the front. "I see a sunroof through the doorway. It was very dramatic when it first happened."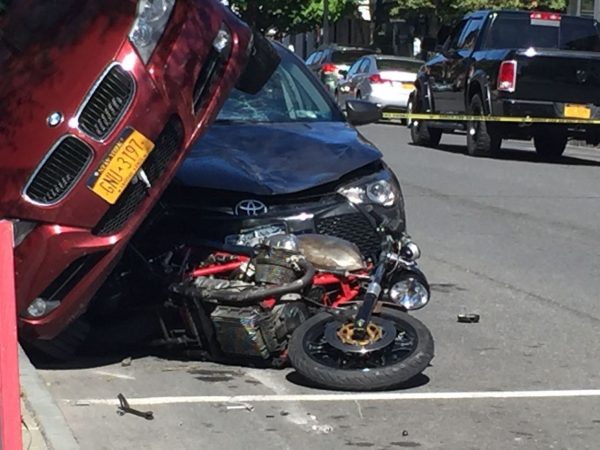 Police, fire and EMS personnel responded to the scene and Warren Street was shut down for more than an hour. No one was hurt, not even the operator of the BMW, but the accident got Moto Coffee Machine some attention in the local newspaper. "The poor guy driving," Katz continued, "it was his first accident ever."
The significantly-damaged SP1000 now rests in the shop portion of the store awaiting repairs. Katz has compiled a checklist of the damages, including a split valve cover, scratched and dented gas tank, and structural tweaks.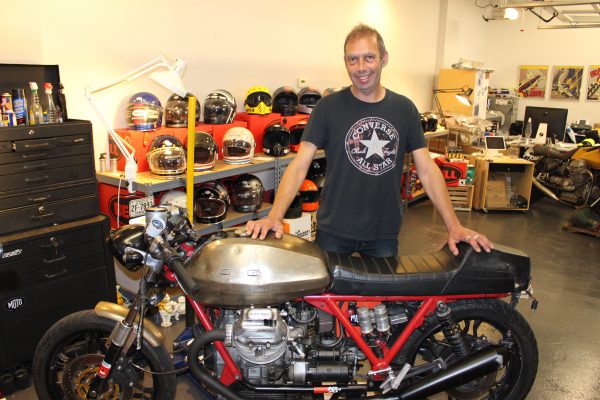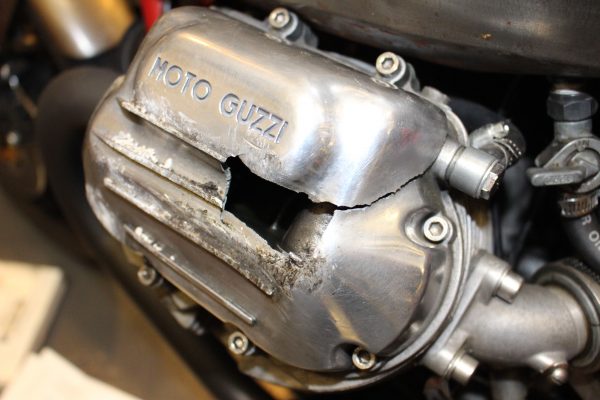 Predictably, Katz is now in a negotiating battle with the BMW driver's insurance company. NADA book value for the model in excellent condition is nearly $6,000, and that's what the underwriter is offering. The stumbling block is that Katz has put $9,000 in parts into the bike and 350 hours of labor. It terms of sentimental value, the SP1000 is priceless.
"It had been sitting in a barn for 10 years," he said of obtaining the bike. "It had been outside for three hours (when the accident happened). I was just about to bring it in to change the tires."
At least the new rubber wasn't damaged, and Katz does have the skills to make it roadworthy again.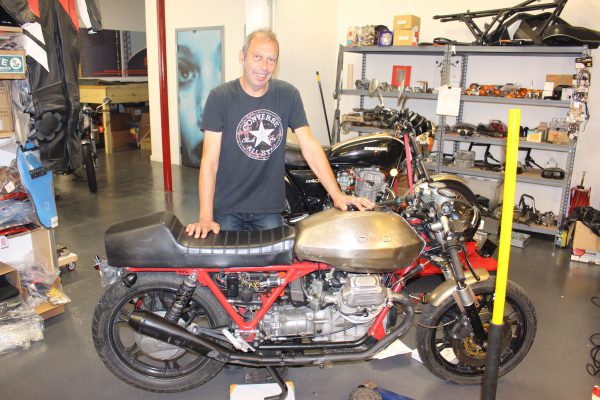 A native of London, Katz launched Moto Coffee Machine in May 2015 after having spent 20 years as a graphic designer. "I started building motorcycles as a way of getting away from the computer," he recalled. "Then one day I started thinking, 'Wouldn't this be great if this were my job?'"
The idea of combining a coffee bar/eatery with a motorcycle shop took him to Brooklyn to investigate a similar shop called Jane. The result was Moto Coffee Machine, which has become a destination for riders in the tri-state area.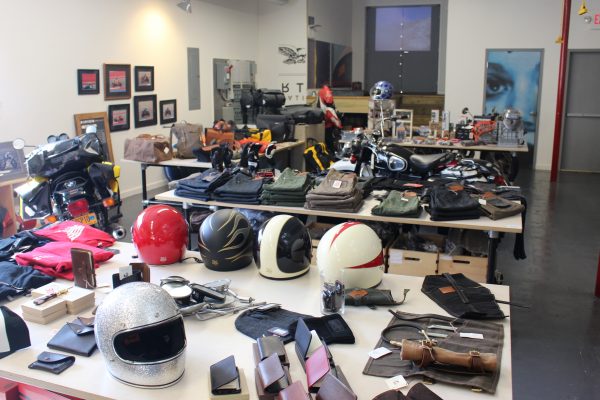 Katz assumed that it would draw motorcyclists from a 50-mile range, but that hasn't been the case. Its lure has been even more powerful. "People come from much father away than I expected. People ride 130 miles to just drop in, have a cup of coffee and chat," he reported when RIDE-CT & RIDE-NewEngland visited on Thursday.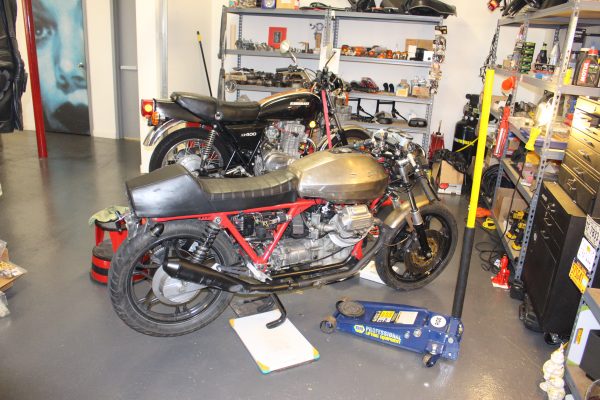 Starting the business has been challenging and expensive. Moto Coffee Machine stocks Bell helmets, Rev'It and Alpinestars riding jackets and gloves, and other apparel. "What I've learned is that it's really expensive to have a lot of inventory," he said, citing a $500 riding jacket that needs to be stocked in numerous sizes.
Katz said Moto Coffee Machine's customer base is split 50/50 between riders and non-riders, "but the riders spend a lot more money."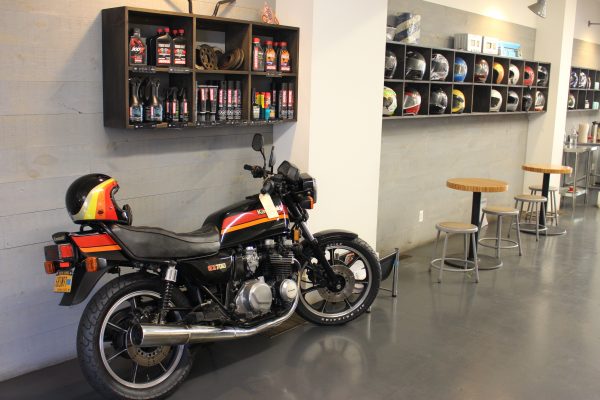 One drawback to having a combo shop is that the restoration of old bikes for future sale often gets interrupted by shoppers. "It's a slight challenge working in a public environment because you have to keep track of what's going on (when working on a motorcycle)," he said.
One item that Moto Coffee Machine doesn't have – and should – is a branded T-shirt for sale. It's a shortcoming that Katz attributes to his being "a graphic designer in remission. How idiotic is that?"
You can bet that will be corrected in time.