BETHEL, CT – Richard Schlansker of Amsterdam, NY has been riding motorcycles for 44 years. On Thursday evening, though, the 71-year-old retired engineer and rider admitted to some apprehension as he secured a new green and silver 2023 Moto Guzzi V100 Mandello to a trailer outside of Hamlin Cycles here.
"My last new bike was 30 years ago," said Schlansker, referring to a 1990 Ducati 750. His first new bike, back in 1979, was a Moto Guzzi SP1000 and he said he's owned about a dozen examples from the Italian brand over the years.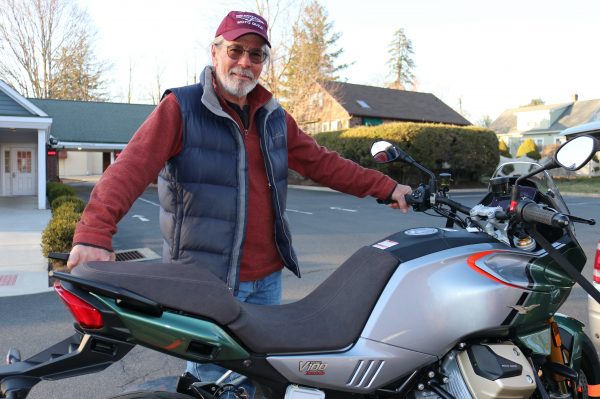 Schlansker ordered the V100 Mandello back in October on the day that Moto Guzzi made it available online. He reported being enticed by the model's 1,042cc, 115-horsepower, transverse-mounted V-twin engine and "by the fact that it's small. I'm a small guy" at five feet, eight inches tall.
The shaft-driven V100 Mandello weighs only 513 pounds when gassed up and has a 32.08-inch seat height. It has an MSRP of $17,490.
Schlansker's retrieval of his new motorcycle coincided with Hamlin Cycles hosting a "Fuel, Air and SPARK! Motorcycle Night" attended by local riders. Moto Guzzi enthusiasts from farther away also came to admire the new V100 Mandello.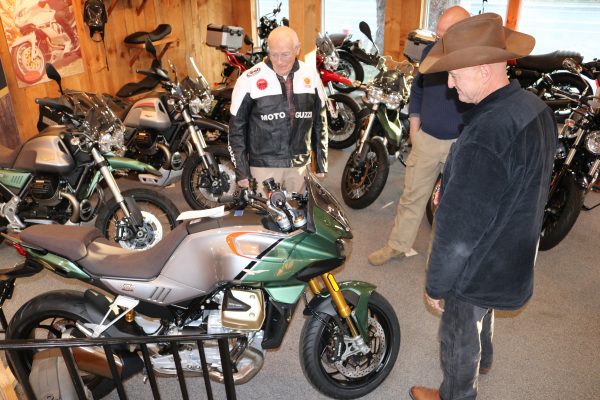 Steve Rossi of the Italian Motorcycle Owners Club came from his home in East Haddam, CT. "Every other Moto Guzzi up to this point has been an evolution. This is an all-new revolution for Moto Guzzi," said Rossi of the V100 Mandello.
"It's an all-new bike from stem to stern," he continued, noting the eagle badging on the gas tank and the transverse mounting of the motor were the only holdover elements. "It's a new era."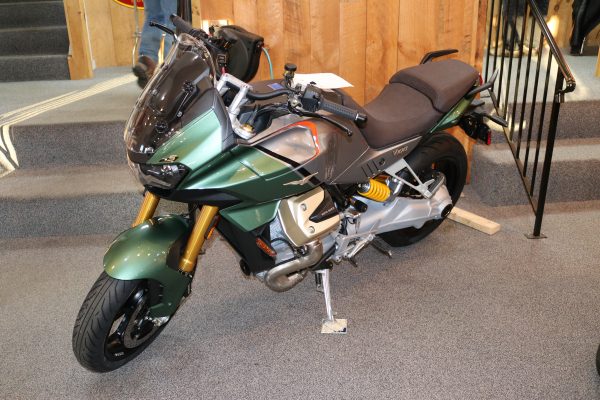 The first five V100 Mandellos arrived at Hamlin Cycles a little more than a week ago. Four were pre-sold and one was reserved for demo use. Two more pre-sold models will arrive shortly, according to Hamlin Cycles owner Jim Hamlin.
"For a new model, its has gotten more attention than any other Moto Guzzi in my (15-year) history with Moto Guzzi," he said, explaining that it gives the brand an entry in the sport bike market that it hasn't had since the disappearance of the Griso model in 2017. But with a difference as it has touring capability due to a comfortable and upright seating position.
As Hamlin noted to a visitor, "It's a sporty, modern bike that grown men like us can ride all day." He reported that some of the technology was cribbed from Moto Guzzi's sister brand, Aprilia. "It's really very Aprilia-like," he added.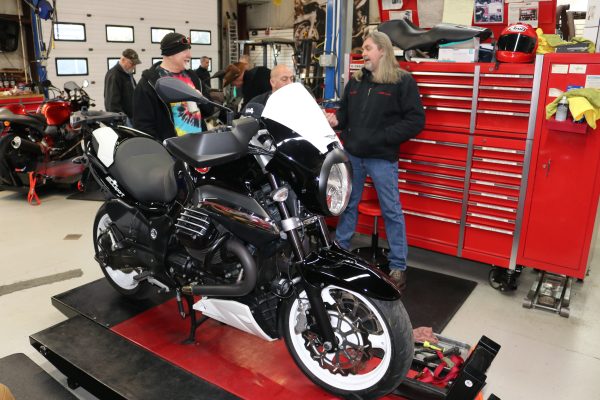 The V100 Mandello was first revealed by Moto Guzzi back the summer of 2021. While awaiting its arrival over the winter, Hamlin spent some time creating a one-off motorcycle in the dealership's shop. He dropped a 1,380cc motor from a Moto Guzzi Cailfornia into the frame and body of a 2008 Moto Guzzi 1200 Sport.
"It is ridiculous. It has so much torque," said Hamlin of his creation.