DES PLAINES, IL –  Motorcycle thefts in the U.S.. decreased in 2017 with a total of 44,268 being reported stolen, a drop of five percent from 2016 when 46,467 were reported taken, according to a just-released National Insurance Crime Bureau (NICB) study. The most thefts occurred in a July and August, with 4,951 each, with the fewest in December with 2,494.
New York topped the list of Top 10 cities for motorcycle thefts with 980, but that total was a 19 percent drop from 2016. NYC was followed by San Diego (846), Los Angeles (833), Las Vegas (583), Miami (575), San Francisco (568), Houston (424), San Antonio (413), Fort Lauderdale (350) and Philadelphia (342).
The top 10 states with the most reported motorcycles thefts in 2017 were California (7,532), Florida (4,323), Texas (3,525), South Carolina (1,732), North Carolina (1,632), New York (1,547), Missouri (1,409), Georgia (1,235), Indiana (1,204) and Arizona(1,057).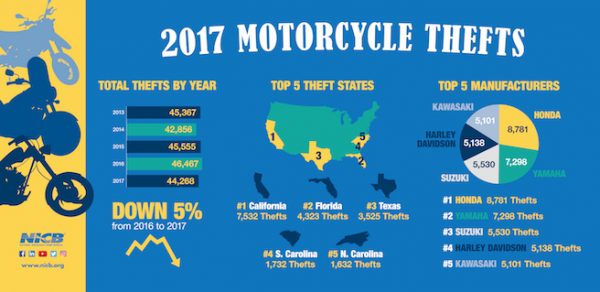 Among the New England states, four of the six states ranked in the Bottom 10. Massachusetts ranked 16th with 879, Connecticut ranked 31st with 528, Rhode Island ranked 41st with 170 and New Hampshire ranked 47th with 66. Maine and Vermont tied for 50th place with 27 thefts each.
Connecticut saw thefts decline by 26 percent in 2017 from 2016, while Maine dropped 25 percent. Vermont, though, was up 13 percent. The NICB report noted that motorcycle thefts in Hartford, CT were down 34 percent in 2017 from 2016.
The top 10 most stolen motorcycles in 2017 by manufacturer were American Honda Motor Co. (8,781 thefts), Yamaha Motor Corp. (7,298), American Suzuki Motor Corp. (5,530), Harley-Davidson (5,138), Kawasaki Motors Corp. (5,101), Taotao Group Co. Ltd (2,305), KTM (722), Genuine Cycle (532), Ducati (520), and Kymco (484).
Of the motorcycles stolen in 2017, NICB reports that 42 percent (or 18,553) were recovered, while 58 percent (or 25,718) were not.
The New England states faired worse than the national average in the recovery  of stolen motorcycles. In Connecticut, only 34 percent were recovered. In Maine, the total was 33 percent recovered. The other states were Massachusetts (31 percent), New Hampshire (30 percent), Rhode Island (33 percent) and Vermont (41 percent).
Only 26 percent of stolen motorcycles were recovered in the state of New York.
The NICB is the nation's leading not-for-profit organization exclusively dedicated to preventing, detecting and defeating insurance fraud and vehicle theft through data analytics, investigations, training, legislative advocacy and public awareness.
– By Bud Wilkinson