By Bud Wilkinson
There probably isn't a rider alive, and probably quite a few who are dead, who hasn't had a near-miss with a distracted driver. The U.S. Department of Transportation reports that 16 percent of all fatalities on the road in 2009 – 5,474 deaths in all – were the result of distracted driving. April is National Distracted Driving Awareness Month and the Motorcycle Safety Foundation has created a website for drivers to educate them about motorcyclists. Forcardrivers.com is the location. Perhaps it would be a good idea to forward the link to everyone you know who drives.
–
Had to go to New Canaan on Wednesday afternoon, so I took some time on the way home to drive up Route 7 and stop at Branchville Motors, the Triumph and Moto Guzzi dealer in Ridgefield. Having never been there before, I was impressed with the "feel" of the place. Motorcycles were packed together in the showroom and the service department was filled with old Triumphs, BSAs, Moto Guzzis and even some Japanese brands. While it was comfortably old-fashioned, the Triumph product line on the floor was fresh with new 2011 models. A Thunderbird Storm, Speedmaster and Tiger 800 jumped out. Good chatting with owner Alex Gifford and sales manager Jim Hamlin, too.
–
Harley-Davidson motorcycles may be one of this country's most iconic brands, but the claim of being totally "Made in U.S.A." may soon disappear. "Motorcyclist" magazine reports that outsourcing of production to India may become a reality, specifically on some smaller cc models. The mag reports that Harley-Davidson has confirmed that it "is developing a replacement for the Buell Blast. We have not provided specifics about the motorcycle currently in development, or the possible timing of its introduction." "Motorcyclist" suggests Harley may build two versions – one under 500cc and the other a 750cc version.
–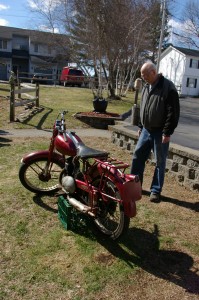 A quick plug for tomorrow's RIDE-CT column in "The Republican-American." If you've never heard of James motorcycles and are now curious having heard the name, well, check out the picture at the left and the column. The guy in the photo is the bike's owner, Mark Ruccio of Naugatuck, who is trying to get it back on the road. The 1958 James is a Commando model, a two-stroke single with right foot shifter and left foot brake and only some 2,100 miles on the odometer.