WINDSOR, CT – They've become somewhat of a colorful relic from the days before smartphones, but a wall calendar can still be a useful and attractive addition to an office, a workshop or a garage filled with motorcycles, especially if it's a motorcycle calendar.
Photographer and motorcycle collector Steve Cote of Brook Broad, CT has been shooting photos and producing calendars for the past "five or six years." His newest "Classic and Vintage Motorcycles" calendar is now out with a Ducati Elite 200 on the cover. Published by Tidemark Press here, it's available for $15.95.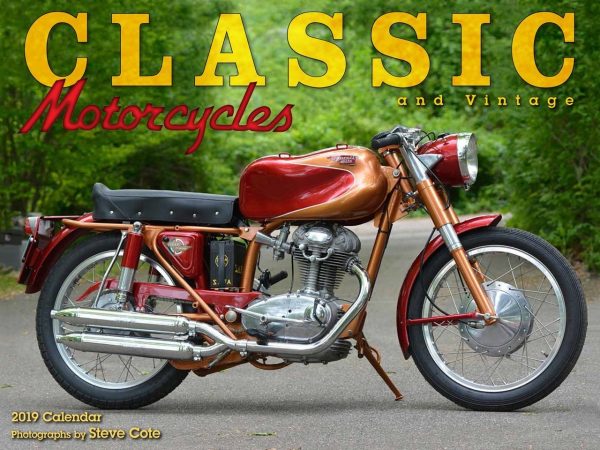 Not surprisingly, the picture of the Ducati is Cote's favorite this go-round. The 204cc, single-cylinder model was built between 1959 and 1965 and Cote admires its jelly bean tank. 
"I'm not very deep, I just like the way it looks," Cote said, reporting that the pic was snapped at a friend's house. "The lighting was nice. The background was nice. It just came together. It's just a neat looking bike."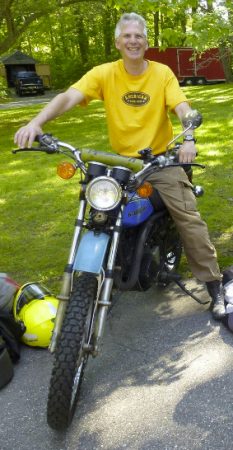 Cote owns "eight or nine, maybe 10" bikes himself. Five are registered – a 2006 Buell Ulysses, a 1974 Moto Guzzi Eldorado, a 1977 Moto Guzzi Le Mans, a 1972 Kawasaki F7 and a 1978 Honda XL 125. "The rest are projects, a couple of rusty Guzzi T3s and Guzzi mopeds," he said. 
Among some of the other brands in the new motorcycle calendar are a 1913 Harley-Davidson, a 1971 Honda CB450, a Henderson 4 and a Vincent Black Shadow. Cote amasses calendar candidates by attending motorcycle shows and getting tips from other riders and owners.
"I have very eclectic tastes, so I have to be careful what I think is interesting. I don't look for concours. If it interests me, I photograph it," said Cote, who got his first camera when he was a teenager. He's been shooting seriously for about 35 years. He's been riding even longer having his motorcycle license in 1976. His first bike was a Suzuki GT380.
Cote said he's probably bought and sold about 40 motorcycles over the last 40 years, which is fewer than the number that he's featured in calendars over the years.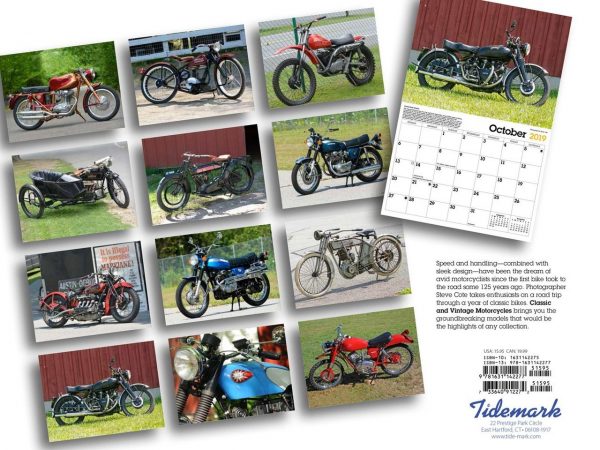 – By Bud Wilkinson