By Bud Wilkinson of RIDE-CT.com
BMW is marking 90 years of bike building by coming out with a hot new model. Unveiled today was the R NineT, a roadster powered by a 1,170cc boxer engine that puts out 110 horsepower. Shaft driven and with a six-speed gearbox, the NineT has a top speed of more than 125 miles per hour, yet promises 52 mpg using premium unleaded.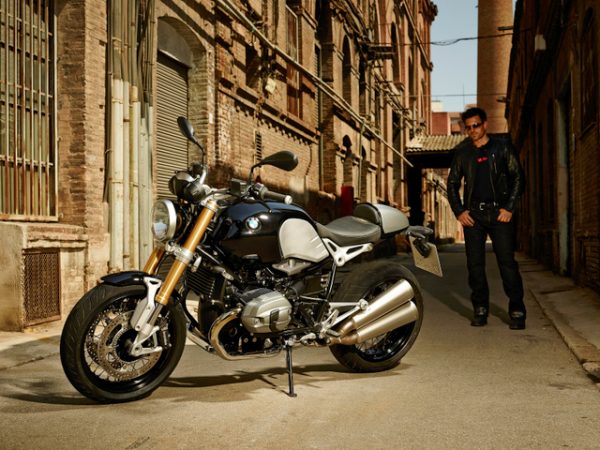 The dry weight of the NineT is only 489 pounds and it has a 4.8 gallon tank. BMW has designed the bike to make it easy to customize. BMW's web page for the NineT is here. And here's a video from BMW on the NineT:
—
Indian Motorcycle of Westfield, which isn't expected to open in the Massachusetts city for at least another two months, will have two 2014 Indians at its 962 Southhampton Road (Route 202/10) location available for test rides on Sunday and Monday. The hours are 8 a.m. to 6 p.m. both days. To reserve a slot to ride either an Indian Chief Vintage or Indian Chieftain, call 413-642-3846 between 9 a.m. and 5 p.m. through Friday.
—

Enterprise Rent-A-Car is getting into motorcycle rentals. It plans to stock a fleet of Harley-Davidsons at a new rental location in Las Vegas. Five models are currently available at 4517 W. Flamingo Blvd. with two more models to be added by the end of the year. All renters must have a valid motorcycle license. Enterprise will provide renters with helmets free of charge as Nevada law requires that all rider wears helmets. To book, click here.
—
On the subject of Harleys, H-D is recalling some 25,185 Touring motorcycles for the 2014 model year to address a serious issue with the hydraulic clutch system. Here are the details from the press release issued today:
Harley-Davidson is acting quickly to address potential safety issues by voluntarily recalling certain 2014 Touring motorcycles equipped with a hydraulic clutch system that may pose a safety issue for riders and/or passengers. The recalls include a Do Not Ride notice to owners and a Do Not Deliver notice to Harley-Davidson dealers until the motorcycle is fixed.
"The safety of our customers is our highest priority," said Tony Wilcox, Harley-Davidson General Manager of Motorcycle New Product Delivery. "We have identified potential safety issues and are moving quickly to notify our customers and dealers. The inspection and repair of these motorcycles is extremely important, so it's critical that our customers with affected vehicles contact their dealers immediately. We apologize for this circumstance. The company is committed to correcting the issues and providing customers with the quality experience and service they expect."
The recalls affect 25,185 Touring motorcycles, models FLHTCU, FLHTK, FLHTP, FLHX, FLHXS, FLHTKSE and FLHRSE, and 3,861 Softail® CVOs and Trikes, models FLHTCUTG, FXSBSE and FLSTNSE, built between May 3, 2013, and Oct. 14, 2013.  
Some of these motorcycles may exhibit a condition in which the hydraulic clutch system may lose the ability to generate enough lift to disengage the clutch.  If the clutch does not disengage as intended, the rider may have difficulty slowing or stopping the motorcycle, which could result in an accident. Harley-Davidson has initiated these recalls to correct the affected motorcycles. 
The company is taking the additional measure of issuing a Do Not Ride notice to riders given the potential safety issues. The company wants owners of affected motorcycles to contact an authorized Harley-Davidson dealer immediately to arrange for an inspection. The dealer will pick up, inspect and make the necessary repairs at no cost to the owner. The repairs have been identified and should take less than one hour.