The number of COVID-19 cases traced to the recent Sturgis Motorcycle Rally continues to grow. More than 100 cases in eight states have now been traced to the 10-day rally in South Dakota that drew 462,182 attendees.
In addition to previously reported cases in Nebraska and South Dakota, The Hill reports that 103 total COVID-19 cases have now been linked to Sturgis, and include the states of Minnesota, North Dakota, Wisconsin, Montana, Washington and Wyoming.
CNN reports 35 infections have been found in Minnesota and 17 in North Dakota.
Camber Systems, which collects and analyzes cell phone activity for health researchers, has determined that 61 percent of counties in the U.S. have been visited by someone who was at Sturgis. The AP has more.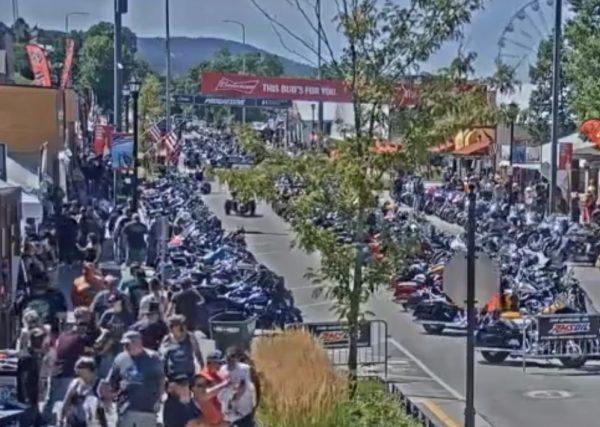 "Thousands of people attended that event, and so it's very likely that we will see more transmission," said Kris Ehresmann, infectious disease director of the Minnesota Department of Health, on Monday.
Prior to the Aug. 7-16 rally, health officials warned that it could potentially be a "superspreader" event. Despite the fact a majority of Sturgis residents opposed the rally, local officials opted to hold it because they felt there was no way to prevent bikers from showing up.
"As a city, there's nothing we could do, we're not able to put up roadblocks and say, 'You can't come in,'" said city manager Daniel Ainslie.
"And it was quite obvious that we were going to have a lot of people here, even if we didn't call it the rally. The issue is if we did not officially sanction it as a rally, then we would not be able to prepare for it."
Meanwhile, motorcyclists are now gathering in New Hampshire for the 97th annual Laconia Motorcycle Week, which began Saturday and runs through Sunday.
(Updated at 2:45 p.m. to add link to story by The AP.)
Hello! If you enjoyed this story, please share it by clicking on the social media buttons below.