By Bud Wilkinson
A story in today's "Mirror" newspaper in the U.K. tells of a company called Shaw Speed and Custom, which specializes in customizing Harley-Davidsons, including the one pictured below. It begins:
"CUSTOMISING has always been a big part of the Harley-Davidson experience. There is an old joke which says that the Milwaukee firm's parts and accessories catalogue is a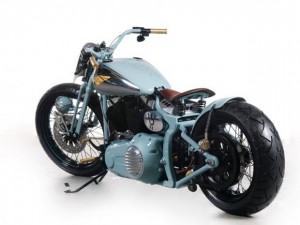 bigger read than 'War and Peace.'
Personalising your bike, making it unique to you, whether for extra comfort, improved performance or simply for looks, is all part of the ride. This includes everything from simple add-ons such as a different seat or changed exhaust to chopping and altering the frame, changing the bodywork or adding a huge, fat rear wheel.
Tucked away in the deepest East Sussex countryside is one of the most successful motorcycle dealers in the UK. Shaw Harley-Davidson has been trading since 2002, when owner John Shaw decided to swap lawnmowers for a different type of machinery…"
The full "Mirror" story may be found here. The link above takes you to a review in the "Mirror" of the Harley Road King Classic.
—
Dates have been set for some always-fun motorcycle meets in New England:
– The British Iron Association of Massachusetts will host its 24th annual British Motorcycle Show & Swap Meet on Sunday, May 25 at the Singletary Rod & Gun Club in Oxford, MA. 
– The annual IMOC rally staged by the Italian Motorcycle Owners Club will be held Sunday, Sept. 14 at the Hamilton Rod & Gun Club in Sturbridge, MA.
—
Might Yamaha be planning a smaller sport-touring model than the FJR1300?
Visor Down reports that Yamaha applied to trademark the name "FJ-09" in the U.S. back on Feb. 25. The "FJ" designation has historically been used by the brand for tourers, suggesting perhaps a touring version of the FZ-09 and using its 847cc, triple-cylinder power plant.
—
Despite the horrid weather in much of the country, BMW reported an 11 percent increase in sales in February 2014 over February 2013. The company sold 935 bikes in the U.S. this year compared to 842 last year.
—
Are open-face helmets essentially worthless? It's a question that bears more research following a new study in Brazil  and an article titled "How Safe Is Your Motorcycle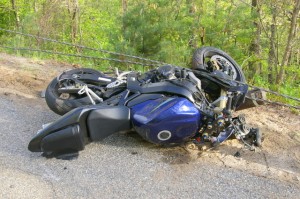 Helmet?" in the March issue of the "Journal of Oral and Maxillofacial Surgery."
A team of researchers studied the ability of two helmet types – full-face and open-face – to decrease the incidence of head and facial injuries among riders:
"A total of 253 motorcyclists who had sustained these types of injuries—many of them with facial fractures and traumatic brain injuries (TBIs)—were referred for outpatient treatment. Of this number, 46 reported having used full-face helmets, 51 reported having used open-face helmets, and 156 reported having used no helmets at all.
While no significant differences in injuries were noted between the open-face helmet users and the unhelmeted riders, those who had used full-face helmets were found to have suffered substantially fewer head and facial injuries. These results led the researchers to conclude that full-face helmets offer more protection and to recommend further investigation into helmet types and the quality of protection they offer."
The results of the study concluded, "A large percentage of motorcyclists had facial fractures and TBI, and crash helmets did not always offer adequate protection against craniomaxillofacial injury, especially open-face helmets."
—
The New York rider who ended up paralyzed after a SUV driver fleeing from a biker gang  rode over him on the Henry Hudson Parkway last September said on this morning's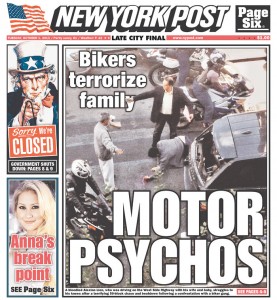 "Today" show that he doesn't blame the driver, Alexian Lien.
"I don't blame him. At the end of the day, I'm not him to know what was going through his mind," said Edwin Mieses, who suffered nine broken ribs, a severed spine and a torn aorta.
The "New York Daily News" has the story here, while the "New York Post" has another version here.
—
Sponsored by: