An enormous black-and-white photo showing the inside of the BMW motorcycle factory in Germany as it was in November 1923 adorns an end wall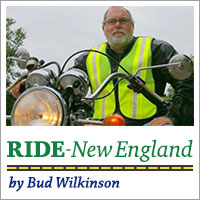 of Peter Nettesheim's private museum on Long Island. In the picture, perched atop wooden tables and surrounded by serious-looking workers clad in overalls, are early R32 models in various states of assembly.
The R32 was BMW's first production motorcycle. The company built 3,000 of the 494cc machines between that the fall of 1923 and 1926. Only 40 exist today and Nettesheim owns nine of them, including "the oldest BMW in the world." When he says "oldest BMW," he means motorcycle or car, and that specific R32 is on a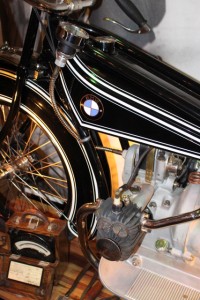 one-year loan to the BMW Museum in Munich.
Looking at the photograph, and having my eyes drawn to actual R32s displayed in front of it, it was impossible not to be awestruck by the motorcycle history before me as Nettesheim provided a guided tour earlier this month. He reported that BMW made only 10 R32s in October 1923, a number that jumped to 20 in November 1923. Knowing the production numbers of his bikes, he said that there was a "50/50 chance" that at least one of his bikes before us was in the picture.
Nettesheim, who is a Freightliner truck dealer by profession, starting collecting BMWs in the 1970s. He now owns every model made between 1923 and 1970 and many newer BMWs as well, more than 100 motorcycles total. He has constructed a two-structure museum at his home in a quiet residential neighborhood of Huntington to showcase them. It's not open to the public; only by invitation, and only to motorcycle enthusiasts who appreciate history. "This is my passion," he said.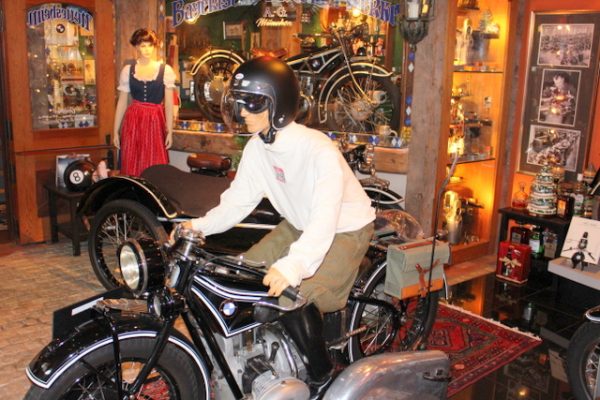 From the street, there's no clue of the collection housed on the two-acre property. The wing attached to the house is where the picture is located, along with displays for specific
models, such as a 1937 R5 and a 1965 R69S. There are R16s and even a 1921 Victoria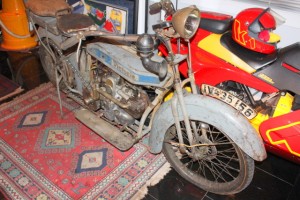 KR1, another German brand that pre-dates BMW but which used a BMW motor. The Victoria is parked beside a 1988 BMW K1.
The décor is woody, with a nod to medieval Rothenburg. Thick shelving is made of anigre from African. Oriental rugs cover the granite floor. There are plush couches and a bar, and a Bridgeport milling machine in an alcove. The walls behind the Bridgeport are covered with BMW-specific tools from the 1940s and 1950s.
Tucked on a shelf in a corner near the R32 area is a gray cooking pot with a lid. "The only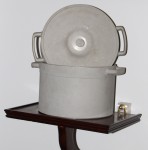 1946 BMW in the country," Nettesheim said of the pot before explaining that while BMW made motorcycles during World War II, production stopped in 1945 and didn't resume until 1948. In a country devastated by Allied bombing, other items were necessary and BMW adapted to the circumstances. "They made pots. That's what people needed back then," he said.
Before the tour moved to the two-story barn in the backyard, Nettesheim detoured to a temporary shed adjacent to the addition to the house to show off a recently acquired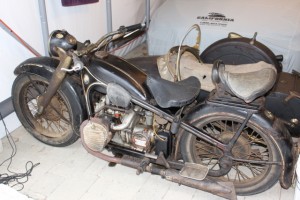 1936 R12 with sidecar, a model he termed "very reliable." The bike had a splendid patina and kicked over, if only briefly, despite the cold weather. "I wanted something old and original that I can knock around on," he said.
Unlike many BMW owners, Nettesheim isn't a road warrior. "Not a lot," he replied when asked how much he rides, "but I ride." About 60 of his bikes are registered and he
rides each one of them to the inspection station as inspections are required in New York. And he thoroughly enjoys it when other riders take notice of his vintage bikes. "You stop somewhere, everyone knows it's special," he said.

Like the elegant showroom out front, the barn in the rear is also packed with bikes. Counters are filled with motors that are being rebuilt and the upstairs is filled with shelves and cabinets packed with vintage parts, all of which are logged on a computer. Nettesheim does all his own work. "I learned from the school of hard knocks. I made all the mistakes," he said.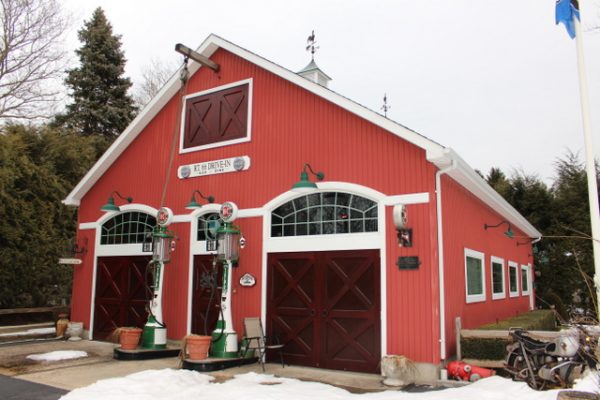 All of his vintage bikes were obtained in Germany, while the newer ones were located in the United States. Part of the skill in bringing an old bike back to life is in knowing what's good and what isn't when initially assessing a bike. "It's almost like an art," Nettesheim said.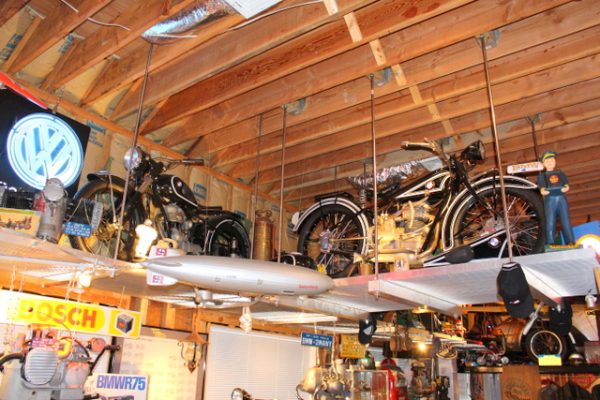 And, like works of art, many of his bikes are extremely valuable; worth into six figures apiece. He acknowledged sometimes paying top dollar for his acquisitions. "I paid the highest price at the time. Of course, today it's worth six times what I paid. My passion isn't the hunt. My passion is having it," he said.
In truth, though, Nettesheim's real passion is sharing his knowledge of BMW's past while preserving its history for riders to appreciate.