As the BBC reporter notes, the weather was clear and the road surface was dry, yet British rider Jack Sanderson ran off the road on a notorious section of the A457 in the Derbyshire Peak District, crashed and toppled down a 40-foot embankment. A Go-Pro camera attached to helmet shows what happened, and a BBC story tells more:
Most definitely a case of rider error, and a lesson to the rest of us.
—
On the subject of comments…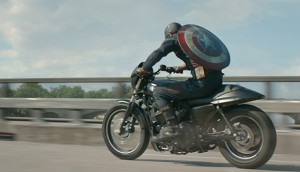 Have you seen "Captain America: The Winter Soldier?"
If you have, any thoughts on the Harley-Davidson Street 750 that the title character rides?
Did the flick raise your interest in the model?
—
Finally, think of how fast the weekend chores could get done if you owned the lawmower that Honda recently took to Spain. In a video posted April 1 on YouTube, Honda shows off its 97 horsepower riding mower and sets a world record by topping 116.57 miles per hour: