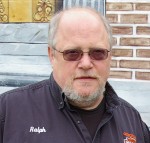 Ralph DeLuco has a longer commute to work from his Simsbury, CT home. The former owner of Canton Cycles in Winsted has left the job that he held for the past few years – service manager at Gengras Harley-Davidson in East Hartford – to become general manager of Springfield Motorsports across the border in MA.
In a Facebook post, DeLuco described the move as "off to bigger and better." The new job has resulted in his stepping down as co-host of the Internet radio show and podcast "Those Diner and Motorcycle Guys," which he has done with Garrison Leykam.
—
Zero Motorcycles is recalling some of its 2014 SR, DS and FX motorcycles manufactured in late 2013 and earlier this year due to a possible manufacturing defect which may result in the rotor touching the stator. The consequence is that the motor could seize and the rear wheel lock up. A fix, if necessary, will be made free of charge. The NHTSA website has the details here.
—
The British motorcycle site Visordown.com reports that Yamaha has trademarked the names "R1M" and R1S" in the U.S., suggesting that higher-spec versions of its RI sport bikes are on the way.
– Bud Wilkinson