By Bud Wilkinson of RIDE-CT.com
Pardon the brief absence. Life intruded…
Alpinestars has devised a motorcycle suit with built-in air bags that deploy and protect riders who crash. Already available in Europe for the equivalent of $8,500, it's expected to be on sale in the U.S. next summer. "The New York Times" has more details here.
—
The Boston ice cream store chain Emack and Bolio's is now selling a $24.95 ice cream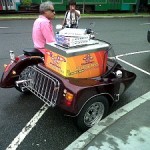 pizza – brownie crust, vanilla ice cream, hot fudge and more – and, for $3 more, customers can have it delivered on the "Cosmic Cruiser." The cruiser is a customized Victory with a sidecar that contains a freezer so the pizzas don't melt on the way to the customer. The picture shows Emack and Bolio's founder, Bob Rook, who said the Cosmic Cruiser cost way more than than he expected. It's way cool, though. You can read more about it here.
—
In case you missed it, as RIDE-CT did, the higher fees and taxes that went into effect in Connecticut last month included motorcycles. The cost of a two-year motorcycle registration increased from $40 to $42. The cost of a six-year driver's license got bumped from $66 to $72.
In what might be good news for riders, provided drivers take note and law enforcement agencies do their jobs, the fine for using a cell phone or texting while driving went up, too. The fine for a first offense went from $100 to $125. For a second offense it rose from $150 to $250. The fine for subsequent offenses went from $200 to $400.