By Bud Wilkinson of RIDE-CT.com
Some major details, such as price and availability of parts, are still being worked out, but bike builder Dave Perewitz of Perewitz Cycle Fabrication in Bridgewater, MA and Royal Enfield have teamed up on an accessories project that will enable owners of the 500cc C5 models to convert them into semi-custom bobbers.
Perewitz took a Bullet Classic C5 model and transformed it for the Progressive
International Motorcycle Show in New York. He changed the front wheel, modified the front fender, and shortened the front end. He added a mini ape-hanger handlebar, a low seat and new exhaust pipe as well as shortened the rear fender and changed the turn signals. Of course, there was a new paint job for the tins.
(Courtesy: Perewitz Cycle Fabrication)
The plan now is to make all the parts available to any Royal Enfield owner who wants to do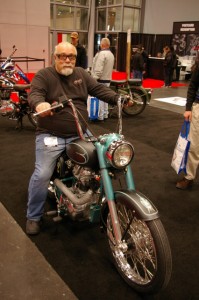 a similar conversion. "I want to make it as simple to duplicate as possible," Perewitz told RIDE-CT at the IMS. "You can buy any parts of the kit at any time." What this means is that a conversion can be done gradually; based on an owner's available cash and available time. "I wanted to make it used-friendly," Perewitz said.
Perewitz said he expects to have the parts available by late spring. What hasn't been determined, according to Royal Enfield vice president of sales Ron Greene, are what the parts will cost and how they will be made available to customers. Nonetheless, it's a cool idea and an easy way to turn a stock Royal Enfield into a two-wheeled statement.
Greene also reported that interest in Royal Enfield, which is based in India, continues to grow. He said dealers that once sold eight bikes a year did upwards of three times that many in 2011.