By Steve Smith of RIDE-CT.com
One recent Saturday, the service manager at Libby's Motoworld in New Haven just by chance happened to notice that the tire pressure appeared low on a visitor's '74 Honda CB750 Four. The incident provides the rest of us a reminder that under-inflated tires are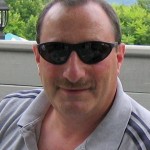 the most common cause of tire failure.
Since we only have two of them between our bodies and the road, it is always a good idea to give the tires a quick inspection, including checking pressure, before each ride.
As if almost on cue, the Motorcycle Industry Council recently announced they are offering an in-depth tire guide to the motorcycling community. Developed in conjunction with leading motorcycle tire manufacturers the guide assists motorcyclists with tire selection, inspection, maintenance and more.
Not only does the MIC Tire Guide help riders choose the correct tires for their particular motorcycle and riding style, it also provides information on proper inflation, the hazards of overloading a motorcycle, and recognizing when it's time to replace tires.
The guide helps riders better understand and utilize sidewall information. It also includes color photos, technical diagrams and charts outlining speed and load ratings. There are tire-mounting suggestions, a primer detailing the differences between how motorcycle tires and car tires work, and tips for dealing with a tire failure. Finally, a Tire Replacement Log and a Load Limit Calculator are added for convenience.
Individuals can visit the Motorcycle Industry Council's web site for more info.