It's one thing for riders in New England and the Hudson Valley of New York to travel to midtown Manhattan for a motorcycle show at the Jacob K. Javits Convention Center, as they have for years up until the COVID-19 pandemic interrupted the show in December, but having to traipse all the way to Brooklyn is a bridge too far.
That's conclusion of the latest reader poll on RIDE-CT & RIDE-New England. Nearly 75 percent of those casting ballots expressed reservations about attending the reconstituted IMS Outdoors tour that is scheduled to visit Brooklyn in September.
Brooklyn Is Just Too Far
The largest percentage of voters – 41 percent – said Brooklyn is simply "too far, too inconvenient to bother attending."
An additional 22 percent said Brooklyn is "a bit of bridge too far, which has me debating whether it's worth it to go."
Another 10 percent said they'll instead go to the IMS Outdoors tour stop in Carlisle, PA the week after the Brooklyn stop. The Brooklyn tour stop is set for Sept. 3-5, while the Carlisle stop is Sept. 10-12.
Only 26 percent of voters said the as-yet-unannounced location in Brooklyn is "not an issue. I'll be there."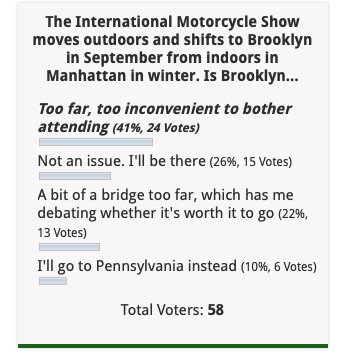 The poll ran for nearly five weeks – from Jan. 3 until this evening. Turnout when compared to other polls was low.
In response to the pandemic, the promoter of the Progressive International Motorcycle Show made the decision to scrap the indoor show circuit and instead plans a 10-stop series of outdoor shows in 2021.
The new IMS Outdoors will continue to show new motorcycle models and offer familiar displays, but the scope will be expanded to include local artisans, musicians and craft food and drink.
New Poll Asks If You Plan To Buy A New Bike
A new poll has now been posted. It asks riders whether a new motorcycle might land in the garage this riding season. After all, the pandemic has altered lives and forced social distancing, and motorcycling is a great way to be safe and boost one's mental health.
In some cases, the pandemic has also curtailed spending, resulting in money being available to buy a new motorcycle.
Vote now! The poll is posted atop the upper right-hand column of every page on this website.
The website's polls are non-scientific and conducted just for fun and out of curiosity. They run for no set period, from a couple of weeks to a month or more. If you have a suggestion for a poll question, please email budw@ride-ct.com.
Hello! If you found the latest poll to be fun, please help boost balloting on the new poll. Share this post by clicking on the social media buttons below.