COLEBROOK, CT – Route 8 in Connecticut runs north-south from Bridgeport on Long Island Sound to Colebrook at the Massachusetts border. Before the flood of 1955, it was a narrow, winding road with numerous cities along the way. After the flood, dams were built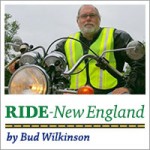 on the Naugatuck River to prevent another catastrophe and a divided replacement highway was constructed on higher ground from the shoreline to Winsted.
North of Winsted, where a dam was built on the Colebrook River to create a 750-acre lake, Route 8 got shifted to  the west and the original road became submerged. That is, except during periods of extreme drought or when the water level of Colebrook River Lake is purposely lowered.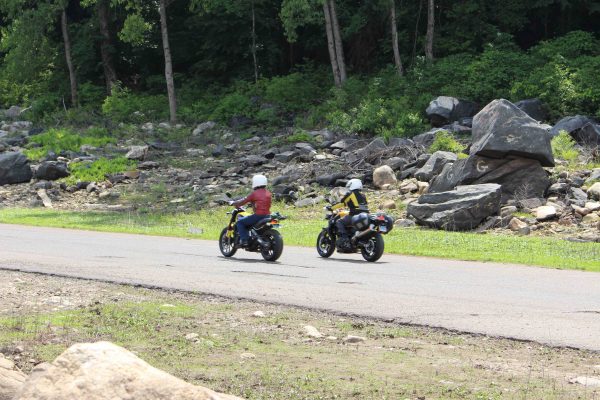 Last year, news stories told of how the drought conditions had exposed a long hidden iron bridge. The bridge is now back under the water, but old Route 8 is still passable, especially by motorcycle. It presents an interesting alternative for exiting Connecticut and entering Massachusetts.
There are no speed limit signs. In fact, there's no signage at all. There are potholes and sandy patches, though, which require focused navigating – better done on a smaller sport or adventure model than on a heavyweight cruiser. Along the way are places to stop and observe the wildlife. Yesterday, blue herons, ducks and geese were prevalent.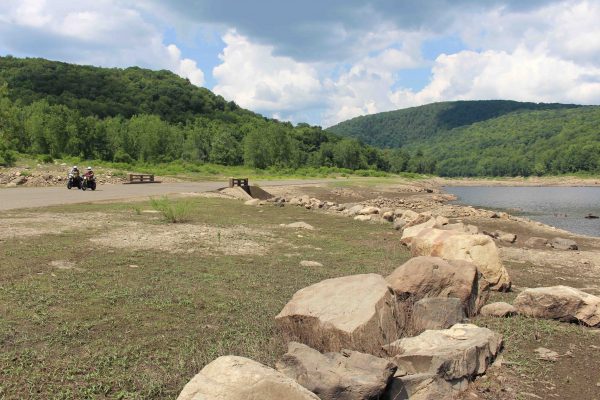 Upon entering Massachusetts, there's an old pull-off/rest area similar to the one on the resituated Route 8. Northbound riders today use it to strap on helmets to be in compliance with Massachusetts' helmet law. Was the old pull-off used for the same purpose? Did Massachusetts even have a helmet law in the 1950s?
From the south, the old road can be accessed by entering the boat ramp parking lot to Colebrook River Lake off of Route 8. Proceed to the far left corner (northwest) of the parking lot where there's a ramp of sorts that takes you down to the old road. The road runs maybe a couple of miles (I neglected to measure it) but it presents some unusual scenery, including exposed rocks and mud flats.
Another fine point to the detour – no traffic whatsoever.