By Bob Rosen
"Ride to eat and eat to ride" is our motto and Roadfood.com has a seemingly endless collection of destinations.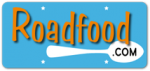 Indexed by state on this page, each of the hundreds of eateries has their own page with reviews and a few pictures of popular items. The emphasis is definitely not on haute cuisine at these places. As a matter of fact, you better double up on your Lipitor when partaking of some these meals!
The CT restaurants range from perennial favorite's (Frank Pepe Pizzeria, Abbots Lobster Pound, Dr. Mike's Ice Cream) to some really obscure selections. There are 138 eateries in CT alone as well as 77 in Massachusetts, 18 in Rhode Island, 17 in Vermont, 11 in New Hampshire and 47 in Maine.