WASHINGTON – The patriotic Rolling Thunder ride on Memorial Day weekend, which annually draws thousands of riders from across the country to the District of Columbia, will be no more after 2019. After 32 years, the plug's being pulled on the massive event due to costs and communications problems with the Pentagon Police Department, NBC Washington reported in a story this afternoon.
"We had so many problems in the last two or three years with the [Pentagon police] and the parking facilities after we leave the Pentagon parking lot," Rolling Thunder, Inc. board member Gus Dante told radio station WTOP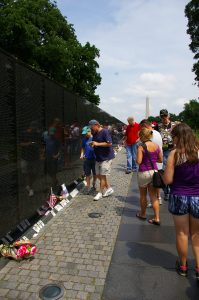 "And then it came to a boil this year when, the south lot, we had not one motorcycle. In the year before we had 10,000 bikes," Dante said. "In the main lot, they were being turned away."
Rolling Thunder has attracted thousands of riders, many of them veterans and many from the northeast. During the ride, they were escorted around the National Mall, ending up at the Lincoln Memorial for ceremonies. Rolling Thunder has existed to raise money and awareness for veteran issues.
"It cost us $60,000 just to rent the Pentagon parking lot, about $200,000 for the whole ball of wax — to promote the POW/MIA issue and veterans causes," Dante said. "So that's one of the main reasons."
Instead of a huge ride in D.C., in 2020, there will local runs in different areas and states.
The final Rolling Thunder gathering is set for May 26, 2019.
A letter will go out next month to supporters from the event's founder and executive director, Sgt. Artie Miller. It will note:
"This will be the last demonstration the organization does as a unit in Washington. It has been a hard decision to make, after much discussion and thought over the last six months Rolling Thunder National Officers have concluded to end our 32 year annual D.C. Memorial Weekend event."
Photos by Bud Wilkinson