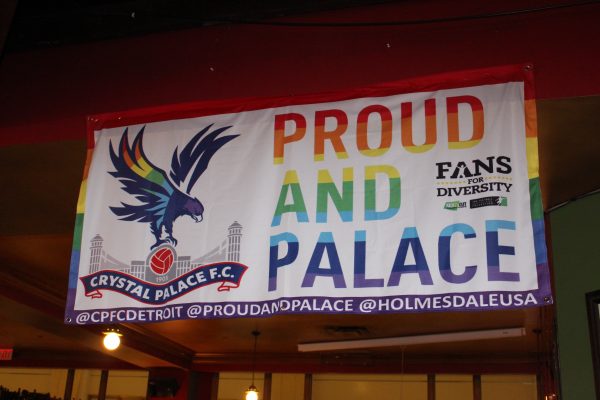 HARWINTON, Conn. – It was hard to tell if the kit-wearing Crystal Palace fan inside the Tir Na Nog pub in downtown Philadelphia was inebriated, merely enthused or both in offering his earnest assessment that what makes the Eagles so appealing is that it's an "honest" club.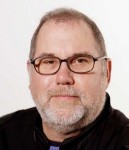 We had been sitting at a high-top table adjacent to the bar; watching intently as dozens of Crystal Palace fans from near and far raucously engaged in team chants. It was three hours prior to the "friendly" against the Philadelphia Union of the MLS back in July and this was our first up-close exposure to Premier League soccer, er, football.
Having driven four hours from Connecticut, only getting lost once when we made a wrong turn in central New Jersey, we were parched and ready. Three of us wore Crystal Palace T-shirts that we had ordered online weeks earlier from the team shop in south London. To say we were excited about a road trip, having a few pints and getting to root in person for our adopted team from south London would be an understatement.
How we'd come to back the Eagles is a tale in itself, which I explained to the Crystal Palace fan after getting up and walking into the crowd. None of the four of us had followed soccer, er, football before, but having soured somewhat on the ridiculous salaries, criminal antics and cheating of so many baseball, (American) football and basketball players on this side of the pond as well as idiot ownership, we felt the need to try something new.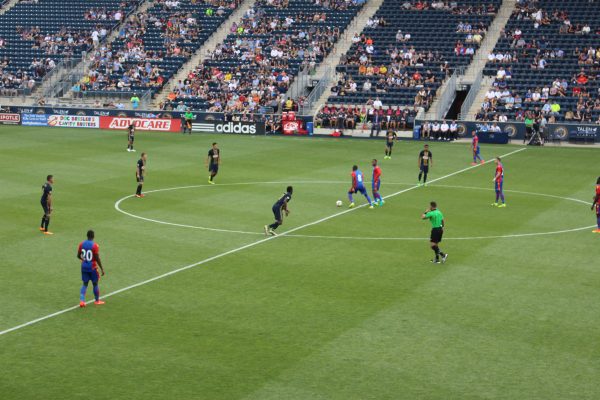 Our reasoning was simple. Rooting from afar could be done with more innocent detachment. Sure, especially given recent TV contracts, the Premier League is a big-bucks enterprise and its players are presumably sometimes spoiled brats, too, but distance makes the downside less distasteful. We could appreciate a sport for its beauty and back a worthy team without the baggage.
I was the first of our group to be "Glad All Over." With the NBCSN network televising and streaming Premier League matches, I'd turned in out of curiosity a couple of years ago. I then asked English ex-patriot friend Tim Raindle which team I should root for. He responded by email giving a detailed team-by-team primer, noting ownership, history and fan makeup. Crystal Palace, he said, was non-denominational, a small underdog with an intensely loyal fan base, so I signed on.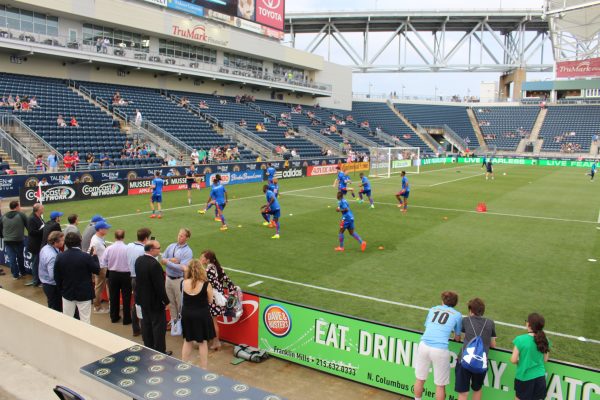 After watching for a season and learning the language of English football, I began recruiting mates last season. The process was educational. Players don't wear uniforms, they wear kit. The game isn't played on a field, rather a pitch. Teams are ranked in a table, rather than standings. An exhibition match is a friendly. It's not a game but a fixture. And the manager is familiarly called the gaffer.
Being the ringleader of our little group, I bookmarked British newspapers, the "Croydon Advertiser" being the most recent and most thorough; Facebook fan groups; and Crystal Palace's website where Alan Pardew's press conferences and post-game comments are posted. His comments often cause chuckles; not because he isn't straight-forward and insightful (he is), rather because his local phraseology and slang requires an English to American dictionary.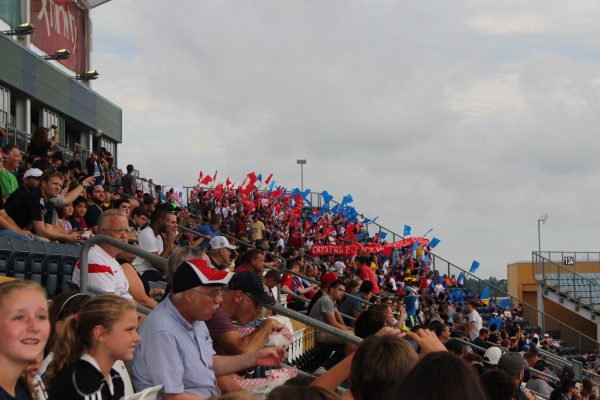 It was sometime during the latter half of last season that we vowed to make a road trip if Crystal Palace ever made a pre-season tour of North America, and I bought four tickets to the mid-July game in Philadelphia the moment they went on sale – not realizing that less expensive seats in an entire section would be set aside for Crystal Palace fans.
Game day arrived and we drove to the pub where fans were gathering. The fan I spoke with was an English transplant who lives in Detroit. His devotion and his assessment of Crystal Palace being an "honest" club where players, management and fans buy into a team concept, long-term planning and mutual appreciation confirmed the wisdom of our team pick.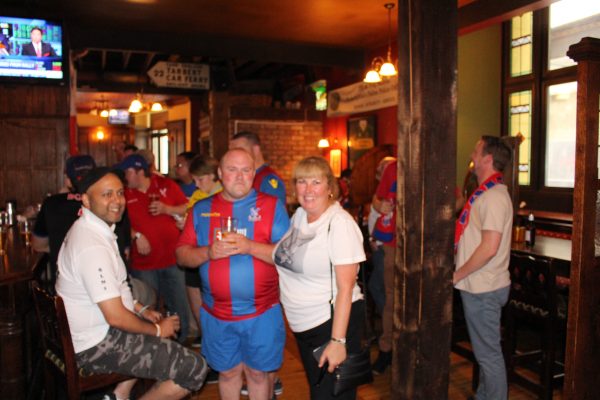 Arriving at the stadium, we walked around the inside concourse and soon found a table set up near the locker room – is it called something else in England? – where an injured James McArthur was signing pictures. Really? A player actually making himself available to fans? I got an autograph, shook his hand, looked him in the eye and thanked him sincerely for coming – a routine encounter for him and a special moment for this relatively new fan. I also got a free T-shirt that the team was handing out.
In another life, I was an entertainment reporter for a newspaper and TV station in Phoenix, and once got tricked after doing an interview with Sting by a "fan" waiting outside the building where I had interviewed him. The guy wanted an autograph. As Sting's limousine started to pull away, I stopped it and asked his Sting could sign. He graciously did so. It was only after the limo departed that the guy revealed himself to be an autograph whore who only wanted the signature to sell.
I felt used and, since then, I've always felt sympathy for celebrities and sports figures who constantly get scraps of paper and pens shoved in their faces. This thought was on my mind when Wilfried Zaha walked to the bench as we stood near the rail inside the Philadelphia stadium. Nonetheless, I called Wilf's name and asked if him if he'd sign the Crystal Palace T-shirt that I'd collected.
Wilf, if you happen to read this, be assured that the gray-bearded, slightly-balding guy who you signed for in Philly had no ulterior motive. He just wanted a memento to hang in his home office as a reminder of what proved to be a memorable day.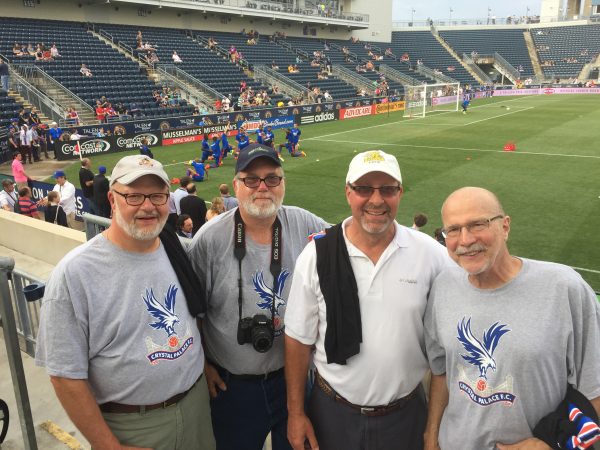 As I type this hours after Crystal Palace tied Bournemouth 1-1, I've just read in the "Croydon Advertiser" that fans cheered Zaha when he entered the game in the second half – despite his having expressed interest in transferring to Tottenham Hotspur earlier in the week. Would any other fans of any other team – in any sport – have this reaction? I think not, proving that our adoption of Crystal Palace was spot-on.