By Steve Smith of RIDE-CT.com
Most motorcycle safety professionals extol the value of visibility when riding a motorcycle. Our vision is probably the most important of our primary senses to help reduce the chance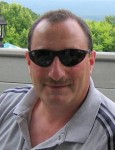 of a crash. The common phrase used is "See and be seen," which reminds riders to be vigilant in looking for potential hazards and become more visible to other roadway users. There are two visual phenomena motorcyclists should be aware of: Motion Induced Blindness and Inattentive Blindness.
The first, Motion Induced Blindness (MIB), is a phenomenon of "visual disappearance" in which important visual stimuli disappear as if erased in front of the observers eyes. I can't explain it, but I tried it for myself and was amazed. Click on this link for a demonstration. This may be one of the contributing factors when people look directly at you while driving and don't see you.
The other, Inattentional blindness, is also known as perceptual blindness. This is when a person fails to notice some stimulus that is in plain sight. This stimulus is usually unexpected but fully visible. This typically happens because humans are overloaded with inputs. There have been multiple experiments performed that demonstrate this phenomenon. Here are two videos based on one of the most well-known studies on inattentional blindness.
These phenomena illustrate why it is important to be actually seen by others. One way to become more visible in traffic is by choosing riding gear that stands out from the ordinary. High-visibility riding gear is becoming more popular each year. If this is not your cup of tea then consider wearing brightly colored helmet and gear or have some retro-reflective material on yourself or your motorcycle.
Another thing to consider is riding in a manner that does not make you become invisible. Consider the scenario where you are following a bit too close behind a large truck and positioned to the right side of your lane. What does oncoming traffic see? Some may see a gap in which they can sneak a quick left hand turn before other traffic comes along. Unfortunately they just turned into the rider and neither may be able to react quick enough to avoid the crash. In this case positioning to the left and using a better following distance would have helped oncoming traffic see the rider.