Father Jim Gregory on his Honda scooter
For many motorcyclists, taking up riding was the result of a mid-life crisis. They never rode in their younger years, but felt the need as they got older to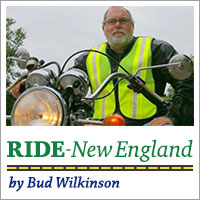 experience the wind their faces. Jim Gregory, who certainly qualifies as middle-aged at age 48, isn't one of them. He doesn't even ride a motorcycle, rather a shiny black Honda Metropolitan scooter that has been customized to reflect his occupation.
"I haven't been riding very long. I'm not really a biker. I just bought the scooter at the beginning of June of this year," he said last Saturday morning.  "People have asked me if I bought the scooter because I was having my mid-life crisis. I told them that I had my mid-life crisis in my 20s. That's why I became a priest."
The Rev. James T. Gregory, as he's more formally known, was seated across a dining room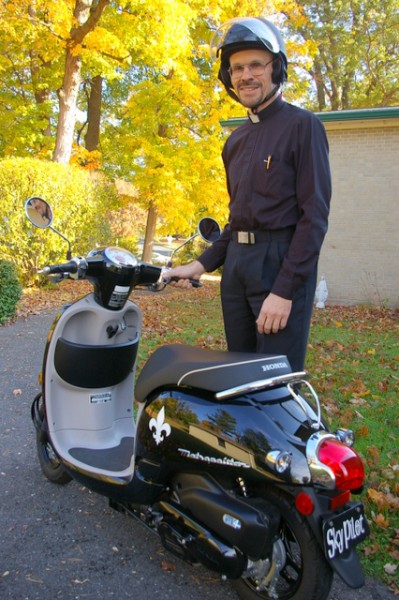 table inside the rectory of St. Mary Magdalen Church. Besides serving the Catholic parish in Oakville, CT, he's also chaplain at Sacred Heart High School in Waterbury.
What was his reason for augmenting four wheels with two? "I bought the scooter to try and reduce my footprint – as in carbon footprint, as in energy footprint," said Father Jim. His church is a quarter-mile from the rectory and he commutes on the scooter, leaving his car in the garage. "I feel funny driving my Subaru up and down all the time. I thought a scooter was more appropriate. It's faster than a golf cart and street legal."
Gregory's Honda is a 49cc model that he purchased at Adams of Oakville. It doesn't have to be registered, and he doesn't have to have an "M" endorsement on his driver's license to operate it on public roads. "Because it's such a small vehicle, it took me a while to get used to all the bumps. It's not very smooth. I'm still trying to turn properly," he said.
That's understandable. There's a learning curve to riding for all newbies. "My fear, because it's a small vehicle, is hitting patches of dirt. In the four months, I've gotten more comfortable on it. The thrill of the experience is the wind, the exposure to the elements. No matter how hot it is outside, it's always cooler when you're riding," he said.
So far, he's ridden the Honda only 255 miles. "I haven't ventured too far. I've taken it out to pick up groceries, deposit bags at the bank," all within a five-mile radius of the rectory, he said.
He also had some work done on his scooter. Ram-Art Signs in Oakville painted a white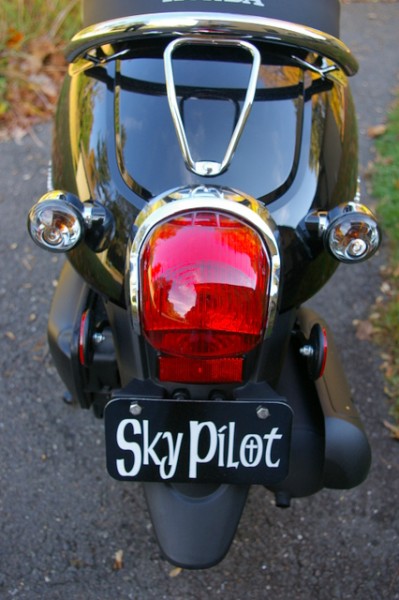 rectangle on the front of the scooter to simulate Gregory's clerical collar as well as the words "Sky Pilot" on the license plate holder on the rear, the term being slang for a military chaplain. Fleurs-de-lis adorn the rear wheel fenders on each side. Gregory explained that the fleur-de-lis "represents the Holy Trinity, which is the Christian expression of God."
A native of Manchester and graduate of Central Connecticut State University with a B.A. in mass communication, Gregory originally planned to pursue a career in the media, but ended up working as a church janitor after college. "As I was dawdling, I got my call to the priesthood," he said. He attended St. Mary's Seminary and University in Baltimore and was ordained in 1999.
How do his parishioners regard his new mode of travel? "Most of them like it. One person does not like the idea. He refers to the scooter as a 'donorcycle.' I think that's because he's an EMT and he's seen too much," said Gregory, who does wear a half-helmet when riding.
His parishioners do see the humor in the modest customization of the scooter. "I don't want to overdo it. People have remarked on its simplicity. They find it humorous and not overdone," he said.
Like most newbies, Gregory has been involved in an incident with his ride. "About two weeks after I bought it, I panicked pulling out into traffic. I remained up, but the bike went down. I wasn't in the middle of traffic. I was on the shoulder," he said. The scooter has scratches to prove it.
Whether Gregory ever rides the Honda much beyond his Buckingham Street neighborhood, or eventually trades up to a motorcycle, remains to be seen. "I'll have to see how it goes. The thing that keeps me from getting a motorcycle is the extra expense," he said.
Gregory does have one temptation when it comes to the scooter. He noted that he's officiated at few funerals over his seven years at St. Mary Magdalen where mourners have shown up on motorcycles and ridden them in the procession. "The next time that happens, I just might ride my scooter with them," he said.
*     *    *
Doing this column on Gregory reminded me of a somewhat similar story that I did in the late 1970s when working as a reporter for "The Columbus Dispatch" in Ohio. It was a feature piece on a nun in Kenton who had a three-wheeled scooter – the kind primarily used indoors – and who rode it along sidewalks in town to visit folks.
The story and accompanying picture got picked up by The Associated Press and distributed nationally. A short while later, I was dozing on the couch in front of the television on a Saturday night when the "Weekend Update" segment came on NBC's "Saturday Night Live" and my picture of the elderly nun was projected behind "anchor" Jane Curtin. She told of how the Flying Nun, a character played by Sally Field on a TV comedy of the same name in the late 1960s, was much older and wise, and had adopted a new mode of transportation.