It's time for another edition of Staff Inflection. That's where the writing staff of RIDE-CT & RIDE-NewEngland answers a motorcycle-related question. Today's question is  rather basic:
"What's your favorite piece of gear and why?"
The question was later amended to seek both riding gear and other accessories…
Victoria Zandonella
My favorite piece of gear has to be my BMW Enduroguard Pants. Why?  They simply are "the bomb" for off-road riders – well-made, waterproof and extremely durable. How nice is it when you see an angry cloud coming over the hills at you and you get to laugh in its face as you won't be pulling over to the side of the trail to try to wiggle into your rain suit pants, tripping and falling during the whole event as motorists pass by your strange "rain dance."
As far as non-apparel, I appreciate my Slime mini-compressor. This thing has saved me and several other fellow riders more times than I can mention. It hooks up to your battery charger dongle and fills up a flat or low tire in a jiffy. It's easy to use and super affordable. I won't leave home on two wheels without it.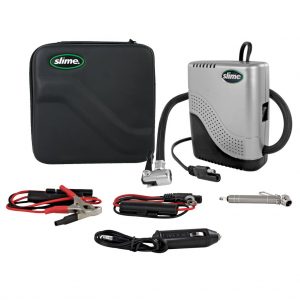 Bob Rosen
Undoubtedly, one of my favorite pieces of gear is the Nelson Rigg tail bag that is always mounted on my bike. I even added a small luggage rack so that the tail bag wouldn't take up any seat room.
Even though my bike has a pair of hard side cases, I find the tail bag to be even handier.  Mostly, the side cases stay in the garage if I'm just out for the day. Over the years, I've developed a modest "gotta have it with me at all times kit." Included in this collection of essentials is a tool roll that I've filled with a nice array of high-quality tools. There's also a mini-air compressor and tubeless tire repair kit. More than one ride has been saved thanks to my ability to perform roadside tire repairs.
There are also supplies for keeping face shield and wind screen clear of bugs. A small zipper pouch holds a host of small items like extra ear plugs, electrical tape, wire ties, baling wire, and other useful things.
And, of course, there's a flashlight, small notebook and pen. There's plenty of room left over to stash a jacket liner when the weather warms up later in the day. Having these items with me means I don't have to give a second thought to being prepared for most surprises. For years I was a tank bag guy. I now prefer the tail bag because it leaves the top of the tank clear for re-fueling and, to my eye, looks a little neater.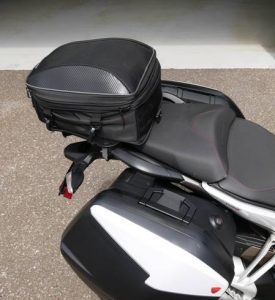 Bob Furman (aka "Arlo Mudgett")
At some point back in the 1980's, I purchased a rather expensive Belstaff Roadmaster waxed cotton jacket. I found it at A.J. Cycle in Gill, MA. After trying it on, I couldn't leave it there even though I could just barely afford it.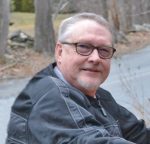 The comfort and fit of that jacket were unlike any motorcycling jacket I had ever known. The features that worked for me was its lightness, its breathability, its utility and its superior water repelling abilities. That feature was tested on a day-long slog in pouring rain from Chattanooga to Memphis. The Belstaff performed admirably. To perhaps paraphrase the Belstaff ad slogan from back in the day: "If you want to get wet in a Belstaff, ride into a lake."
I put thousands and thousands of miles on that Belstaff in every kind of weather. It was always my go-to jacket in rain, but even on cool autumn days with a little layering, it was perfect. The multiple pockets inside and out were often a Godsend, holding all manner of things and keeping them dry. Then I gained some weight. Now it doesn't fit, but I still have it. I purchased a cheap British waxed cotton jacket with a goofy looking collar. It seems to work well but it's not the Belstaff. I'm not sure I can justify purchasing another Belstaff at full retail, so maybe I'll search for a used one.
I can't think of any memorable bike accessory, but I've had other than various windshields. I keep things relatively basic!
Steve Smith
Considering personal protective gear, by far my favorite has been the adoption of using waterproof riding gear whenever riding. The core component of my gear is an Aerostich Darien two-piece riding suit. Back in the day, I would carry rain gear when I travelled. I'm not a fan of heading out for a ride on a rainy day, there are times when on a trip or just the luck of New England weather that rain happens. As the threat of rain grows the question becomes when to stop and put on rain gear. Most often, by the time I actually stopped to put on rain gear I was already wet. Now I just keep rolling along. 
My favorite addition as a bike accessory has been GPS. I've been a user and proponent of bike-mounted GPS for two decades, and have found it to be of value for long multi-day trips to day rides to nowhere. When paired with a computer based routing program, the trip to and from a destination can be planned and mapped out, and the electronic route transferred to the GPS. It can be followed exactly, or I can choose to deviate at times to explore, and then have the GPS get me back on route. 
Paul Siciliano
This question locked my brain up like a seized engine. As one who supports "All The Gear, All The Time," I am appreciative of the benefits each item that I wear. I am recognized by many because of my use of reflective gear. I appreciate the visibility my reflective pants give but am more appreciative of their comfort. Same goes for my Jacket. However, I would not say they were my favorite. 
Trying to capture the true "power" of the word 'favorite' accurately, I would have to say my heated gear is my favorite. For the past three years I have been using a "hot wire" set-up which is made up of a jacket liner, pants and inserts for my boots. I have used this gear combined with layers in wind chills as low as -20 degrees and have been quite comfortable for an extended period of time. As one who seems to accumulate more miles in cold weather than hot, yep, my heated gear is my favorite.
I also enjoy my "Paulie Gloves." What are Paulie Gloves? They are like Hippo Hands except I made my own and I am of the opinion mine are better. My Paulie Gloves fit over each hand grip and, with the Velcro I have sewn in as well as button snaps, stay on the handlebars at any speed. I have lined the Duck Canvas exterior with a layer of insulation (similar to bubble wrap) then lined the inside with fleece. I clocked several thousand miles with my design this past winter and have ridden bare-handed with the hand warmers on in zero degree temps and my hands literally "too hot."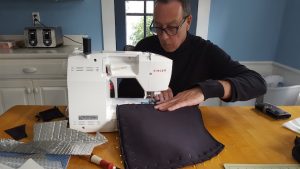 Bud Wilkinson
Decisions, decisions… If gear means the stuff a rider wears, I'll have to go with riding boots. I have two pairs of TCX boots. (Full disclosure: they were acquired as part of an advertising trade deal.) One's a traditional work boot style that laces up and fully covers the ankles for protection. They have a extra strip of leather across the top where the foot meets the shifter. These boots are tough, yet comfortable, and even good for walking around at meets.
My other pair are more track/racing boots with zippers and velcro. They're higher and less flexible, yet still comfortable. I wear them on days of more aggressive riding. When I had more than one bike, which pair I choose to wear depended on which bike I was going ride. Now that I'm down to one bike, it simply comes down to mood, I guess. 
If gear means bike accessories, I'd have to say the after-market exhaust pipes on the 2014 Triumph Bonneville that I recently purchased. They're from British Customs and are throaty and mean and loud. I've always been of the belief that all loud pipes do is piss off other people, but I'm now finding that they can also grate on the rider. I ordered some end caps to baffle the sound, but upon arrival they didn't fit. I guess ear plugs will have to be the solution.