HARWINTON, CT – Being an entertainment reporter can be a great gig, producing loads of star stories. Having spent more than 40 years covering showbiz for newspapers and magazines, hosting radio programs, and reporting on television in Columbus (Ohio), Phoenix and here in Connecticut, I've come in close contact with more celebrities (actors, authors, sports figures, and rock and country music stars) than I can remember.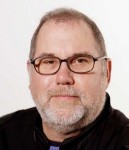 Over the years, I've dined with Arnold Schwarzenegger, Michael Landon, the cast of "Star Trek: The Next Generation" and, yes, the then-Bruce Jenner; golfed with Alice Cooper, Joe Garagiola and Maury Povich; and attended a party at Larry Hagman's home on the beach at Malibu where his mother, Mary Martin, was the greeter. Hard to believe in hindsight.
Some celebrities – in fact, most celebrities – have been gracious and nice. But not all. And most have left a definite impression. Here are a few memories and impressions of some stars, with more to come in a future column:
Most arrogant – Jerry Lewis
Jerry Lewis was touring the country playing the devil in the musical "Damn Yankees" and did a short press conference when the production came to Phoenix. The questions were predictable and inane. Rather that simply go with the flow, Lewis came off as haughty, defensive and stuck on himself. Perhaps the reporters should have held up mirrors so he could have basked in his reflection.
Most accommodating – Dennis DeYoung
The lead singer of Styx was likewise touring the country starring in a musical, "Jesus Christ Superstar." He was pleasant and open during an interview that I did for Channel 10. When I got back to the TV station, though, there wasn't any audio on the videotape, forcing a quick phone call begging for him to redo the interview. He responded immediately and couldn't have been nicer.
Most bitter – Phil Silvers
A television superstar in the 1950s playing Sgt. Bilko on "You'll Never Get Rich," Phil Silvers was guesting on the sitcom "Happy Days" alongside his daughter, series regular Cathy Silvers, when I chatted with him by phone. While thrilled with the opportunity to work with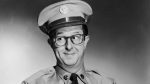 his daughter, he nonetheless came across as supremely bitter that his earlier hit TV comedy had failed to provide the springboard to more consistent work and greater heights. In hindsight, it's understandable why that happened because the loud and scheming Bilko was such a memorable fellow. No way would the public forget that character and accept him in another role. I felt sorry for him.
Most bizarre – Andy Kaufman
Andy Kaufman was a rising comedian and performance artist in 1978 when he came to Columbus. After appearing as a guest on a local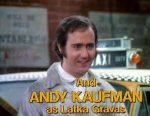 cable TV program called "Columbus Goes Bananaz," I got to chauffeur him from a TV studio on the west side of the city to another studio near downtown – interviewing him while driving as my tape recorder slid around the slippery dash of my Chevrolet Camaro. Soft-spoken and polite, Kaufman came off as eccentric, a bit shy and a bit superstitious. He revealed he'd recently auditioned for a TV series but wouldn't mention its title or anything about it out of apparent fear of jinxing the opportunity. The show? Yes, it was "Taxi."
Most cozy – Jamie Lee Curtis
Remember the TV series "Operation Petticoat," which was based on the Cary Grant movie? Didn't think so. ABC tried it out in the fall of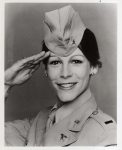 1977. After interviewing star John Astin and other cast members during a summer press tour session in San Diego, I rode with the assembled TV critics to Los Angeles by rail. During the journey, the gals who co-starred went from car to car and visited with the scribes. Jamie Lee Curtis came down the aisle and sat down on my lap. She stayed there for quite a few minutes as nearby reporters lobbed questions. Pretty cool.
Most disinterested – Sean Connery
The actor who brought elegance and stamina to James Bond in the 1960s was in Los Angeles in 1979 filming the poorly-received disaster movie "Meteor" when I visited him on the set and went inside a soundstage recreation of a wet and chilly New York subway tunnel for a brief interview. Connery came off as disinterested and bored. Can't blame him considering how poorly the motion picture eventually did at the box office. He had to have known that "Meteor" would stiff. Did he do it for money?
Most memorable (phoner) – Jeremy Brett
Jeremy Brett was playing Sherlock Holmes on the PBS series, a program that I still cherish, when we chatted by land-line. Being an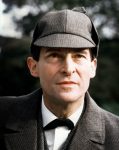 immense fan of the fictional consulting detective created by Sir. Arthur Conan Doyle, I was thrilled to converse with Brett.
At one point during the conversation, he slipped into character and began recounting a case, possibly "The Hound of the Baskervilles." It was as if a time portal had suddenly opened and I was speaking with someone in Victorian-era London. He may have been in a hotel room in New York, but he had me convinced that I was conversing with Holmes at 221B Baker Street, his pipe and Persian slipper filled with shag in hand. Yes, the hair on the back of my neck stood up.
Most memorable (in person) – Kenny Rogers
It was on the location set of the TV series "Doctor Quinn, Medicine Woman" in southern California that I talked with Kenny Rogers, who was guest starring. What made the encounter with "The Gambler" memorable was the fact that I mentioned to him that the first concert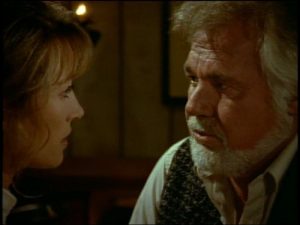 that I'd ever attended was The First Edition (which he fronted) opening for The Young Rascals at The Bushnell in Hartford. The comment was simply an ice-breaker, but Rogers instantly remembered the night. Not because of the show itself but because of the venue.
The First Edition was an up and coming band at the time. "Just Dropped In (To See What Condition My Condition Was In" had just hit the charts. Rogers recalled the band didn't have roadies at the time and that they had to schlep their own equipment from the airport to hall, and that the ramp at The Bushnell was extremely steep, requiring a lot of effort to get the gear inside. Rogers had played thousands of concerts in his career, but the memory was so specific that it had to be valid, making the conversation memorable. A sidelight to the "Doctor Quinn" set visit was that I borrowed a horse and did my "standup" for a TV story riding on horseback.
Most reflective – Sid Caesar
He was TV's biggest star in the 1950s with "Your Show of Shows" and "Caesar's Hour," had battled booze and was at a convention for TV
station program directors when I got to interview him in Dallas (at least I think it was Dallas). Having been to the showbiz heights and having hit bottom, Caesar had seen and done it all.
During our chat, he told of being in St. Louis some years earlier and waking up grumpy over the day's obligations of interviews and whatnot. He recalled looking out of his hotel window and seeing sunlight reflecting off of the Gateway Arch. A lightbulb went on on his head. Who were reporters coming to see that day? Him. Who did they want to talk to? Him. What did they want to talk about? Him. It dawned on him that rather than being grumpy, he should be grateful. A wonderful lesson.
Not surprisingly, there have been moments when I've been awestruck, such as meeting with Audrey Hepburn, Sophia Loren and Raquel Welch. It was a tough job, but someone had to do it. More to come soon…