HARWINTON, CT – Motorcycle models have sorts of aggressive, imaginative and even derogatory names. Some suggest action or attitude, such as Triumph's Explorer, Suzuki's Gladiator and Honda's Fury, while others are more mundane like Ducati's Multistrada (Italian for "many roads") or playful like Harley-Davidson's Sportster.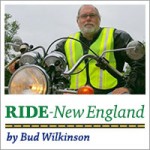 Some make no sense at all until the derivation gets explained. Suzuki's powerful Hayabusa nameplate is bewildering unless you know it's means "peregrine falcon" in Japanese. The lore is that Suzuki used Hayabusa because the predatory bird snacks on blackbirds and Honda's Blackbird model was the fastest street bike at the time – until the Hayabusa appeared.
The meaning behind some names can be deduced, such as Ducati's Diavel, which is modified version of the Italian word for "devil." There's never a problem with BMW models, though, because they've used letters and numbers since that first R 32 back in 1923.
One model name that might be viewed as derogatory in these sensitive times is the Fat Boy from Harley-Davidson. While it's certainly fine to admire a Fat Boy resting on its kickstand in a parking lot, if its owner is obese and surly and you refer to him as such, you'll likely need to deal with the consequences.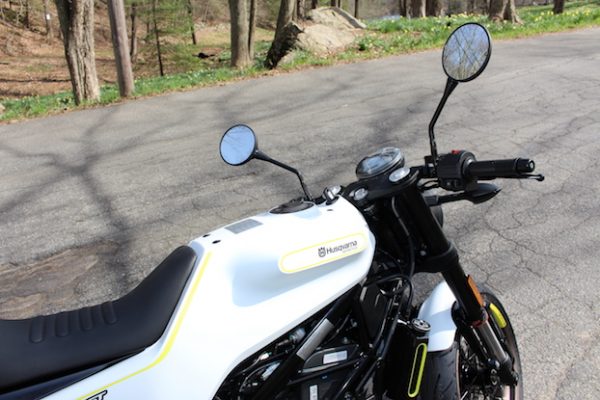 An odd name for a new model probably can't hurt its chances for success, but it can raise eyebrows. Husqvarna got many wondering what the heck it was thinking roughly three years ago when it announced some upcoming models with the head-scratching names of Vitpilen and Svartpilen. 
How's that for a double-whammy? Not only did the names seem weird, but they were hard to pronounce as well. 
Turns out that, yes, there's logical explanation behind the nomenclature. Vitpilen is "white arrow" in Swedish and Svartpilen is "black arrow." Fortunately for now, there's no Blåpilen (blue arrow), Grönpilen (green arrow) or Gulpilen (yellow arrow).
It took a long while for Husqvarna to turn concept models into the production machines that are finally arriving at dealers. Roost Powersports in Thomaston, CT got its first Vitpilen 401 a week or so ago and its first Svartpilen 401 late last week. A larger Svartpilen 701 won't be out for another month, give or take.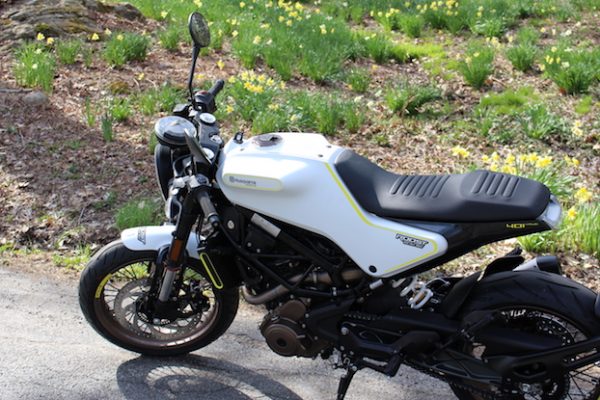 Taking one for a test ride was a no-brainer. (Anyone know the Swedish slang for no-brainer?) The Svartpilen 401 was still in the shipping box when I showed up Thursday afternoon, so it was the Vitpilen 401 that got ridden. Being a bit of a Raktpilen (straight arrow), I went into the test ride with a conservative attitude. 
Over the years, I've ridden many new bikes for review purposes, and many of my own used models with new tires. What I had never done before was ridden a new bike with tires that had never seen a road surface. Better be especially cautious, I thought.
I headed up Route 254 toward Litchfield and was cruising along, getting used to the aggressive riding position, the snappy handling, and the crisp feel of the Vitpilen 401 when I eventually looked down at the speedometer and saw the numeral "109" in the circular instrument gauge. It certainly didn't feel like I was going that fast because the 43-horsepower, 373cc, single-cylinder engine wasn't straining in the least, rather spinning smoothly and quietly.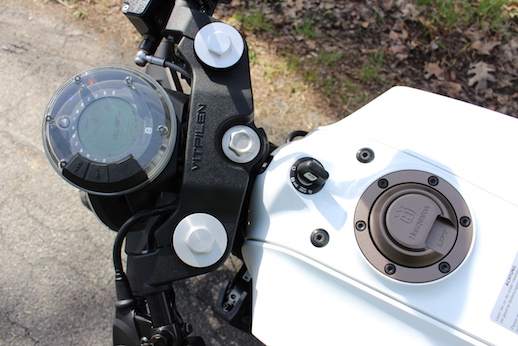 I then remembered being told that the digital readout was set for kilometers-per-hour and hadn't been switched to mph. OK, so I was doing almost 68 miles per hour. A little frisky perhaps for a fresh power plant, but the Vitpilen 401 wasn't complaining. It wasn't like the motor was being red-lined. In fact, the six-speed transmission had it churning reasonably.
A couple of turns took me down Wigwam Road to see the expansive fields of daffodils for some picture-taking. A long loop through Litchfield, East Morris and back to Thomaston completed what was a very satisfactory demo of what is a very capable entry-level motorcycle. Husky considers the Vitpilen 401 to be a cafe racer of sorts, which makes it perfect for city use and weekend scoots.
With an MSRP of $6,299, it's realistically priced given that Husky is a higher-end brand. The Vitpilen 401 has several features found on more expensive bikes, such as a locking gas cap, a display showing what gear the rider is operating in, and an under-seat tool kit. I do suspect the flat bench seat will become a bit uncomfortable on a long ride, and my short inseam meant that the nearly 33-inch seat height was a tad tall.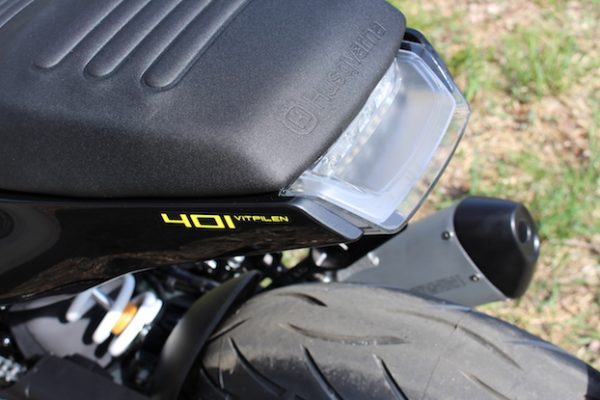 The Vitpilen 401 features sound ByBre brakes and Bosch ABS and an exhaust that could use a bit more sound (never thought I'd say a motorcycle was too quiet). Its 2.5 gallon gas tank will certainly provide more than 100-mile range given that it only weighs 326 pounds. 
What will be polarizing about the Vitpilen 401 is the styling. Love it or hate. To me, it stands out from the competition as opposed to blending into the pack. Surprisingly given the riding position, my wrists never tired from the hands being so low in front, but my neck did get sore from having to make an effort to look up to view stoplights. 
As for the (unridden) Svartpilen 401, it's more of an upright scrambler-style model with knobby rubber. Performance-wise, it should be the same as its cafe sibling; that is, capable and fun. Suffice to say that the Vitpilen 401 is a good first effort for a company that's returning to street-specific models.
Who knows if Husqvarna will start offering the models in other colors. The company hasn't said, but, if it does, I'm rooting for a model name that's easier to understand and possibly pronounce; one that lines up with English. Can you say Orangepilen?
(A version of this column originally appeared in the "Republican-American" on May 5, 2018.)