BRIDGEWATER, CT – So, you've got several years and miles under your belt on tar and are feeling pretty confident in your on-road skills. And then spring arrives and you stop at your favorite two-wheeled Sunday meetup spot and hear some buddies talking about their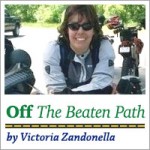 awesome off-road adventure. They appear so transformed for their off-piste travel experience that it gets you thinking of trying it yourself. For many, this is how it all begins. . .
For those of us who grew up on dirt-bikes, adventure riding is a natural evolution from our earlier years on two wheels. The dirt feels familiar under our tires, the loss of traction with the back wheel regularly breaking away is a comfortable and welcome feeling as we venture down forest trails and country gravel lanes. But, for those familiar only with asphalt, changing surfaces can be a bit intimidating as different skills are required to be a safe and proficient off-road rider.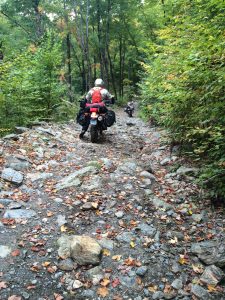 When considering heading off the beaten path, where does one start? Perhaps by considering the type of riding and terrain to be conquered as there numerous dual sport and adventure options – from gnarly forest single tracks to fast gravel stretches.
Adventure terrain can vary greatly but usually consists of dirt roads where a rider can 'make time' when traveling on an extended day ride or expedition. For those wishing to take on more of a challenge, forest and trail riding ups the difficulty level with sand, mud, rocks, water crossings, ledge drops, with steep ascents/descents.
Honestly scoping the type of terrain you will most likely enjoy traveling is critical in ensuring you are set up correctly. Give this some serious thought. Talk with folks into the D/S and ADV scene. Ask them what they like about the type of terrain they travel vs. dislike, highlights and pitfalls, etc. Search forums such as AdventureRider.com and any related Facebook pages to find what segment you are most drawn to.
Lastly, understand your physical capacities and limitations – how fit and agile are you and what level of challenge should you safely take on?
Bike choice is crucial. Upon choosing your terrain, you can more easily narrow your search for a motorcycle worthy of such duty. Dual-sport and adventure machines come in a few basic categories: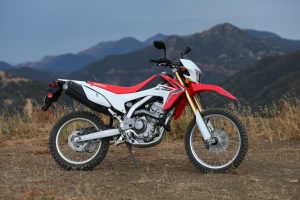 Small displacement: This category contains dual-sport bikes under 300 pounds and 400cc or lower. Examples include the Suzuki DRZ400, Yamaha WR250R, and Honda CRF250L. This is the most affordable segment, with new models costing $5,000 to $8,000. These machines are small but mighty.
Being light and agile, they can go just about anywhere with the right pilot aboard. Suspension on these machines can handle most all challenges you encounter, and with the right tires they are amply sure footed. That said, this category lacks some of the creature comforts of larger machines. Smaller seats are usually less comfortable on long rides, and their smaller engines are not ideal for highway miles should the need arise.
Mid displacement: These models straddle between the D/S and ADV segments. Between 650cc and 800cc in size and at less than 500 pounds, they are the true middle-weights of the sport and can handle a wider scope of terrain.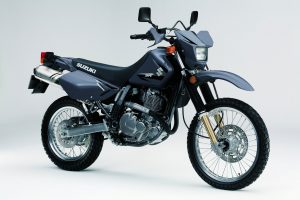 Examples include the Suzuki DR650, Honda XR650L, Kawasaki KLR 650, KTM 690 Enduro R, and BMW F 800 GS. This segment can vary widely in weight and off-road capability with the KTM and DR leaning towards the D/S classification and the KLR and BMW leaning on the ADV side. Prices can vary greatly in this segment as well – $7,000 to $15,000.
These bikes can take on day rides or multi-day adventures with the right farkling. While no bike is perfect for everything, this segment can handle the greatest range of terrain capably.
Large displacement: Between 1,000cc and 1,300cc, these 500-pound or more bad boys are the luxury cruisers of the ADV realm. The Honda Africa Twin CFR1000L, Yamaha Super Tenere, BMW R 1200 GS Adventure, and the KTM 1290 Super Adventure R are examples.
Due to their heft and power, these machines enjoy wide open adventure terrain, such as gravel roads and some back-country discovery routes. Only tenured off-road riders should consider taking these bikes in more challenging terrain. Ranging widely in price from $13,000 to $25,000, they are not for the budget conscious. They offer such accoutrements for rider comfort and performance as heated grips, traction control, suspension modes, and several luggage options.
Tackling off-road riding requires skill building. It's always wise to start off on a lighter, low-mid displacement D/S oriented machine to build your skills. At the very least, the bike will be easier to pick up when you drop it. And you will drop it – guaranteed.
And these machines cost significantly less than their ADV class counterparts. You may even want to seek out a gently pre-owned machine to gain your 'dirt legs' and then move up to a larger, more powerful option once you have attained the basic core skills necessary to safely conquer your chosen terrain.
Lastly, in transitioning to adventure riding, you should seek out some instruction via off-road skills classes. While sparse in the Northeast, there are a few well-known riding schools that offer intensive seminars providing riders with a solid foundation for gaining the basic competencies necessary for adventure riding.
The ADV Pulse forum put out a great article featuring several of these off-road riding courses globally. There are several stateside options to choose from, notably the BMW Performance Center off-road riding school and Rawhyde Adventure Motorcycle Training. These courses, while costly, are programs designed to expedite a rider's learning curve significantly in a relatively short period of time.
So now that you have decided to take the plunge, it's time to get dirty – enjoy the ride!