It's a basement find. A well-used and dust-covered 1941 Harley-Davidson FL "Knucklehead" that has been sitting untouched and unmolested in a dry, heated basement for probably 50 years. Its owner passed away a few days after Christmas and his widow is now considering selling it – in consultation with other family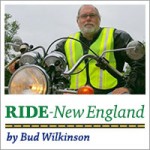 members. This winter it has been tucked away out of sight behind a wood pile that divides a portion of the cellar into halves.
How RIDE-CT & RIDE-NewEngland ended up in that basement for nearly two hours on Saturday afternoon with Motorcyclepedia Museum president and Knucklehead expert Dan Henke and some details of what was found during the look-see make up this treasure hunt tale.
The names of owner and other family members and the location of the valuable FL cannot yet be revealed out of security concerns and a desire by the family not to be hounded by potential buyers in search of a prize. How this basement inspection came to happen began a week ago, precisely at 3:27 p.m. last Sunday when I received a picture of the bike via Messenger from a Toymakers Cafe regular. He inquired, "What do you think this is worth? 1941 knuckle untouched. Looking to sell."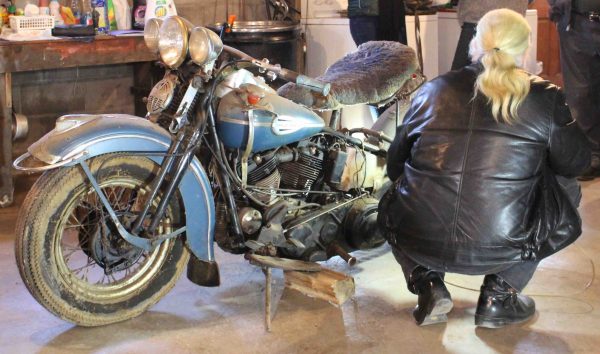 I responded instantly that I was largely clueless but would do some digging. He noted the bike had original paint and belonged to a friend's family. An immediate call to a friend of mine who owns a mid-1930s Harley-Davidson came an answer that a bike like the FL could be worth, depending on condition, anywhere from zilch to maybe $90,000. He suggested putting some pictures in front of knowledgeable members of the Antique Motorcycle Club of America.
Rather than do that directly, I contacted Ted Smith, president of the AMCA's Yankee Chapter. He pegged the bike's value at possibly between $25,000 and $75,000, depending on condition. The FL obviously wasn't an ordinary bike, rather a potentially valuable and certainly intriguing rarity worthy of further study. Secrecy was important so as to prevent a stampede of bottom-feeders.
The next morning, Monday at 8:44 a.m., Smith sent an email to 15 of his members stating, "I've been asked to help find a SERIOUS buyer for this 1941 Knuckle shown in the picture below," while disclosing the town where the bike is located.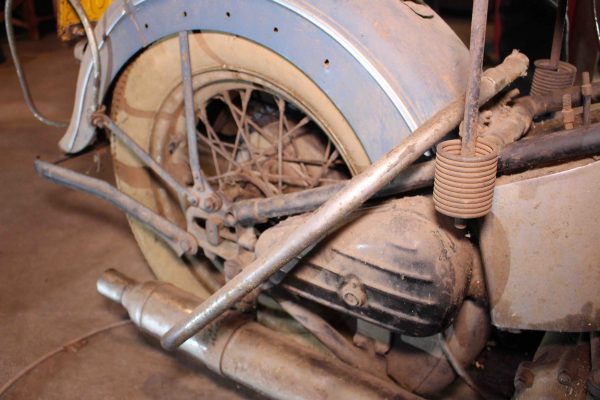 The email started a minor feeding frenzy and I was soon getting emails and calls from interested parties wanting more info, wanting to see it, and offering piles of cash. One person offered $40,000 sight unseen and promised the potential of even more money upon actually seeing it. Another pleaded that he was a preservationist and collector who would give it a good home. The interest confirmed the Knucklehead's attractiveness, and tipped me that I was now in the grips of a good story. The family, though, didn't want strangers traipsing through their basement or the bike's whereabouts disclosed. Who could blame them?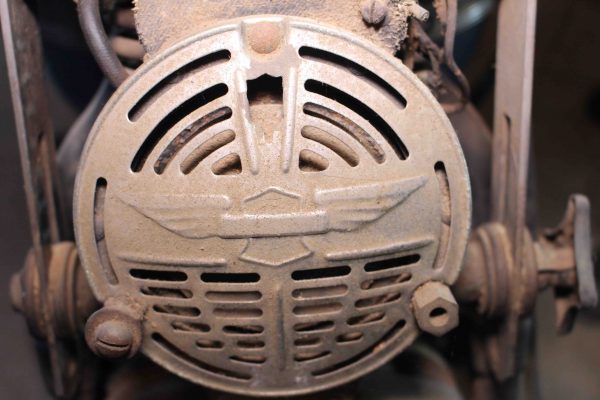 I  started a list of potential buyers  – and had six by day's end – as I continued to research the model. The sole goal was to get the owner(s) some substantive information and a ballpark value of the FL so as to thwart a picker or bargain hunter from snatching it away. After first contacting Smith, I had then sent a Message to Dale Prusinowski, a motorcycle collector and board member of the Motorcyclepedia, inquiring if he knew of an Knucklehead expert who could maybe assess the FL. He suggested contacting Henke, whom I'd know for years as the organizer of the Rhinebeck Grand National Meet, the annual vintage show in Rhinebeck, NY.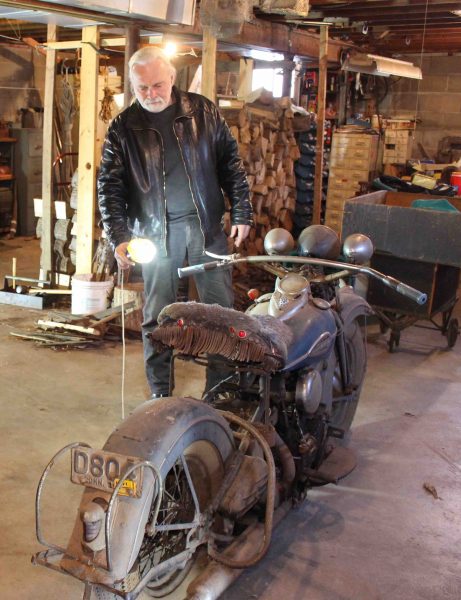 I did and Henke's interest was immediate. Based on the snapshots, he said the bike might be worth as much as $100,000, but a thorough going over would tell a more complete story. The initial plan was to go shoot a comprehensive gallery of photos and send them to Henke at his home south of Albany for evaluation, but it was eventually arranged for us to see the bike on Saturday.
Some things we knew going in; that is was a second owner bike and that the engine cases had been replaced. Upon arriving, we learned that the FL's first owner was a cop, and that the second owner had most likely bought it in 1951 at age 18.
The bike was carefully rolled from its hiding place and lights were set up. As Henke began his inspection, I began shooting video to ensure that details wouldn't be forgotten. He was thorough and precise.
Noting the FL's 74-cubic-inch V-twin engine, Henke explained to family members, "This was a high-performance motorcycle. There was no faster motorcycle on the road at this time. There was no faster car on the road… This motorcycle before World War II would run, easy, 120 miles per hour. In good tune, it could run 125, even more. It would really really run… Today, a kid will go by you on a little bike like it's nothing, but 70-plus years ago this was a very powerful bike."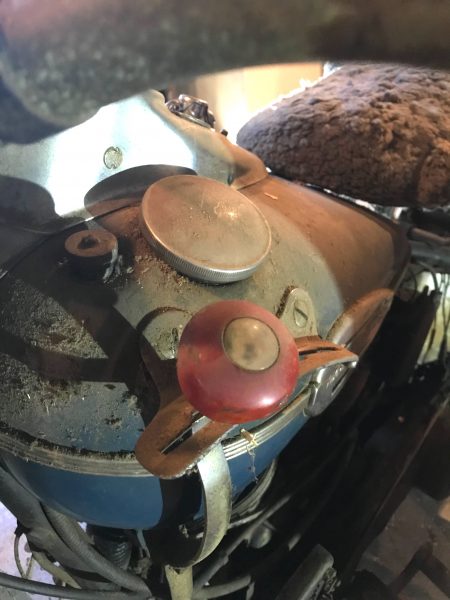 Henke then gave logical reason for the crankcases to be changed. "These had so much horsepower and so much torque,  they were still using the earlier crankcase and they would crack," he said, noting the upgraded cases.
He also spotted that the cylinders were silver, suggesting they were replaced in the early 1950s. "This probably blew up and he had to change both crankcase halves as well as the cylinders. A common occurrence with this machine. Somebody was really running it. I could be wrong. He might have decided to paint those two silver but I doubt it."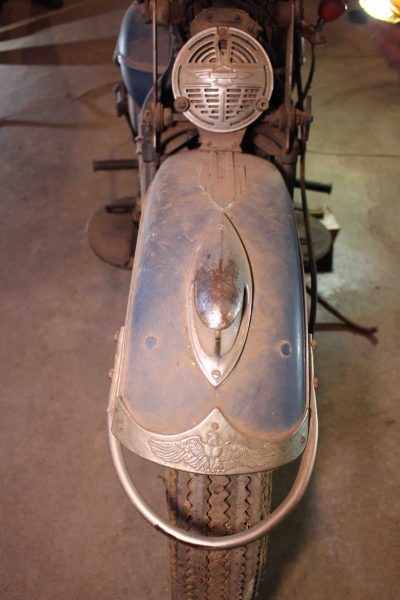 Henke continued with his nose to tail inspection, noting the bad, such as a Indian headlight and a later exhaust, and the good. The bike features the factory chrome package (which includes the dash and instrument pan, and handlebar).
Particularly valuable, he said, are "rocket" or "squashed bird" emblems atop the fenders, which could be worth $3,000 alone.
The tins and the original Skyway blue paint are in good shape, but the beehive taillight is missing the outlook lens that covers the license plate light. With more than 35,000 miles on the odometer, the FL has gotten a lot of use.
By the end of Henke's inspection, the family had a comprehensive notion of the bike's status and value, which parts on it are original and which aren't, which elements detract from the value and which ones add value, and a round figure of  what it might be worth. It's not my place to reveal that number, either, but let's just say Henke believes it to be well above $40,000.
The bike's future in now in the family's hands, and the list of suitors has been supplied. Learning about the FL and playing a small part in helping them to sell wisely has been fun and educational. Those interested in buying the Harley-Davidson have struck me as being earnest and sincere, if a bit anxious.
The hours devoted to this over the past week has been time well spent. Heck, I'm anxious myself to learn what becomes of the Knucklehead.