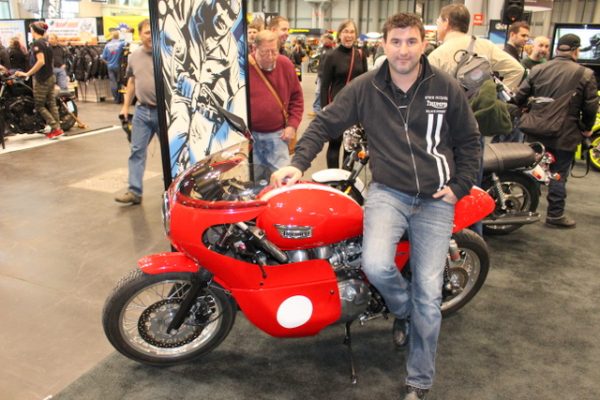 Dave Rosen and his Thruxton at New York's IMS
When the January/February 2014 issue of "Motorcycle Classics" magazine arrived recently, I immediately noticed the full-page Triumph advertisement on the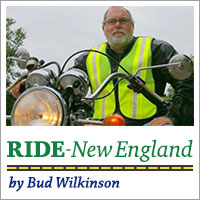 back cover. It shows a customized Thruxton model being ridden on the Bonneville Salt Flats by pro motorcycle racer Jason DiSalvo, its wheels spinning so quickly as to make the spokes invisible. The ad also appears on the back cover of the January issue of "Cycle
World" magazine that I picked up about the same time.
Those attending the Progressive International Motorcycle Show in New York in December got to see the bright red bike in person as Triumph had it prominently displayed on the show floor, but that event wasn't the first time that I had seen it. It was nearly two years ago on a visit to Dave Rosen's house in Hebron that I spied the one-off Thruxton tucked in the garage under his house.
At that time, Rosen was a regional rep for Triumph, lining up new dealers and keeping existing ones satisfied. He'd often get new models to ride and loan, and I was the beneficiary that day of a company-owned 2012 Triumph Tiger Explorer. However, the 2010 Thruxton was Rosen's personal bike. He had purchased it in March of 2010, three months after joining Triumph, to be his daily rider. "That was the first Triumph I've ever purchased and the first brand new bike I've ever purchased," he said.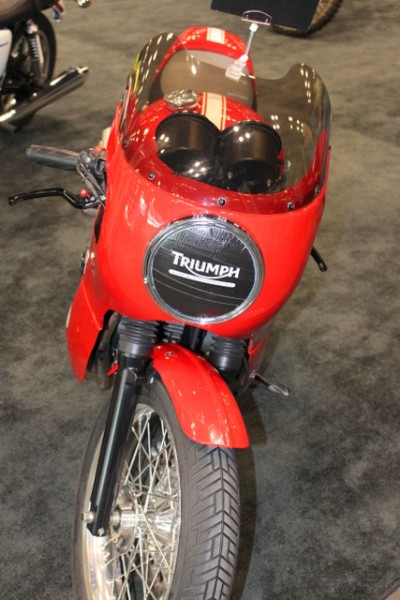 Prior to joining Triumph, Rosen was general manager of Gengras' now-defunct BMW-Ducati-Triumph dealership in East Hartford and had ridden the model on occasion. It wasn't lightning fast but it was fun. "That was one bike that every time I got off it, I had a smile. I always smiled larger after the riding that bike than anything else," he said.
So, upon joining Triumph, buying a Thruxton made sense. "I rode it only once," he said, recalling that after putting only 149 miles on the odometer, he parked it in the garage and began modifications. His friends told him he was crazy, but they "didn't have faith in what I was envisioning," said Rosen.
The goal was build a bike that recreated the "café era, with modern technology. I wanted to create a bike that replicated the '60s and '70s. I just wanted to replicate an old-school design," he said. Rosen didn't touch the rear cowl over the seat, but added an after-market exhaust system, new clip-on handlebars, custom rear-set foot pegs, two-tone Triumph seat and an upgraded suspension.
He worked late-night and weekends, hand-fashioning brackets as well as sanding and shaping the fiberglass Dunstall fairing and windscreen. The bodywork covers the engine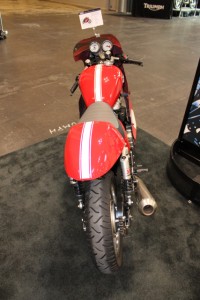 and directs the air above the rider when hunched over the gas tank. "Everything on here is hand-cut. I welded everything," said Rosen. The job took 18 months.
He was just finishing the long-term task when I went to his house that day in May 2012. Three months later, the Thruxton was gone – appropriated by Triumph. Rosen's superiors had discovered his marvelous creation. "The first thing they asked in the beginning was, "Do you mind if we use it for some photo shoots?' I did not have it for long," Rosen said, noting the odometer had only hit the 748-mile mark when the manufacturer borrowed it.
So far, his Thruxton has appeared on the back covers of at least three national magazines, "Iron & Air" being the third. "I'm blown away when it happens. Nobody tells me that they're doing it," said Rosen. It has appeared in promotional videos for Triumph, too. "I have no idea where it's going to pop up," he added. The bike has also been displayed in every city that the Progressive International Motorcycle Show tour has visited.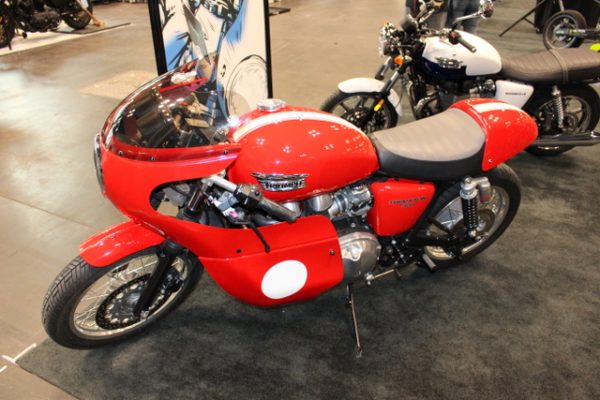 Rosen said he has "no clue" what it cost to customize the Thruxton and he isn't upset that it's been gone from his garage for so long. "I'm kind of blessed that I work for a company that gives me bikes to ride," he said. Triumph has allowed him visitation rights that have enabled him to ride it on the Bonneville Salt Flats in Utah and on the track at the Barber Motorsports Park in Birmingham, Ala.
Since surrendering the Thruxton, Rosen has received a promotion. He's now Triumph's sales manager for the eastern half of the U.S.  Despite the fact that a new 2014 Triumph Thunderbird Commander cruiser was just delivered to his house this week for him to use (and loan, yes!), he is hoping to eventually get his Thruxton back. "They took the bike away from me more than a year and a half ago. I'm assuming I'll get it back around May or June," he said.
Triumph is now working with a designer to make replica kits based on Rosen's craftsmanship that customers can purchase. He anticipates that they will be available by early spring. Sure hope he gets a cut of the action.

Updated: Aug. 16, 2014
Back in January, I wrote about how Triumph had appropriated a Thruxton that had been customized by Dave Rosen of Hebron (RIDE-CT, Jan. 18). Rosen purchased the bike in March 2010, shortly after going to work for Triumph. He added a fiberglass Dunstall fairing, an aftermarket exhaust, new clip-on handlebars, custom rear-set foot pegs and more.
The bike turned out so well that Triumph borrowed it in August 2012 to display at motorcycle shows and to use in print advertisements – and the company just finally returned it.
Rosen immediately sent it to Carpenter Racing in Berlin, N.Y. for some additional modifications, including high compression pistons. The upgrades boosted the horsepower from 57 to 89. "I gave it a little throttle and the front wheel came up," said Rosen. It should be even more fun to ride…
(Originally published in "The Republican-American" on January 18, 2014)