NORTH GRANBY, CT – I am the type of rider that you will find on or at least near a motorcycle nearly every day of the year. This may sound like an exaggerated statement, but those close to me might argue that it is "every day" of the year.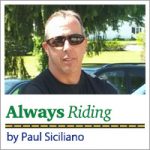 Yes, rain, snow, wind, day or night, regardless of geographic location, there is a high probability I am out there doing what we do,  even if for just a short time. Many years back (more than I care to admit) it was a sort of challenge I created for myself. You know, almost a kind of game to see if all my transportation needs outside of recreational riding could all be done on a motorcycle.
What became the norm drew the attention of caged motorists on the roads around me. If I had a gallon of fuel for every "You are crazy riding that bike on a day (or night) like this," I believe I could ride the circumference of the globe never once reaching for my wallet at a fuel stop.
I have always found it funny that those who do not participate in this motorcycle thing we do only took notice of me when they thought I stuck out or did not belong in the environment they just saw me in – cold weather or snow.
As we all would agree, our biggest wish is to be "noticed" out on the open road.
Earlier this year, I have became a motorycle safety instructor for the Connecticut Rider Education Program and ended up teaching 19 classes. During classroom discussions, I always urge my students to be in control of as many facets of riding a motorcycle as they are capable of – safety margins, honing riding skills, mental attitude when riding, A.T.G.A.T.T. and, most importantly, communicating intentions with other drivers to assure that you are being noticed!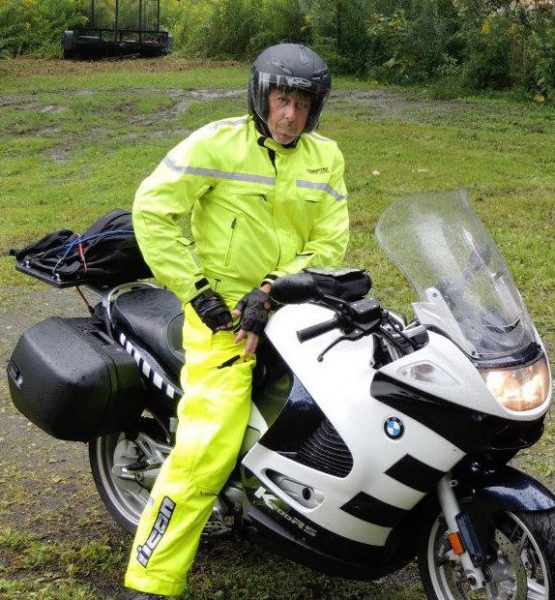 Any student who has been in my class will surely tell you it was taught by "the guy with all the glow in the dark safety gear" who "can be seen from outer space." I assure you I am always noticed when riding.
Part of "the game" that puts me on a bike quite often is traveling to see friends I have not seen in some time. This was the case recently when I rode to western Connecticut to have lunch with someone at a small eatery in Gaylordsville, south of Kent on Route 7. As you might imagine, many people were out on motorcycle taking in the foliage. Route 7 is a beautiful scenic path adorned with so many eye-catching sights. It is a gorgeous road and is very popular not only with motorcyclists but all types of four-wheeled vehicle operators, too.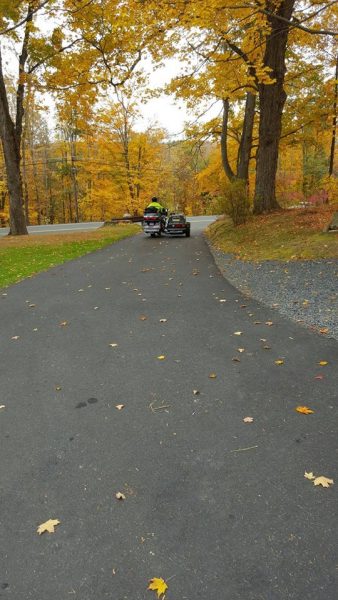 Vintage cars to mini-vans pulling trailers full of leaves heading to the dump, they were all out there. While riding south heading to lunch, over and over I noticed both in front of me and behind me cars drifting into the oncoming lane. I witnessed several near misses both of car and car and, even scarier, of car and motorcycle.
My observations led me to believe it was a result of drivers (and riders) looking at the foliage and/or taking pictures while driving. Distracted driving seems to be the cause of all too many accidents these days so I took my defensive riding radar up a notch and arrived at my destination safe as well as with a big smile. A motorcycle ride during fall foliage, an old friend and food! All things that cause me to smile.
I arrived early as is usually the case with me and I had time to remove most all of my reflective gear before entering the eatery. I piled my gear on a chair and sat down in an empty dining room and awaited my friend and his wife. Once they arrived, we caught up on this thing we call life and filled our stomachs with that smile inducing thing called "food" all the while the dining room filled up around us.
When that time came to say our goodbyes, we paid the tab and headed to the door. I stopped at the chair and started to put my gear back on. As I slowly began to glow with each piece I put on every single patron – I am guessing roughly 20 persons – began to talk about my gear shouting comments over one another, such as "Wow, even Stevie Wonder can see you!" and "Yeah, no joke I don't need my glasses to see that guy."
My favorite was when a woman walked up to me and said, "That sure makes it a lot easier for someone like me to see you. We saw you on Route 7 and could not believe how much you stood out from all the other motorcycles. May I take your picture to show my son that suit. He rides a motorcycle, too." I was all too happy to oblige.
With a big smile upon my face, I saddled up and headed north on Route 7. As I watched all the cars and motorcycles cross lanes just as I did on my ride down, the close calls again, the near misses and such, you know what I saw clear as day? None of that was happening near me, around me or with me. I think I was noticed.