BRIDGEPORT, CT – It's keeping a low profile until all the set-up work is completed, but motorcycle gear and apparel purveyor Union Garage this week quietly opened its new flagship retail showroom at 162 Elm Street in downtown Bridgeport.
It was roughly six weeks ago that Union Garage announced plans to relocate from Brooklyn, NY into a century-old former factory building in this Connecticut city on Long Island Sound. It previously ran a retail store in Brooklyn for 10 years. That store closed in mid-February but online sales continued.
The first day of business was Wednesday. Hours today will be noon to 7 p.m. The store will also be open from 11 a.m. to 5 p.m. on Saturday. Business hours "will be limited and announced week to week as we slowly emerge from a months-long retail hiatus," the company said in a Facebook post.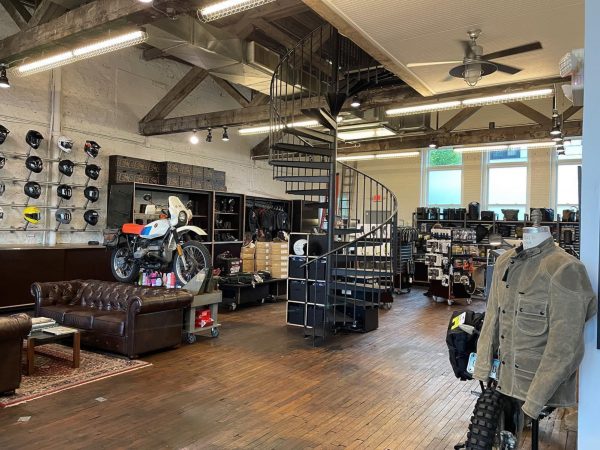 The uncertain operating hours will presumably remain in place until a complete staff is hired. "If you know anyone looking for a job, we have part- and full-time positions available now," the Facebook post stated.
With artwork on the walls and the espresso machine hooked up, the new Union Garage showroom is close to being finished. The store is targeting an official opening weekend sometime in August.
In a nod to the customers left behind in New York City, Union Garage noted that it's new location is "a few blocks walk from the Long Island Ferry and the train station." The Metro North railroad serves Bridgeport, which is at the junction of I-95 and Route 8.
Hello! If you enjoyed this story, please share it with other riders by clicking on the social media buttons below.