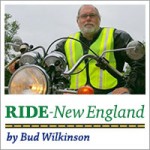 Ever buy a motorcycle that you didn't need or necessarily want? Sometimes the urge to add some fresh iron to the garage is just too irresistible. That's why there's a 1983 Yamaha XT250 is parked next to my 2008 Suzuki V-Strom. It's the bike I didn't need, eventually didn't want, but now own. And therein lies a tale…
The previous owner is my friend and neighbor Bill Smith. He bought the XT250 many years ago. It then sat for eons, until a few years back when he took it to a shop, which got it running again. He rode it several times before it got parked behind detritus in his garage and once again became a forgotten motorcycle.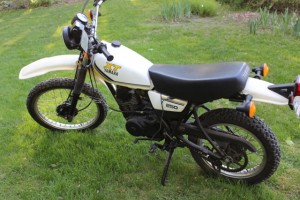 It was in late spring that I went on a day-trip with the Northeast Dualsport Riders over some hilly dirt roads in Litchfield County, CT, and realized the V-Strom wasn't a bike fully suited to the task. I asked Bill if he'd sell me the XT250. He agreed to part with it for $500. Not having yet paid for it, I rolled it up the hill and into my garage where I changed the oil and tried to do some modest fixes.
The wiring to the tail light and rear turn signals had been chewed by mice, so that needed to be done. We never got around to tackling that before Bill and his family went on a six-week, cross-country RV vacation. Before he left, I'd decided that I really didn't want it after all and had told him as much. That was primarily because the mono shock needed to be either rebuilt or replaced, or so Bill told me. Parts were impossible to find and a new one costs $400.
Was it worth spending that much money to acquire and update a 31-year-old relic? I more sanely thought not. But it did occur to me that it would be a nice gesture to have the bike fixed and running when Bill returned from his trip, so I took it to mechanic Tom MacBurnie in Winsted for a look-see. I asked him to fix the wiring and see if he could kick it over; that I was willing to shell out enough for a couple of hours of labor – max.
A short time later, Tom called to report a problem – the kicker had broken when an attempt was made to start it; some teeth had snapped off a gear. A new gear would cost $145. I told him to proceed as the bike was in my care and was my responsibility. About the time Bill got home, Tom called to say the XT250 was ready and running perfectly.
The tab? $500. Tom's a meticulous sort and wants to make sure everything is operating properly. The fact is, though, he spend numerous hours on the bike that he generously didn't bill.
Bill and I went to get the bike. I handed Tom the $500, and we brought the bike back to Bill's house. Having depleted his bank account on his trip, and having a wife who (like any other spouse) wouldn't likely be pleased by such a large cash outlay for work not requested and/or something so unnecessary, Bill wasn't on the position repay me the $500. He shouldn't have felt obligated, either, as I was the dope who sent it out to be fixed.
Bill was thrilled to have his old enduro running again. He soon took it down to some trails near our houses. While riding up a trail, rounding a curve and heading toward a rock, the throttle stuck in the "open" position. He managed to stay upright, and later checked and lubed the cables but the problem persisted, leading him to think it involves the carb and may be heated-related. When the engine gets hots, the throttle sticks. Consequently, the bike's luster was quickly evaporating for him.
At this point I resignedly told him that I'd give him $200 for the bike. I couldn't justify $500 having already spent the same amount getting it running. He mulled the offer for a few days and accepted. The bike came back to my garage and I tried riding it, experiencing the same throttle issues that Bill did. I called Tom and he said bring it back. I replied that I would as soon as it was insured and registered.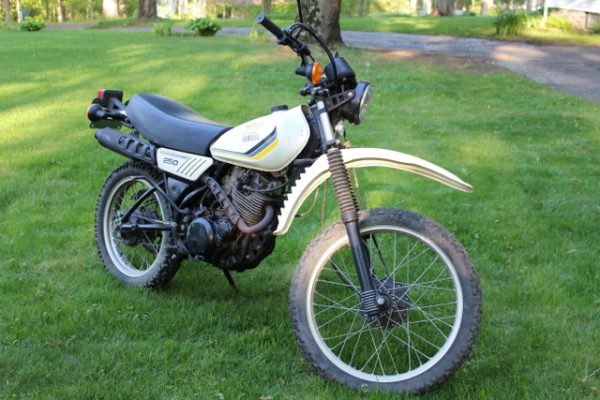 It wasn't until yesterday that I managed to finally get to the D.M.V. Once home, I attached the new license plate and took the XT250 out for an 18-mile ride over paved and dirt roads. Wouldn't you know it, the throttle never stuck once. Has the problem solved itself? It will require more testing this weekend.
I have discovered that the XT250 isn't uncomfortable to ride even if the mono shock is fading. In fact, it's quite fun, and possibly worth the roughly $840 that I've spent so far – $500 getting it running, $200 for the bike itself, $105 to register, and $35 for insurance. The NADA book value on the bike is $1,115 in excellent condition, $840 in very good shape, and $685 in good condition.
Check out the pictures and judge for yourself? Was it worth it? I'm now thinking the XT250 might just be great for ice riding in winter.