Its sales potential were questionable from the get-go given its aggressive and odd styling, and now the only prototype of the premium brand Vanguard Roadster is up for auction.
Unveiled in early December 2016 and prominently displayed at the Progressive International Motorcycle Show in New York City later that month, the Vanguard Roadster was hailed as the first of three models planned by Brooklyn-based Vanguard. There were also cruiser and racer models in the works.
Hartford Native Involved In Design
The Roadster had been in development three years by the time the running prototype went on display at the IMS. It was designed by Hartford, CT native Edward Jacobs, who had previously worked for Confederate Motorcycles. French "serial entrepreneur" Francois-Xavier Terny was CEO of Vanguard.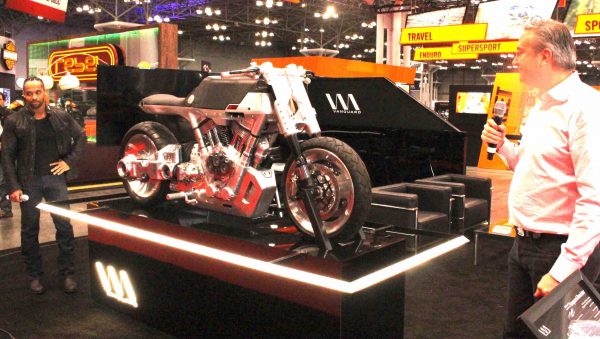 At the time, the company said on its website that it had raised $1.6 million in initial capitalization to develop the Roadster, which was set to have a price tag of $29,995. In an interview with RIDE-CT at the IMS, company co-founders Jacobs and Terny shared their enthusiasm for the futuristic Roadster.
"I look at it less of a styling exercise and more of a functionalist approach that heavily deals with integration," said Edwards, explaining that integrating function allows for "natural expression to become the aesthetic of the bike. It's about listening to the product and allowing it to have its own voice."
Exotic Features On Roadster
RIDE-CT's story on the display at the IMS reported, "The Vanguard is certainly different and high-tech, complete with a digital dashboard and rear-view camera. There are no exposed headers or exhaust pipes and no frame. Powered by a 117 cubic inch/1,917cc S&S engine with six-speed transmission, it has a single-sided swing arm with shaft drive. Brakes are from Brembo and tires from Metzeler."
The full story may be found here.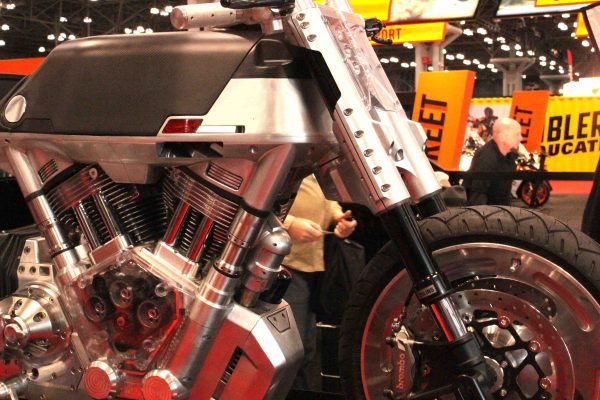 Vanguard had hoped to put the roadster into production by mid- to late-2018. That never happened and the decommissioned Roadster is now being auctioned by Iconic Motorbike Auctions. With four days remaining in the auction, the bid as of 9 a.m. Tuesday was $1,600 and the reserve had not not been met.
The Roadster prototype is currently in New York City and is offered with a Bill of Sale.
Roadster Got Noticed At Show
RIDE-CT's story on Vanguard's display at the IMS, which did attract gawkers, suggested that the model "looks better suited for display in a museum of modern art than for comfortable ripping along twisty roads."
Maybe now it will end up in the museum or in a private collection.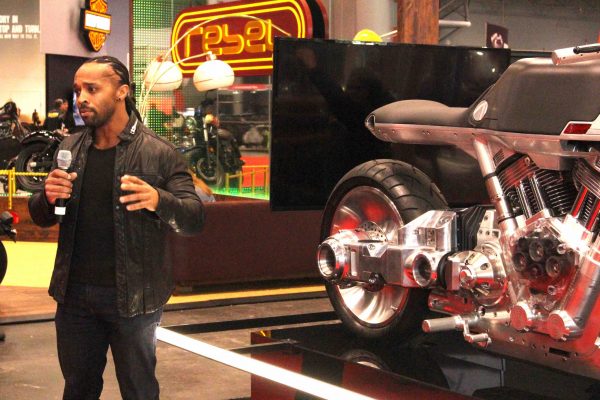 (Photos by Bud Wilkinson)