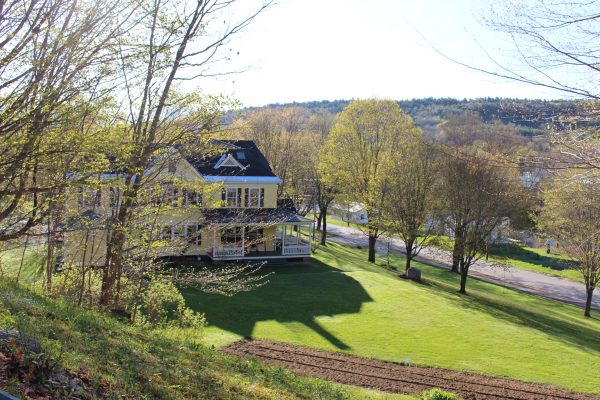 SAXTONS RIVER, VT – Life is filled with little lessons, and a brief two-day, 400-mile motorcycle trip to southern Vermont this week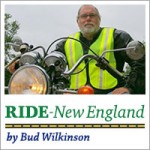 provided a few reminders of forgotten lessons and clues on what to do in the future.
In motorcycling, there's a phrase "Ride your own ride," which means a rider should operate at a pace most comfortable for him or her, and not try and keep up with others who ride faster or more aggressively. That can be dangerous. The same can be said of life in general. Whipping through life can be exhausting and cause one to miss out. Not stopping to sample a picturesque view is an opportunity lost.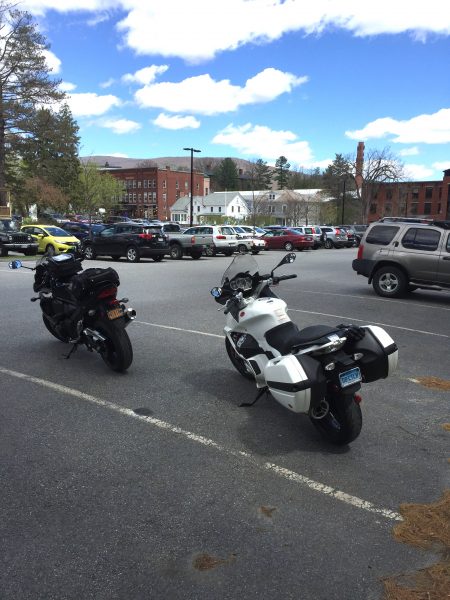 The purpose of the Vermont trip with riding compatriot (and RIDE-CT & RIDE-NewEngland columnist) Bob Rosen was multi-fold. The primary reason was to some put test miles on the white 2011 Moto Guzzi Norge that I recently acquired, but I also wanted to meet the website's newest columnist, Bob Furman (better known as Arlo Mudgett), and take a look-see at the prep school that I attended decades ago, Vermont Academy.
Exploring some new roads, reconnecting with an old classmate, discovering some new eateries, and taking some pictures were some goals, too. Among the lessons learned…
You can't look at pictures you didn't take:
Our route to Vermont took us north on Route 8 from Torrington, CT, through Pittsfield, MA on Route 7 to Williamstown. From there we headed east on Route 2 to North Adams, before heading north into Vermont on Route 100. We then turned east on Route 9, the main east-west state road in southern Vermont.
It's a wide, curvy ribbon that presents a splendid panorama into New Hampshire and Massachusetts from atop Hogback Mountain in Marlboro. I slowed to admire the view but did not stop to snap pictures, which I regretted almost instantly. It wasn't the first time that I neglected to pull out the camera (or cell phone) and it wouldn't be the last.
From Brattleboro, we headed north on Route 5 and made our way to Saxtons Rivers, where I had lived for nine months each year between fall of of 1968 and spring of 1971. A town of 500-plus people, it had two general stores back then (only one now), a post office and the freshest air a kid could imagine. It hasn't changed much.
Take time to reflect and appreciate:
I was 14 years old when my parents shipped me off to prep school, believing I'd get a better education than in public school. Vermont Academy was – and is – a small school with dedicated instructors, a low teacher-to-student ratio and a positive environment. (My senior year French class had only five pupils and we read a novel a week – in French.) The campus today has more buildings than it did when I attended, including a new theatre, and it looks much better polished. What hasn't changed is the friendly atmosphere and its charm.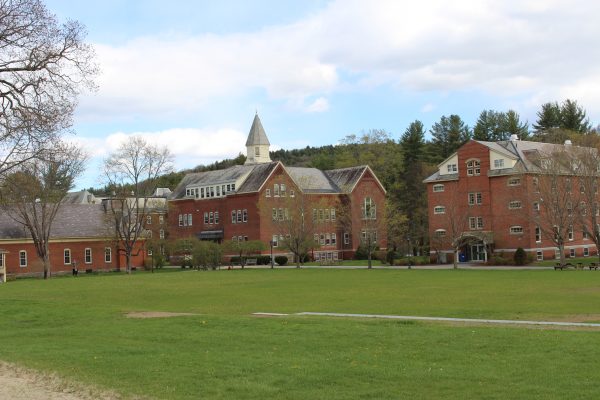 At one point during the self-guided tour, having flashbacks to my prep school days, I couldn't help but get misty-eyed and nostalgic. How could 45 years have passed since graduation? How could they have passed so quickly?
After wandering into a couple of buildings, including the Shepardson Center dining hall where Joe Perry of Aerosmith learned to play guitar in the basement when he attended, and having watched a few minutes of a varsity lacrosse game, Bob and I rode into Bellows Falls for gas before backtracking to Saxtons River and Moore's Inn.
Reconnect whenever possible:
The inn is owned by a long-ago friend from Vermont Academy's Class of '71 – Dave Moore.
Dave was a "townie" having been born and raised in Saxtons River and I was a "boarder." Dave had the better deal – lower tuition and he got to sleep in his own bed every night. Or maybe not. His missed some of the hijinks of dorm life.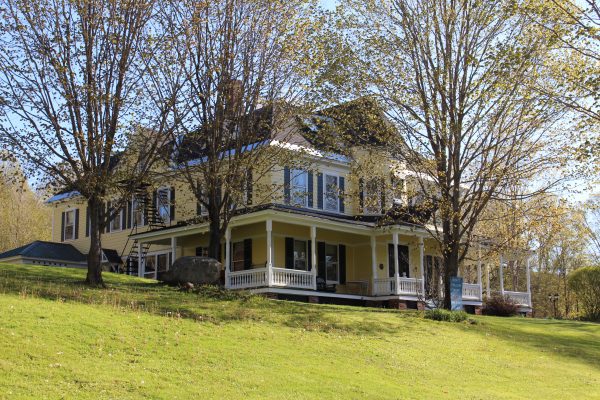 He now runs Moore's Inn, a comfortable, clean nine-room establishment on the edge of town. His parents bought the 5,000-square-foot house that he grew up in for $9,000 in 1953, and Dave gradually remodeled it. His family lives on the ground floor. Guest rooms at $109 a night are on the second and third floors. Dave's an active bicyclist and bicycle riders often stay there. Motorcyclists are welcome as well and there's a barn in back to provide covered overnight parking.
Dave and I have known each other for nearly a half-century, but it wasn't until we were seated at a table at Pleasant Valley Brewing down the street on Monday night and the discussion turned to how we avoided being drafted during the Vietnam War that we discovered that we share an Aug. 21, 1953 birth date. Dave even recalled we were born on a Sunday and that our draft number was a miserably low 30. Joining us for dinner was Bob Furman, so that connection was made as well.
Dave strikes me as one lucky fella, and he knows it. As an innkeeper, the world comes to him. It's not noticeable from the street, but look closely at the inn and you'll notice that many of the shutters on the exterior aren't shutters are all. Dave has cleverly painted the clapboards green to resemble shutters. Sure saves him a lot of work.
Did I get a closeup picture of the faux shutters? No.
Did I get a picture of Dave? No.
Sense a pattern here?
Eat well:
Any trip is an excuse to escape self-imposed dietary restraints and this quickie was no exception. The maple buttermilk pie at Pleasant Valley Brewing had to be tried.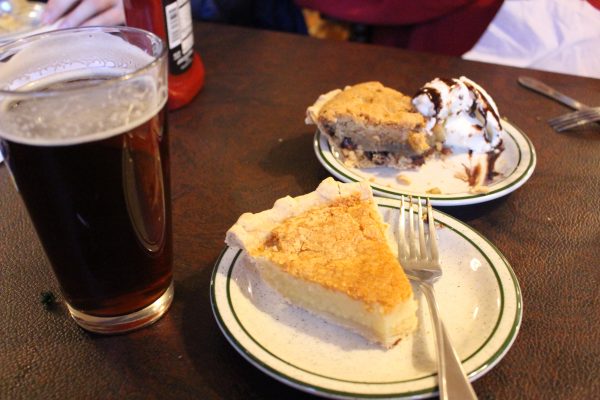 On Tuesday morning, after rising early, taking a walk in the crisp air, retracing some more steps on the Vermont Academy campus, and noticing the hard frost that covered the grass and car windshields, Bob and I headed to Chester in search of breakfast by taking the Pleasant Valley Road out of Saxtons River to Route 103.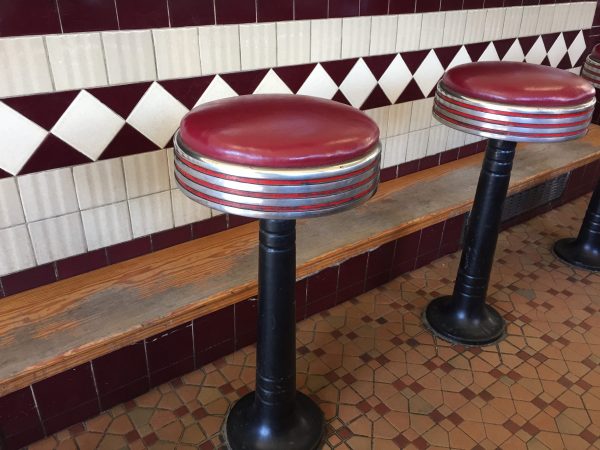 We had no idea where we'd stop but I soon spotted the Country Girl Diner.
Be curious and observant:
It's not particularly appealing from outside, and the parking lot was filled with pot holes and sand, but the inside revealed an authentic old-fashioned decor – stools with worn foot rails and an arched ceiling.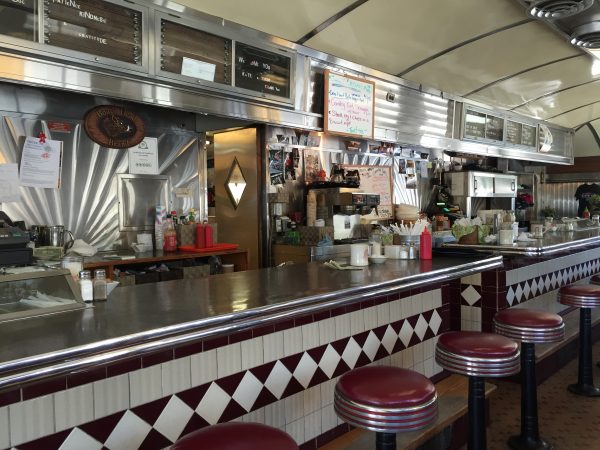 The food was fresh and tasty and the service prompt and friendly. The cheddar omelet that I had was packed with cheese and the sausage patties and Bob and I both tried had a nice mild kick. Looking at Bob's plate, I couldn't help notice the light yellow color of the yolks of the eggs. A customer suggested that different varieties of chickens produce different color yolks, but a later Google check revealed that yolk color is reflection of a chicken's diet. Who knew?
After paying up, we headed out with no particular game plan. Bob lead us west on Route 11 to Londonderry, turned north on Route 100 to Ludlow, then east on Route 103 back to Chester. A nice loop. He then headed west again on Route 11. No matter that we'd already traveled the road. The sun was out. The sky was a brilliant blue and the leaves on some trees were beginning to show green.
Vermont's state roads are exceedingly picturesque, especially the Route 100 rollercoaster. However, straying off of them on a motorcycle can be problematic because local roads often turn to dirt.
Route 11 brought us to Manchester where we turned south on Route 7A. Rather than follow Route 7 all the way back through Williamstown and Pittsfield, we turned west on Route 67 near Bennington, and connected to Route 22 south in New York.
Be spontaneous:
Filling up again in Hillsdale, I convinced Bob to take a  five-minute detour once we got to Copake  a few miles to the south to see the vintage Morgan automobiles at Morgan Motors of New England.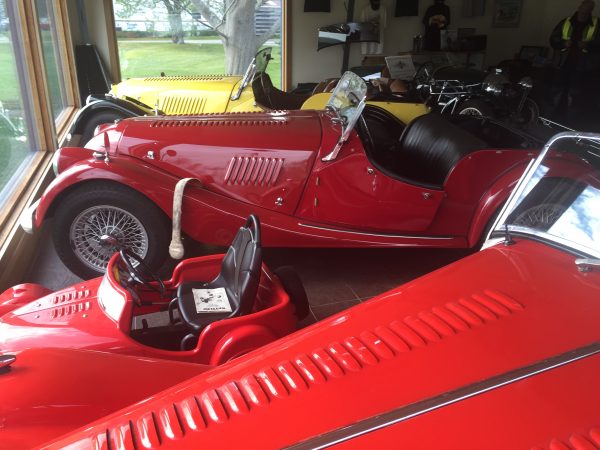 Hand-made, British-built Morgans are truly gorgeous, and the little dealership in Copake is a jewel of a museum and restoration shop.
From there it was a sprint home – with Bob breaking off to meet some friends in southern CT. I rode in the driveway, parked the bike and soon noticed a small puddle of oil beneath the crankcase.
Always check the dipstick:
Ever since it arrived back in late March, the Norge has weeped droplets of oil. I've assumed a dry gasket or maybe a loose bolt. I'd hoped it would heal itself. During the trip, the dipstick got checked several times. The oil level was always good and the bike ran fine. The problem seems to be getting worse, though, so further inspection is needed.
That was one of the reasons for the overnight Vermont trip – a shakedown cruise for the Moto Guzzi. Did I get any pics of the oil spill or the oil splatter on the lower fairing or rear rim? Of course not.