BETHLEHEM, CT – Music was coming from Joe Bordiere's three-car garage when I rode in his driveway in Bethlehem one recent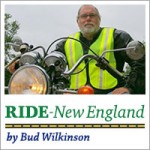 afternoon. Parked in front of the garage were three red Vespa scooters, two with sidecars attached,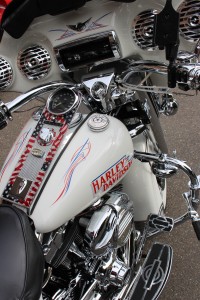 and one white Harley-Davidson motorcycle. "Ah, he's got a radio on," I thought as I removed my riding gear, but the thought only lasted for a second as Bordiere came strolling out of the garage playing an accordion.
My instant reaction was that this wasn't going to be a typical RIDE-CT column. How often does a story about an accordion-playing, Vespa-collecting barber come along, especially one who has turned one scooter into a mobile espresso and cigar bar?  My imagination isn't fertile enough to make this stuff up.
I'd first met Bordiere back in the summer at the urging of reader Tom Caliolo of Waterbury, who told me of the family-run barber shop in Oakville that he patronizes and where one of the haircutters owned some interesting scooters. I visited one afternoon, met Joe, and got my hair masterfully cut by his 76-year-father, Salvatore.
It wasn't until my second visit to the busy shop at 263 Main Street and another haircut from Sal, as a Frank Sinatra song played in the background, that Joe and I worked out a convenient time to get together. The resulting interview touched upon Salvatore & Sons Barber Shop, Bordiere's collection of two-wheeled conveyances and his collection of more than 50 accordions.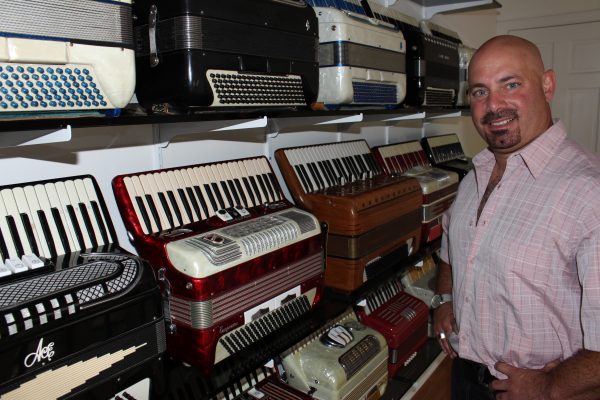 That Bordiere collects Vespas is understandable. They're made in Italy, which is where his father learned to cut hair at age 15. Sal emigrated from Sicily to the United States when he was 19 and opened the barber shop at its current location in 1975. Six members – and three generations – of Bordiere's family work there. In addition to his father, there's his brother Mark, his son Nick, his uncle Giuseppe "Joe" Rosa and cousin David Rosa. Bordiere recalled that he only spoke Italian when he entered school.
Where do the Vespas come in? Bordiere sometimes rides one to work and has emblazoned the barber shop's name on one of them. It's a 1972 Vespa VBB 150 model. He's also rigged a platform on rear of the sidecar to make the "Vespa Espresso & Cigar Bar."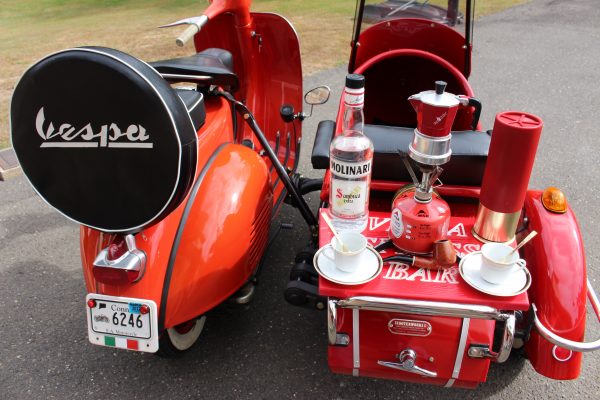 "I wanted to have something a little bit different," he said. "The espresso brewer runs on propane." The seat in the sidecar often totes non-human cargo, including his Shih Tzu named "Harley." "I like to travel with the accordion. It kind of goes with the whole theme," he said, explaining that he's been playing the accordion for 28 years. "It's kind of a lost instrument," he added.
Bordiere bought the VBB 150 used about 10 years ago. It sometimes gets used for promotional purposes, and has appeared the past four years in Watertown's Memorial Day parade. "It's a 150(cc) I had bored out to 180(cc) to give it a little more power to pull the sidecar along," Bordiere said.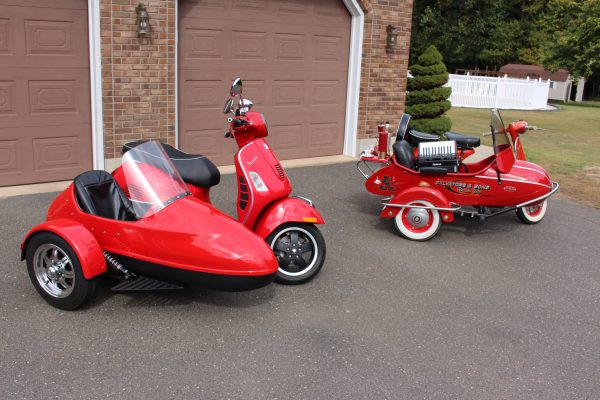 The second sidecar rig is a 2010 Vespa 300 Super that he bought new. "I painted it the same color as the other. That'll do 80 miles an hour. It moves right along with traffic. That's a lot of fun to drive. It's more comfortable – better suspension, better brakes," he said.
The scooter that he's focusing on these days is a 1966 Vespa Super Sport that he bought five years ago from a customer. "It was a basket case. I picked it up in boxes. The frame was rusted. The motor was seized, but I knew it was a very rare Vespa. They only made them from 1964 to 1968," he recalled.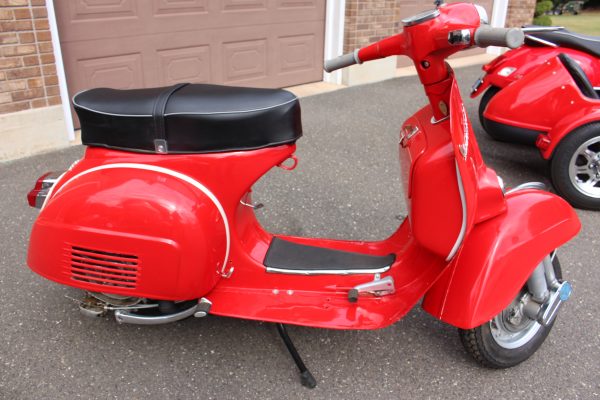 It took some work to get the Super Sport back together and shining. "If we didn't have the Internet, I wouldn't have attempted to do a restoration. I found all the parts I needed thanks to the Internet," Bordiere said.
Joe Bordiere serenades his scooters
Dwarfing the scooters in the driveway was his sparkling 1999 Harley-Davidson Road King Classic that he acquired 11 years ago. "If you look at this bike closely, there are five different whites. It's put together uniquely. I like to be different," he said.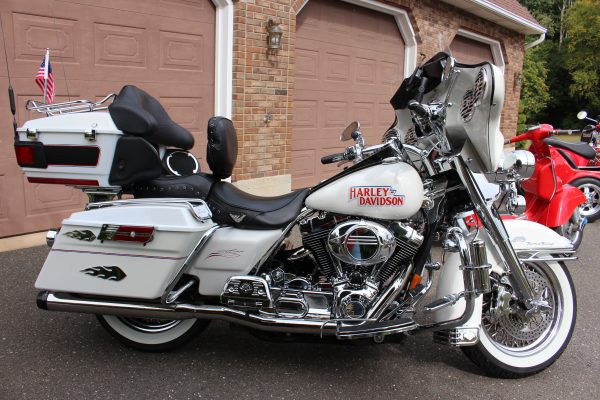 Bordiere rides as much as possible, switching between his Harley and the scooters. "I probably put a thousand to 1,500 miles on each (every year)," he said. "When you want to go on a long trip, obviously the Harley is the bike to take."
He acknowledges that there's quite a difference between his Harley and his scooters, but says both play to his heritage. "It's two extremes," he said. ""I love the Harley, with all the chrome, the sound, the look.  I'm Italian and that's who I am. I love the Vespas."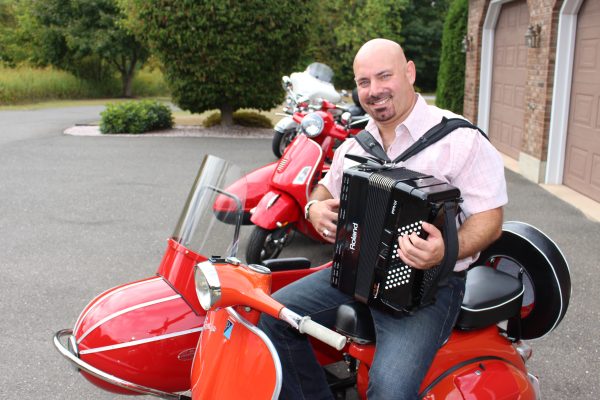 Bordiere has owned other Vespas in the past – a 1958 Sears Allstate-branded 125cc model and a 1972 150cc model. They're gone, and it doesn't appear that he'll be adding to his scooter stable. "I think this is it," he said. But he said nothing about limiting expansion of his accordion collection, which covers a wall on the second floor inside his house.
Bordiere is has one other two-wheeled ride – a bicycle fitted with a small motor. It's painted orange and black. On the gas tank is a decal that reads "Hardly-A-Davidson." A bar and shield logo on the motor says that, too.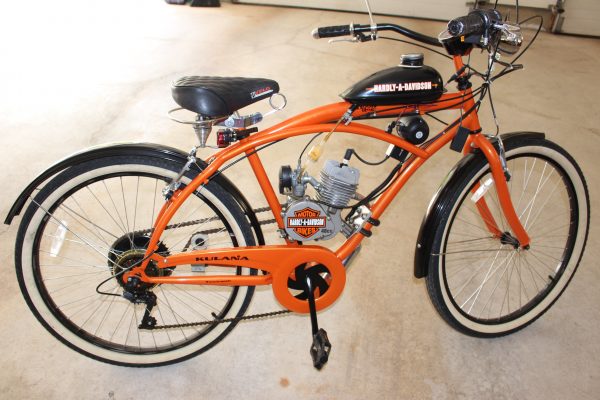 Unlike my arrival at Bordiere's house, there wasn't accordion music to accompany my departure, but it wasn't necessary. Thanks to an impromptu performance by Bordiere during my visit, I had accordion music in my head … and I've been hearing it ever since.
Joe Bordiere takes a short ride