TORRINGTON, CT – There eventually comes a time when every motorcyclist gives up riding. At 91, Jack Potter has finally decided to sell his motorcycles. He actually stopped riding eight years ago. It wasn't because he'd lost his nerve, rather his decision was mostly triggered by an abrupt decline in enthusiasm,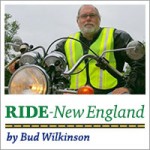 combined with the inevitable march of time.
Potter took up motorcycling in 1948 when he bought a two-year-old Harley-Davidson "Knucklehead" that he proceeded to ride off-road as well as on.
More than 60 years later, he still enjoyed having the wind in his face into his 80s and had two running bikes when he decided to quit – a rust-red 1987 BMW R 80 RT and a light blue 2006 Suzuki DL650 V-Strom. He also had a 1985 Honda VF700 Interceptor and a 1977 Yamaha XS650D. A semi-trailer in a side yard at his Torrington home provided spacious, dry storage. 
It was aboard the Interceptor that Potter covered 1,478 miles on a trip through 14 states from Maine to Virginia in 1995. He did it in only 45 hours. His adventure was recounted in an early RIDE-CT column in the "Republican-American" newspaper in September 2005 (long before this website launched). The only troublesome portion was on I-81 near Harrisburg, Pa. "There were all these big trucks and I was out here on this little bike" dodging tire carcasses, he recalled.
When we met for the interview back then, Potter showed up riding the BMW. Being a relatively newbie at the time having only taken up riding the preceding October, I found the R 80 RT to be quite large, and a bit odd looking with its full fairing and 797cc boxer engine.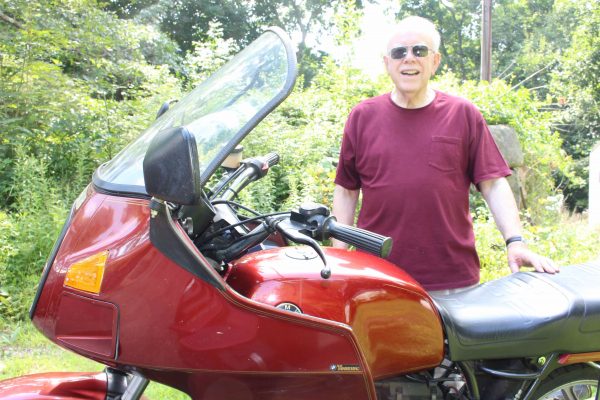 Over the ensuring years, our paths regularly crossed and it was always a pleasure to see him. Our contact faded when Potter quit riding, but we occasionally talked, so it wasn't a surprise when he called more than a week ago seeking the name of a mechanic who could get the V-Strom running so that he could sell it.
I passed along the name of Tom MacBurnie in Winsted, who used to work on my bikes at Canton Cycles and has continued to keep them tip-top ever since that dealership closed. It was then that the BMW got mentioned, although I can't remember by whom. I wasn't looking for another bike, but when Potter suggested a very reasonable price, I said I'd think about it. 
Having learned long ago that the best time to buy a bike is when it becomes available, I soon called him back and asked to come over last Monday to look at it. The result was predictable. After the look-see, I said I'd take it. I returned last Tuesday to hand over the cash and get a bill of sale. Once the Beemer was strapped down in the bed of my pickup, I asked Potter his thoughts on knowing that in a few minutes it would disappear down the driveway. "Thinking about some good old days when I was riding a good old reliable bike," he said.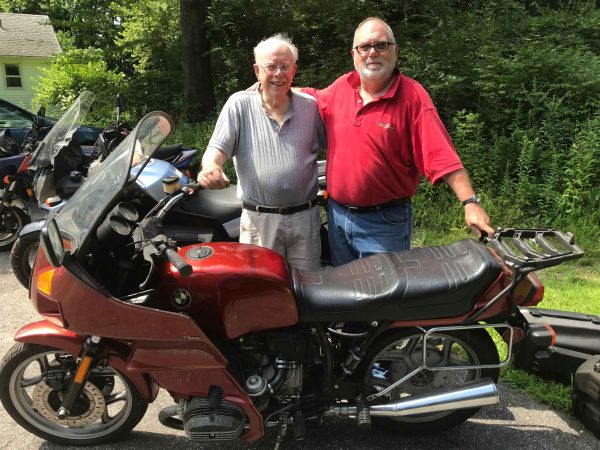 Potter had countless good days riding the BMW as well as other bikes between 1948 and 2010. What primarily caused him to abruptly quit riding was a tragedy – the death of his son, John, in a motorcycle accident on an exit ramp on I-84 in Newburgh, N.Y. Hypothermia contributed to his son's crash.
"It was a cold day. He lost control of his bike when he was turning off. It completely changed my whole attitude toward motorcycle riding," said Potter, who also said "family pressure" contributed to his decision to permanently park the BMW and the V-Strom. They've sat in the semi-trailer ever since.
While my plan was to take the bike home and then let MacBurnie tackle it as a winter project,  friend Paul Siciliano from North Granby, who's knows a bit about wrenching, suggested that I bring it over to his house so we could at least assess my purchase. Old bikes that have been sitting for years can have a multitude of problems – rust in the gas tank, gunked up carburetors, bad seals, and much more.
After putting it on a lift in Siciliano's barn, we discovered that wasn't the case here. The carburetors' float bowls were clean. The little gas that was in the tank didn't stink and had obviously been treated with a fuel stabilizer. The oil looked clean, at least what appeared in the dipstick.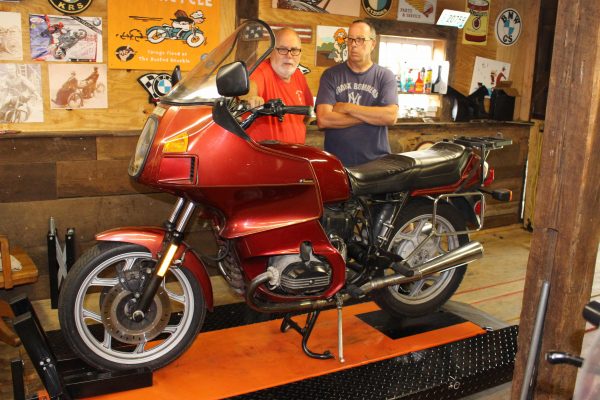 There was a dead mouse in the air box and the paper air filter was falling apart, but the R 80 RT was unexpectedly in far better shape than we had anticipated given how long it had sat idle and the fact it has 43,894 miles on the odometer. "This is crazy," said Siciliano as our inspection progressed. "This bike looks like it was kept in a climate-controlled living room." 
By the time we were done more than two hours later, Siciliano was predicting that with a change of fluids and a new battery, it would quickly be back on the road, and I could and should  do the work myself (with his supervision) to bond with the bike. "You know what's wrong with this bike? It's dirty," he said before offering his take on Potter. "He gifted you this bike," Siciliano said.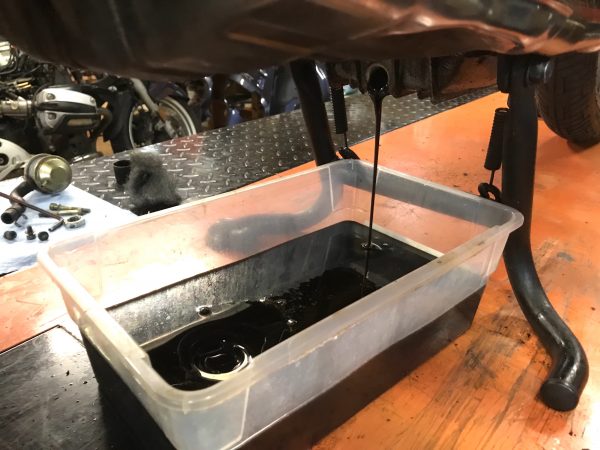 It did certainly feel like Christmas morning on an August afternoon, and reminded me again that the best part of riding is often the wonderful people you meet along the way. Potter has certainly been memorable for me, and it must be the same for his children, 16 grandchildren and five great-grandchildren. 
Returning to Potter's house on Wednesday to return a ratchet strap that I'd borrowed, the subject of riding inevitably came up. Potter became a bit wistful. "When the season opens in the spring and I see all those bikes out there, that old feeling still comes back," he said. What else would you expect from someone who has enjoyed a life well-ridden?
(Postscript: After this column was written, the R 80 RT got fresh oil, a new oil filter, new air filter, new pan gasket, new fuel lines, and a new battery. It fired right up as the above video shows. There's a little more work to be done, including road testing, but the eight-year sleep has ended for the old Beemer.)
(A version of this column originally ran in the "Republican-American" on Aug. 11, 2018)