GREENWICH, CT – It would be misleading to claim that motorcycles are an afterthought at the Greenwich Concours d'Elegance. The event staged on the waterfront at Roger Sherman Baldwin Park routinely draws some exquisite models. It's just that they're always overshadowed by the high volume of expensive vintage and modern cars, and the late October revival of the three-day Concours after a COVID-19 pandemic time out in 2020 followed the pattern.
On the final day on Sunday, there were more than a dozen interesting and rare motorcycles on display as the gathering observed the 120th anniversary of the Indian brand's founding in Springfield, MA as well as the 100th anniversary of the launch of Moto Guzzi in Italy.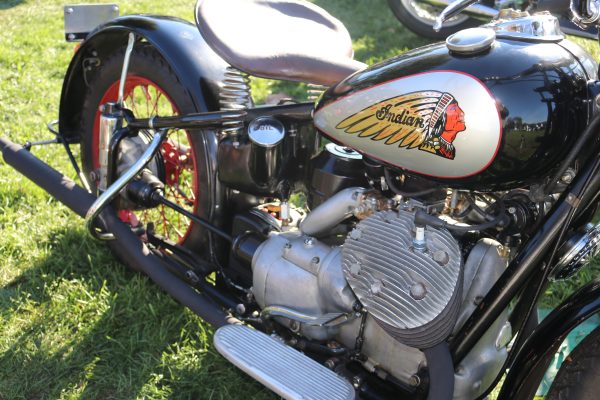 Moto Guzzis are literally recognized these days for being powered by what the brand describes as a "transverse V-twin engine," with its cylinder heads exposed on either side of the frame. Others describe this as longitudinal mounting, making for a confusion, which is fitting as one of the old Indians on display had this uncommon engine configuration as well.
Jim Sims of Southbury, CT brought the 1941 Indian 841 model that he bought 20 years ago from former "American Iron" publisher Buzz Kanter.
"The 841 was a prototype built for World War II. It has some interesting features, including a drive shaft on it because at the time the Allied forces were fighting Rommel in the North African desert, and that was chewing up sprockets and chains, so they went to a drive shaft on it," said Sims, referring to German general Erwin Rommel.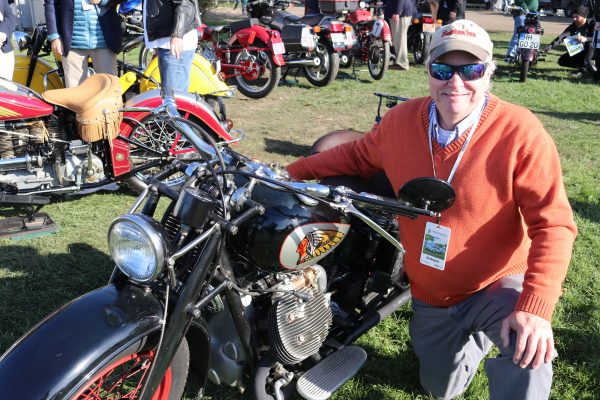 The 841's design was inspired by approach used not by Moto Guzzi, rather by the German motorcycle brand BMW, which favored shaft drive and boxer engines with the cylinder heads sticking out on either side. "I think that they believed that the cooling would be a little better with the heads sticking out in the air like this," he said.
Sims's 841 is black with red rims and a large multi-color Indian headdress logo on a silver background on either side of the gas tank. The 45-cubic-inch (737cc) engine is paired with a four-speed transmission and has a heel-and-toe shifter.
"I do ride it. Registered and insured, and I do take it out and ride it around town quite often," said Sims. "I get a lot of looks, and if you come into a parking lot, it's like ants to honey. It gets a lot of attention."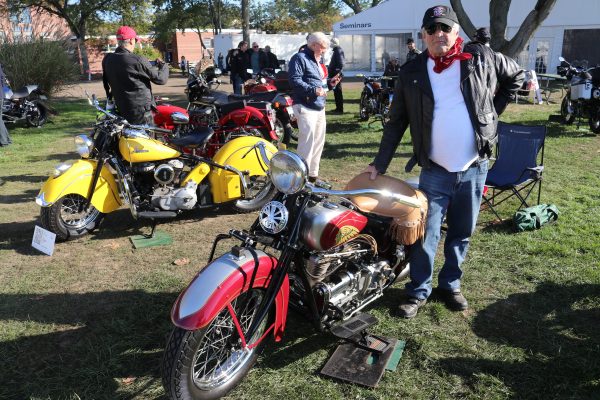 The 841 was parked next to an equally interesting 1937 Indian Sport Four owned by Roland Houde of Andover, MA. It is one of an estimated 500 produced.
"It's a one-year-only production bike. Harley-Davidson came out with the Knucklehead in 1936. Indian was caught short-handed. They didn't have anything to compete against that," said Houde. He recalled that Indian did have a four-cylinder model at the time "so for one year only, in 1937, they hot-rodded the four cylinder. Dual carburetors, dual exhaust, factory (exhaust) cutout, higher compression, hotter cam."
The model flopped. "There was too much heat," Houde said. "The exhaust manifold was right next to your leg. Even though it gained 10 percent performance by doing that, in 1938 they went back to the regular one carburetor, single exhaust and they finally put valve covers on it. This has no valve covers on it so when you do ride it, the oil goes everywhere; over you, over the bike."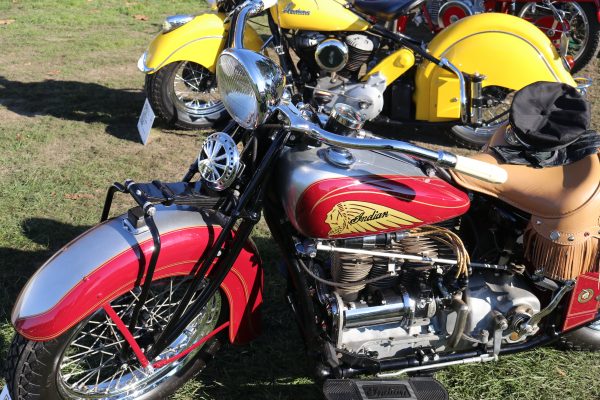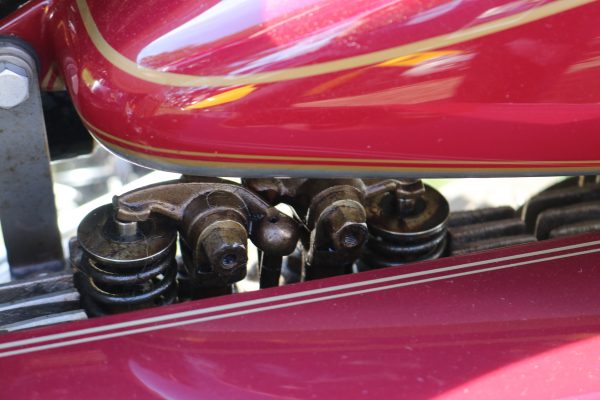 Houde said his Sport Four experienced engine failure in the early 1940s. "Whoever owned it not only took the engine apart but took the whole motorcycle apart. For the next 50, 55 years, it stayed in boxes. Everything was in boxes. It changed hands three different times. I purchased it in boxes in the early 1990s," he said.
The Sport Four remained in boxes for another five years or so as Houde worked on other projects. "About 20 years ago, I started a 10-year restoration on this motorcycle. Parts were missing, parts were wrong, parts were not available, so it took 10 years to get it back to this condition."
The restored Sport Four is red and silver with a gold Indian headdress logo on the tank. Houde added some nifty accessories. The top of the shifter knob contains an Indian head gold piece. The seat displays Indian head nickels from 1937 and there's a 1937 license plate from Pennsylvania on the rear.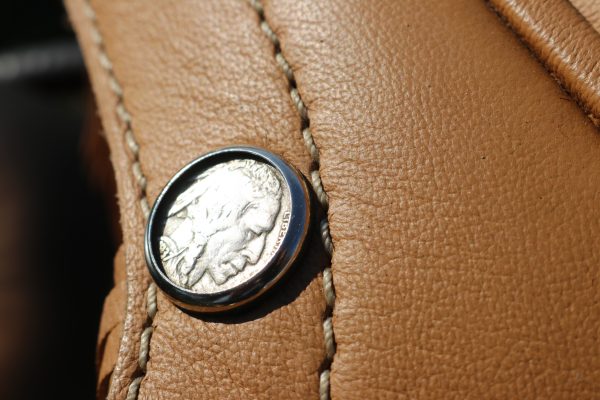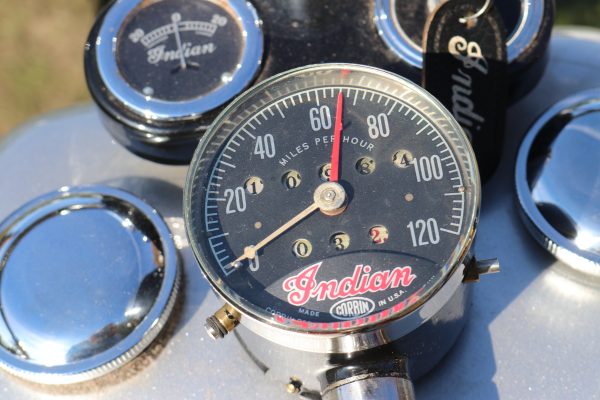 The speedometer on the motorcycle is notable because it has a separate red needle that records the top speed the rider has hit on a given ride. Houde also has a period Indian motorcycle jacket.
"I exercise it once or twice a year, five to 10 miles. It was only finished four years ago, five years ago, so I'm trying to keep it in show condition," Houde said.
There was one modern bike parked amidst the old Indians and Moto Guzzi models – a 2021 V85 TT Centenario Edition adventure bike in silver and green. It's a limited production model celebrating the brand's 100 years and was owned by Steve Rossi of East Haddam.
Sims summed up the reason motorcyclists bring their rides to the Greenwich Concours d'Elegance, despite motorcycles being a niche display. "For me, to get a chance to meet some other people with similar bikes and similar interests, that's the best part," he said.
(A version of this column originally appeared in the "Republican-American" newspaper on Oct. 30, 2021.)
Hello! If you enjoyed this column, please share it with other motorcyclists by clicking on the social media buttons below.