GREENWICH, CT – The day-of-show ticket price of $55 alone provides a clue that the Greenwich Concours d'Elegance isn't your average vintage car and motorcycle show. Its waterfront setting, its judges bustling around in navy blue blazers, and its rare and valuable entries both old and new drive home that point and make this upscale event memorable.
After a year's absence due to the COVID-19 pandemic, the Concours returned over the weekend, drawing an elbow-to-elbow crowd as it spotlighted Duesenberg, Lancia and Allard automobiles and Indian and Moto Guzzi motorcycles.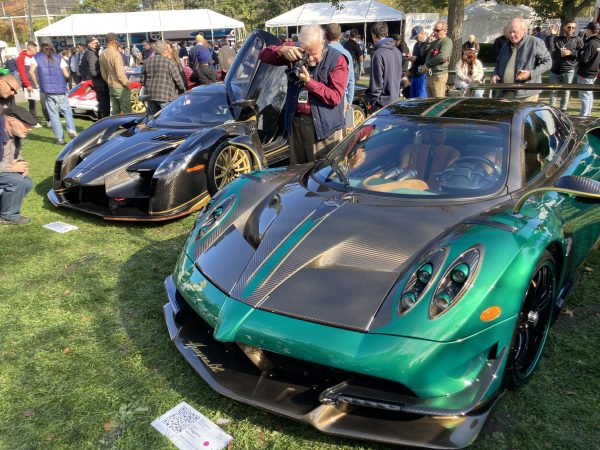 Getting quickly noticed as it was on display near the entrance to the show was a hand-built, 791-horsepower, green and black, carbon fiber 2021 Pagani Huayra BC super car.
"Motor Trend" magazine reported last month than the Pagani has a price tag of only $4 million with production capped at 40 units. The placard on the ground in front of the Pagani said it was provided by an "anonymous collector."
The Pagani was worth the price of admission almost by itself, but the show ground was covered with so many more notable entries, from Duesenberg and Rolls-Royce touring cars from the 1920s and 1930s and muscle cars from the 1960s to rare, forgotten and oddball entries.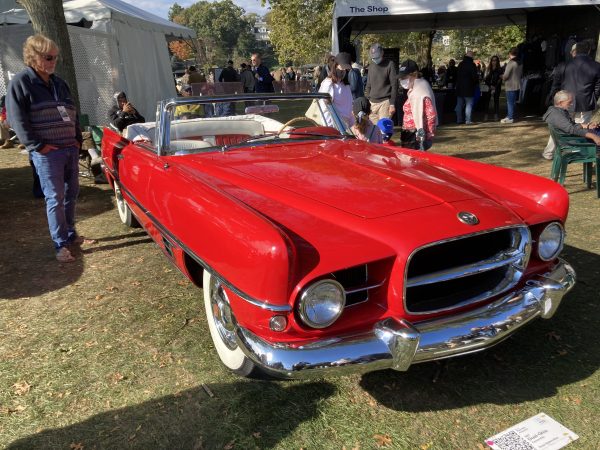 Where else but the Greenwich Concours d'Elegance might a car enthusiast spot a 1957 Dual-Ghia? The brand was a spinoff from the Dodge Fire Arrow concept models from the early 1950s and was produced from 1956 through 1958. Only 99 examples were ever built with the frame and drivetrain being supplied by Detroit and the bodywork being done coachbuilder Ghia in Italy.
Part of the brand's lore is that owners included celebrities such as Frank Sinatra, Debbie Reynolds, Peter Lawford, Lucille Ball and Desi Arnaz, Ronald Reagan and President Dwight D. Eisenhower.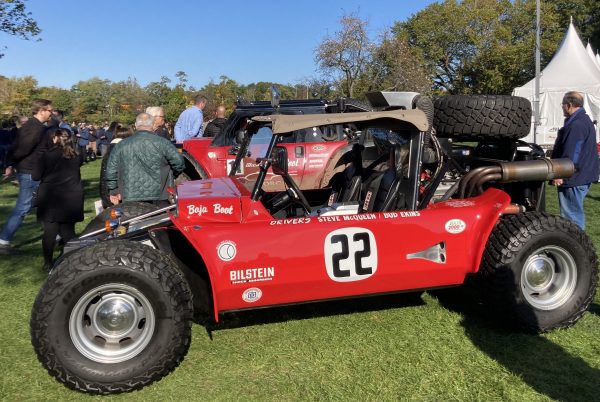 Another celebrity model on display was the "Baja Boot" desert racer that ran in the 1967 Baja 1000 in Mexico. Actor Steve McQueen bought it in 1968 and convinced friend Bud Ekins to be his co-driver going forward. James Glickenhaus acquired it in 2010. (A bit more history may be found here.)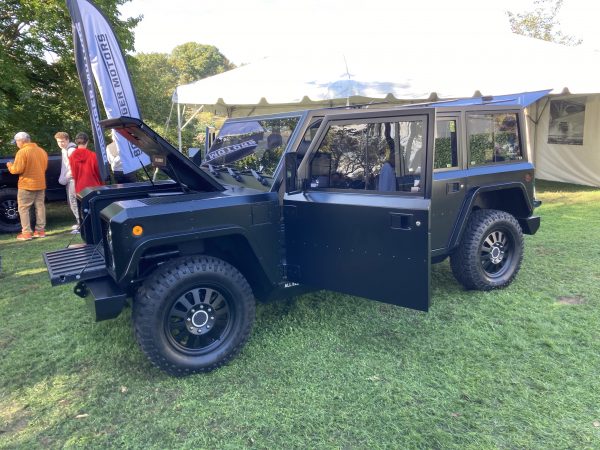 Tucked in a corner of the show ground was a display by new electric truck maker Bollinger Motors. The Michigan-based company's B1 model has a 200 mile range and a starting price of $125,000.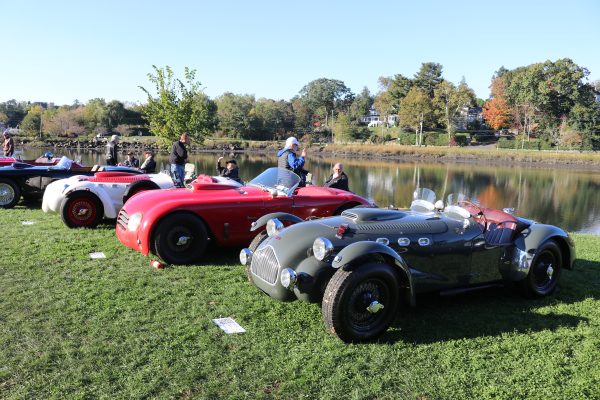 Clustered in a row were more than a dozen examples of the British-made Allard sports car. The brand was founded in London just after World War II by Sydney Allard and lasted until 1958. It only produced about 1,900 units. (A more detailed report on the Allard brand will be posted soon as will a report on the motorcycles.)
With its huge variety of hard to find and expensive entries, combined with the setting, the Greenwich Concours d'Elegance is an event that surpasses most all others in the Northeast. Spectators inevitably go home marveling at what they've seen, and will likely never see again.
For more photos, check out Bob Rosen's galleries of cars and motorcycles.
(Photos by Bud Wilkinson)
Hello! If you enjoyed this post, please share it with other car enthusiasts by clicking on the social media buttons below.