It was while picking up a used 2014 Triumph Bonneville from Mark's Motorsports on Wednesday that I got to wondering about the bike's previous owner. He'd only ridden it 5,688 miles in four years. That's only 1,422 miles per year. Could he possibly be a "Dunkin' Angel?"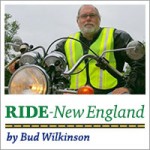 It was back in 2011 (with input from a few friends) that I wrote a RIDE-CT column in "Republican-American" newspaper on the tell-tale signs of a "Dunkin' Angel." It also got posted here and rerun in November 2015. With sufficient time having passed, and many new readers having come to RIDE-CT & RIDE-NewEngland over the past two-plus years, it's perhaps time to recycle it again.
What is a Dunkin' Angel? That's a peculiar species of motorcyclist who is more poser than rider. As I noted originally, they're easy to spot as they duck walk their heavy cruisers in parking lots and wobble at slow speeds.
Nothing against riders who exhibit these traits, provided they're "newbies." The fact is, though, there are many long-time riders who qualify as Dunkin' Angels because of a lack of seat time. For those riders,  a long ride is to the corner donut shop on Sunday morning for coffee and posing. They're often the first to say "I've been riding for 20 years" while having less seat time and skills than some riders who've only owned a motorcycle for six months.
With another tip of the helmet visor to Jeff Foxworthy, here are some of the signs to watch out for, and be advised even experienced riders occasionally exhibit some of them:
You might be a Dunkin' Angel if…
…your five-year-old bike has fewer than 4,000 miles on the odometer.
…you don't have GPS or any maps in your saddlebags or tank bag.
…you still have your stock seat.
…you only change the oil in your bike once a year and you have the dealer do it.
You might be a Dunkin' Angel if…
…after a year or two, your riding gear is still shiny and unblemished.
…you have patches on your leather vest for places and events (Sturgis, Rolling Thunder, Americade, Laconia Motorcycle Week) that you've never visited.
…you spend more time cleaning your bike than riding it.
…you've spent more money on chrome than you have on new tires.
You might be a Dunkin' Angel if…
…you don't own a tire pressure gauge.
…you think a newer bike that looks good is better than an older bike that runs well.
…you believe that size matters.
…your bike has a cup holder.
…you park your bike in the living room.
You might be a Dunkin' Angel if…
…you still have the little rubber nubs on your tires two years after buying them.
…you've learned what "dry rot" is.
…you still have all the warning labels and dealer stickers on your bike.
…you spend more money in the dealer's clothing department than in the parts department.
…the only time you wear a rain suit is when golfing, fishing or hunting.
You might be a Dunkin' Angel if…
…your idea of a long ride is to a Bike Night gathering.
…you spend more on brand-specific  T-shirts than on gas.
…you've gone through two trickle chargers in one season.
…you look up "Sissy Bar" on Mapquest.
…you smoke a cigar while riding.
You might be a Dunkin' Angel if…
…you don't own a pair of cold weather riding gloves.
…at this time of the year, you don't have wires from your heated gear dangling from your jacket when you walk away from your bike.
…you've never bitched about how low the sun is in the sky in December and how it adds to the glare.
…when you roll your bike out of the garage and a cloud obscures the sun, you roll it back into the garage.
…the temperature gauge says 50 degrees and you think it's too cold to ride.
Finally, you might be a Dunkin' Angel if…
…all of your clothes are emblazoned with the name Harley-Davidson.
Yeah, I know, that last one's profiling. As a former Harley owner, I wrote this with tongue firmly in cheek, and I do own Harley gear myself as well as a Triumph hat and T-shirts that bear the logos of Norton, BSA, Motus, Victory and Triumph.
And, yes, I'm guilty of being a Dunkin' Angel. I have patches and T-shirts for events that I've never attended. I don't own heated gear.
If you know of any other traits of Dunkin' Angels, let me know.