VARESE, ITALY – Most riders can't afford one. Indeed, most riders will never see one in person. Nonetheless, in a worldwide press unveiling via Zoom this morning, super premium Italian motorcycle brand MV Agusta revealed its newest model – the limited edition Superveloce Alpine.
The racey model represents, in the words of MV Agusta CEO Timur Sardarov, "a natural collaboration" between his company and French sports car builder Alpine.

Both companies build high-end products and both have "passions for speed and beauty," Sardarov said.
The Superveloce Alpine is inspired by the carmaker's Alpine A110 model and, consequently, it comes in the same metallic blue color as the car and only 110 units will be assembled.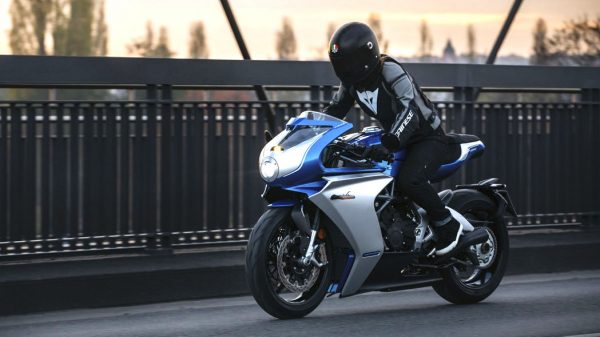 Each will be numbered, badged with an "A" for Alpine, and will sell for €36,300 (that's roughly $44,000). The Superveloce Alpine is powered by an improved MV Agusta 798cc, 147-horsepower three-cylinder engine. It weighs in at only 381 pounds and has a top speed of 149 miles per hour.
Patrick Marinoff, Alpine managing director, who joined the Zoom session from outside Paris, touted the Superveloce Alpine saying, "It's light. It's nimble. It's fast."
In unveiling the model, MV Agusta's Brian Gillen noted the model has five carbon fiber components – including air intake covers and lower body fairing – which helps to make the Superveloce Alpine more nimble.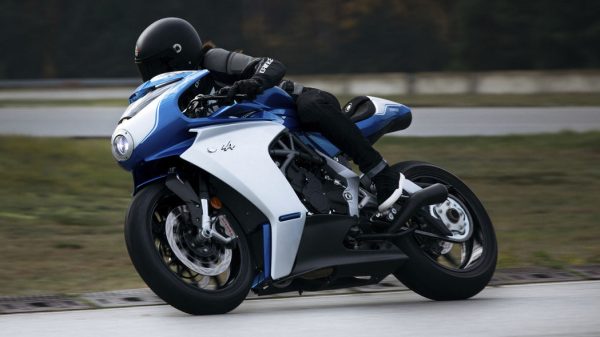 MV Agusta only has a few dealers in the Northeast – Cycles! 128 in Beverly, MA; Rockwell Cycles in Fort Montgomery, NY; Gold Coast Motorsports in New Hyde Park, NY; and Motorcycle Mall in Belleville, NJ.
Hello! If you enjoyed this story, please share it with other riders by clicking on the social media buttons below.