ORDER NOW: "Recipes for a Good Ride – The Toymakers Cafe Cookery Book" is now on sale for $19.75 and may be ordered by emailing annbidou@yahoo.com.
FALLS VILLAGE, CT – The long-planned, motorcycle-themed cookbook from Toymakers Cafe owners Annie and Greg Bidou is now at the printer and should be available for pickup before Christmas.
Orders are now being taken for "Recipes for a Good Ride – The Toymakers Cafe Cookery Book," which is due out on Dec. 21.
The cookbook mixes more than 60 cafe-tested recipes with profiles of many of the bike-riding regulars who made the cafe a colorful and favored haunt in the riding community for more than 18 years.
The cafe closed in September due to the COVID-19 pandemic.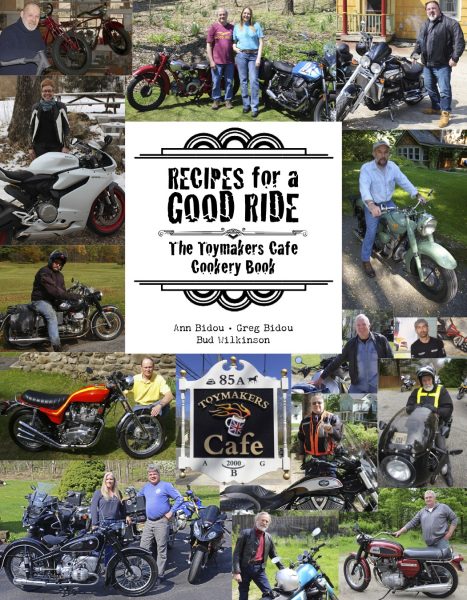 "Publication of the cookbook enables the cafe to live on," said Annie Bidou, explaining that requests for "Recipes for a Good Ride" may initially be sent to her via email at annbidou@yahoo.com.
The cover price is $19.75 (tax included). Because of the short time period between the book's delivery date and Christmas, it will not be possible to ship the cookbook before the holiday. Those ordering it as a Christmas gift will be able to pick it up curbside at the former cafe and may pay by cash or check.
Cookbook Available By Mail After Christmas
After Christmas, orders for "Recipes for a Good Ride" will be able to be filled by mail with an additional shipping charge. Payment will then be possible through PayPal as well.
Plans for the cookbook were first announced in July, but the Bidous have been assembling a collection of recipes for several years. Most of the recipes are for easy-to-make breakfast and lunch best-sellers.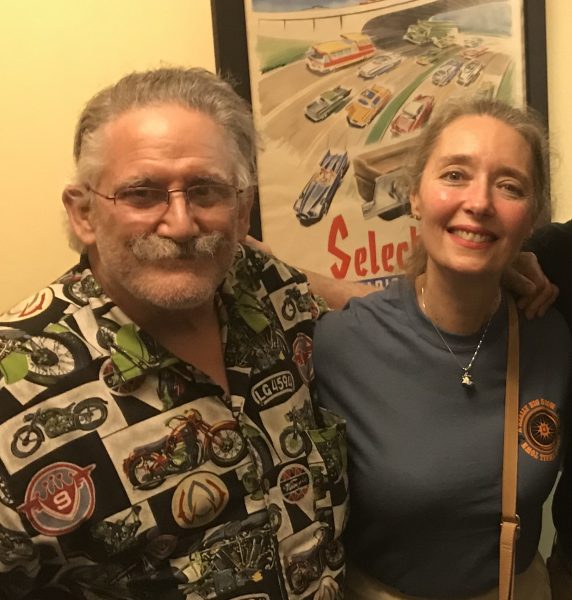 The Bidous opened Toymakers Cafe in 2002 having given up the corporate life of commuting to New York by train every day from their former home in Fairfield County, CT. Greg served as the cafe's chef while Annie took and delivered orders.
"The idea for the cookbook came about because we wanted to capture what Greg was doing intuitively," said Annie. "We wanted to honor all the regulars who've kept us in business through good times and bad, and share the fun we've been having these past 18 years."
"Recipes for a Good Ride – The Toymakers Cafe Cookery Book" is jointly authored by the Bidous and journalist Bud Wilkinson, who publishes this website and writes the RIDE-CT motorcycle column and My Ride classic car feature in the "Republican-American" newspaper in Waterbury, CT.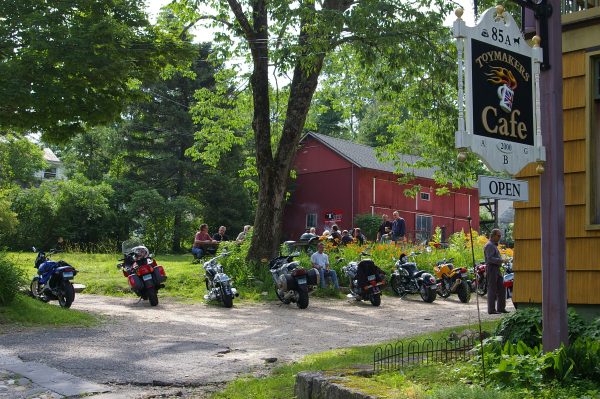 Hello! If you enjoyed Toymakers Cafe (or regularly scan this website), please order the cookbook, and share this story with other motorcycle riders by clicking on the social media buttons below.