Long weekends like Memorial Day provide an opportunity for friends and family to gather. Barbeques are certainly the norm for most and if you own a bike maybe riding that bike to a barbeque is also the norm. Hey, for me, riding a bike to everywhere is normal. Every inch that I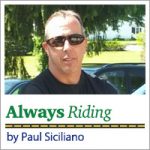 ride is that much more experience that I gather, which, I might add, makes the next inch better and safer.
In my Motorcycle Safety Foundation classes, I not only cover the curriculum, I also try to share relevat experiences. Not only are these discussions educational to both student and myself, they provide me with teaching moments that perhaps I may not have the opportunity to cover in the course material. One thing that is consistent is that these discussions always take us in the direction of group riding.
Group riding is anything more than just you on your motorcycle. It is that simple. If there is more than one motorcycle riding together to the same destination, the ride warrants a discussion; even a strategy before mounting up. Some common practices are discussing some hand signals, route and, hopefully, even sharing some knowledge of the roads. Be sure to watch for wildlife near so and so road as an example.
If you are carrying a passenger or "stuff" it is best to remind those who are not that, your bike rides a bit different than one who isn't. Space cushions and speed are all worth the talk. Anytime I get such a discussion going I always listen to see if there is one item or topic I never gave thought to. I am happy to say I still learn something new from each talk.
If you have read any of my previous columns, you may have seen the one about having I.C.E. (In Case of Emergency) information on you. I have a pocket on my riding jackets labeled in red letters for that. I also have little notebooks I keep in my tank bags on my bikes. I do this not because I am obsessive or anal retentive. It is because I am human and I forget things all the time.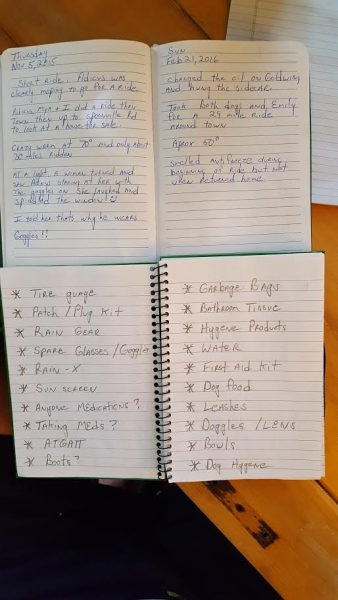 Over the many miles I have ridden I have either experienced first-hand and/or learned from another "preventive measures" to allow for a safer, uneventful ride to each and every destination. Destinations a few miles away or a few states away, I frequently consult my book of notes.
Some of my personal notes:
Everyone have helmet
Do I have I.C.E. info for all
Everyone have good tires
All lights work
Ride staggered
Everyone know destination
Everyone fueled up
Pillions? I.C.E? overloaded?
Do I have everyones cell #?
Everyone legal
How about time? Anybody bring any extra time? Planning a journey does not start the day of. Before traveling with a group, I always get the talks going either by group text, email or both well in advance. Each communication provokes thought to another rider. I no longer travel with riders who have put zero thought into the ride.
I have had third party riders show up with empty tanks, bald tires and last minute mindsets of "Don't worry, I'm good" when the ride has hundreds of miles involved. I will not ride with those riders just as I will not ride with anyone who will not wear a helmet. I respect your right to make these choices 100 percent. However, having experienced riding up on a helmetless rider who crashed and being stuck on the side of the road due to a rider putting zero effort or thought to preparing are two things I choose not to experience again.
I write this column with the hopes it is received as meant. A little thought and a little preparation go a long way to an enjoyable journey with friends so we all arrive at Point B safely and happy. Never take for granted having no issues on your ride,  rather learn from every inch you rode to make the next inch better.
I write this on this Memorial Day 2017 as I honor those who have fallen. I am eternally grateful for you.Always