Of all the roads in southern New England, Route 57 in Massachusetts may be the most enjoyable and exhilarating for motorcycle riders. Running east-west and stretching nearly 40 miles from New Marlborough on the west to Agawam on the east, it's serpentine and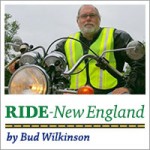 extremely hilly. It's also sufficiently rural that traffic is rarely an issue, except between Southwick and Agawam.
Certainly the best segment of Route 57 is the 12.5-mile midsection between the intersection of Route 8 in Sandisfield and Granville. There are uphill and downhill sweepers, sharp corners and hilltop flats that are dotted with historic homes, churches and other structures. The roadway is wide and easy to maneuver, bordered by woods, fields and occasional ponds.
Depending on the direction the rider is heading, this portion either begins or ends with an attention-getting sharp turn, a steep incline and another sharp turn.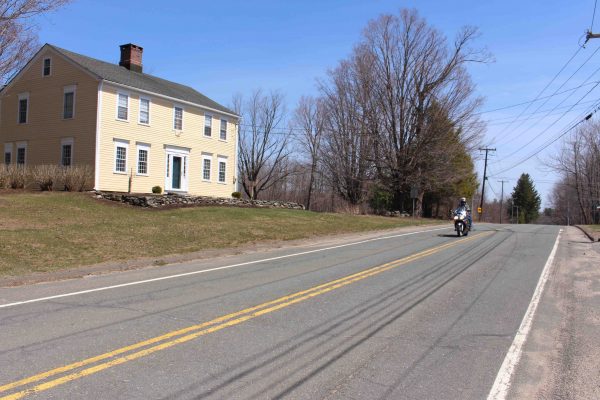 While the temptation is to twist the wick in places – that is, roll on the throttle and ignore the speed limit – it's equally satisfying to ride the road at a leisurely pace and take in the scenery. That's what I did with two friends in early spring. More specifically, I enjoyed the sights while they tested the performance of their bikes.
We'd hooked up in Granby, CT and taken Route 189 north. The curvy state road, which basically aligns with the east branch of Salmon Brook, provided a warmup that filled our nostrils with the welcoming odor of cow manure. I'll take the smell of manure over diesel fumes any day.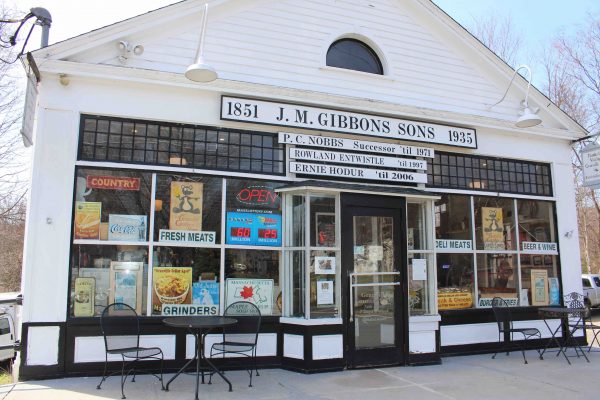 Our destination was the Granville Country Store on the green in Granville for an early lunch. It's a spot that I make an effort to visit at least a couple of times each summer. Opened in 1851 by John Murray Gibbons, it is still known today for its aged cheddar cheese, which can be added to sandwiches or purchased in cut-to-order chunks to take home.
The cheese is made off-site using Gibbons' "secret recipe," according to the store's website, but is aged in the cellar. Having never been downstairs, I can't confirm the cheese cellar, but I can vouch for the tastiness of the product.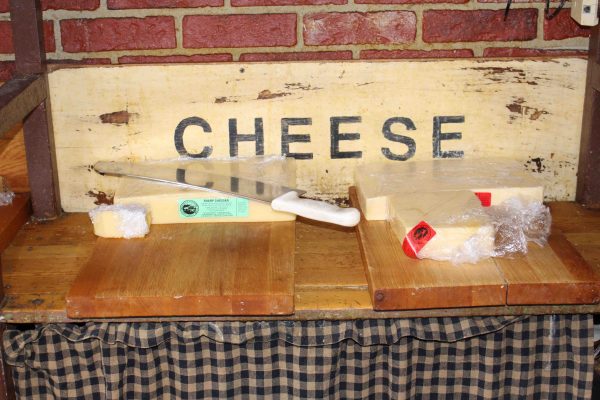 The true test of any establishment is whether locals patronize it, and the Granville Country Store is a routine stopping point for morning coffee and lunchtime grub for workers in the area. The menu has a long list of grinders, burgers and sandwiches. I couldn't pass up adding some cheddar to my tuna grinder.
Yet the store also caters to tourists with shelves filled with store-branded canned goods, such as squash pickles, country fruit, farmhouse pickles, and mild and spicy pickled eggs. The jars are colorfully displayed adjacent to the small seating area.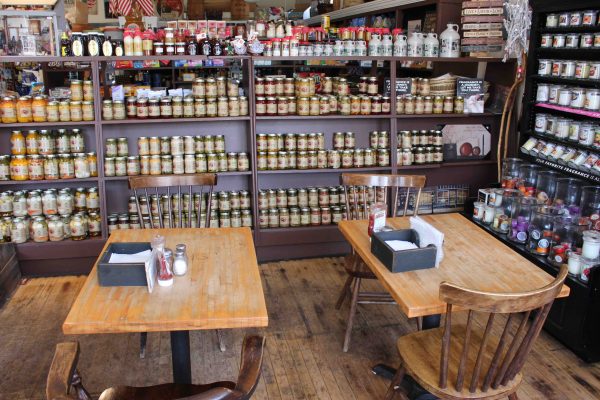 Behind those shelves is a section for chips, wine, and soup and chili, the tureens for which sits atop a vintage wood stove. There are also refrigerated cases filled with drinks and a deli counter that has the store's pre-packaged macaroni and cheese, which is worth taking home for dinner.
Motorcyclists from near and far have found the Granville Country Store to be to their liking, if only as a place to stretch the legs and rehydrate. It's worth taking a few minutes, though, to examine the store more closely. If I hadn't checked, I would have assumed the old red Coca-Cola cooler behind the seating area actually worked and was filled with frosty bottles. Not so.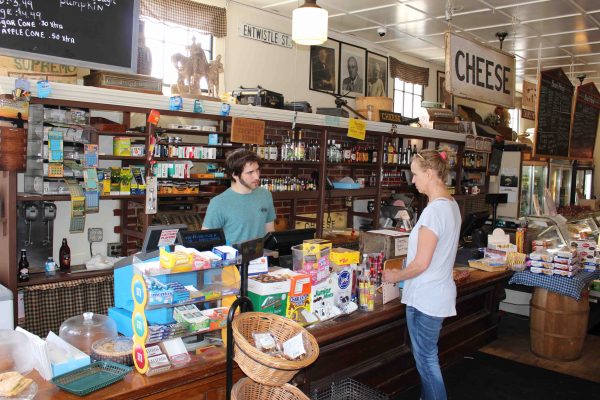 Getting to (or going home from) the Granville Country Store and Route 57 is half the fun. From Connecticut, in addition to going via Route 189 from Granby, the store and the route can be reached by taking Route 8 north in Winsted (although the best part of Route 8 lies between the Route 57 intersection and Otis, Mass.), Route 183 north in Winsted and Route 272 north in Norfolk. All three alternatives are scenic, although Routes 183 and Route 272 are less well-maintained once you get into Massachusetts.
After finishing our lunches, we headed west on Route 57, then took Route 8 south back to Connecticut. Being early spring, the flowers weren't blooming yet and the trees hadn't budded. The upside was that there weren't bugs to deal with. Now, everything is green, making the route even more picturesque, and always worth riding.