NORTH GRANBY, CT – To say that I was dumbstruck when my friend Frank Tedeschi recently texted "Google Piet Boonstra. He is my friend's father" isn't sufficient. I damn near fell out of my chair before replying, "WHAT?!" because I knew the name of this iconic rider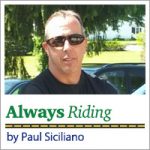 and author well.
If you haven't heard of him, Boonstra is a man of many achievements in the motorcycle world. He has documented more than a million miles on a motorcycle and has written several books sharing not only his enduro experience but stories of his adventure touring as well. Among them are "The Golden Age of Enduros," "Keep Going! The Pleasure and Pain of Perseverance" and "Motorcycling Stories: Adventure Touring from the Northwest Territories to the Yucatan Peninsula."
When I think about what this man has done with a motorcycle, it makes me wonder if I should maybe change the title of this column to "I Want to Be Always Riding." Yes, consider me a huge fan of his.
Once I recovered from the shock of the text message, Frank put me in touch with Piet's son, Jimmy Boonstra. He and I spoke on the phone and during our conversation I couldn't hide my fondness for his Dad. Whether I begged or hinted at how great it would be to meet Piet can be debated, but after some back and forth Jimmy extended an invite to the Boonstra home in the Hudson Valley.
Frank joined me for the visit. We were riding slowly down the street looking for the house number when Jimmy saw us approaching. He waved from the front yard. "Park there by the window so Dad can see the bikes," he told us, noting a spot in the driveway.
After Frank and Jimmy shared a warm exchange, Jimmy introduced himself to me and said, "C'mon in and meet Dad!" He took us in the rear door like we were family. Piet was sitting in a chair in the living room, looking at a computer screen and viewing his blog. His most recent post notes that he owned and rode 33 different motorcycles in 67 years of riding.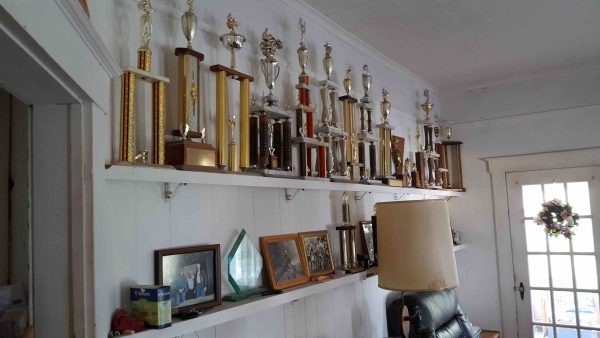 Piet (pronounced "Pete") invited us to sit down. The conversation opened with who was riding which bike outside and what sizes they were. Thankfully, Frank was able to answer first as I was speechless due to the trophies I could not help but stare at on the shelf. By the time I composed myself Jimmy had put out cheese and crackers with coffee. I then remembered I brought fresh baked goodies from Toymakers Café. I ran out to my bike to retrieve them.
Coming back inside, I wanted to share just how much I knew about Piet – how he eloped on a motorcycle with his wife Lillian in 1948, how his first bike was a 1947 Harley that he stripped down to ride his first enduro with, how he joined the A.M.A. in 1948 – but I wondered where to start. Piet solved my problem by asking where I rode from that morning, which led the conversation into people, places and dealers.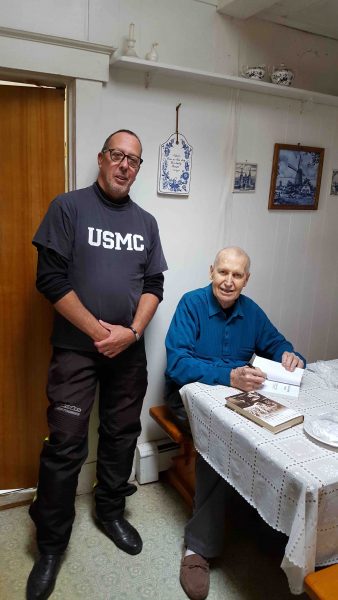 I was excited to find out that he and I knew some of the same people, been to some of the same places and crossed some of the same roads. His modesty was almost unbelievable. Listening to him share stories of riding the Dempster Highway in the Yukon almost frightened me. He told about being 230 miles past the road closed sign on the Dempster and riding for miles in the mud with his feet down to hold himself up. At one point, he saw headlights come up behind him which turned out to be a ranger following his tracks wondering what makes three lines like that in the mud. Upon reaching the Ranger station 30 miles further up, he walked in and they looked at him like he fell from space.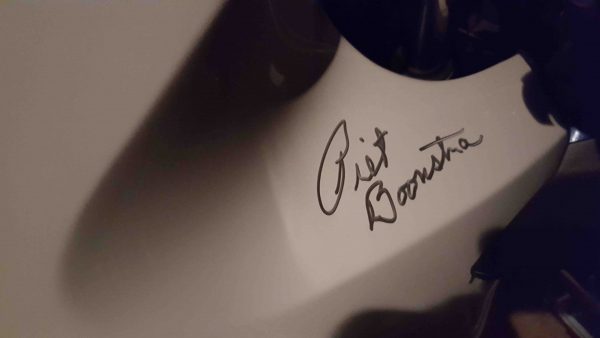 After several hours of great company and conversation, I had one request of Piet before I left: Would he sign my motorcycle? His expression was priceless when he realized that I was sincere. This kind and thoughtful man not only signed my bike, but gave me a signed copy of his book motorcycling stories.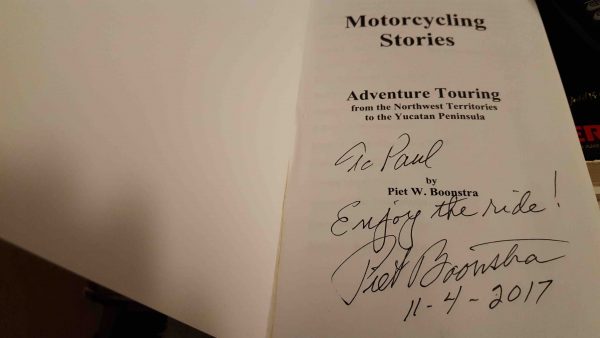 Piet is now 92 years old and only stopped riding about three years ago. It was a tough decision for him to make for many reasons. I believe given the opportunity and blessing of his family, Piet would throw that leg over the seat again.
I'm still pinching myself: I met Piet Boonstra!