NORTH GRANBY, CT – The Crotona Midnight Run will be staged for the 101st time next Sunday morning in Nanuet, NY and, for the second consecutive year, "Always Riding" columnist Paul Siciliano will be participating (and raising a little money for charity).
This time Siciliano will be fighting the cold and fatigue on his 1989 Honda Gold Wing sidecar rig, assisted by "monkey" Paul Weinberg of West Springfield, MA.
"I did it on two wheels, now I want to do it on three. I am an avid sidecar rider," said Siciliano, who spent part of this weekend attaching an auxiliary light bar atop the motorcycle's wind screen to help with seeing road signs along the route.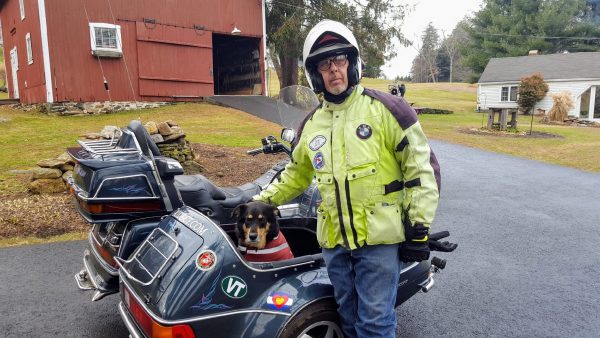 The Crotona Midnight Run has two classes – expert and novice. As a novice a year ago, Siciliano came in fourth place. He's classified as an expert this time and has entered "'cause I didn't do well enough last year – 'cause I didn't win."
Siciliano and Weinberg have been practicing late night and early mornings for the past three to four weeks. Weinberg will be his navigator. The run is a timed road rally with hidden checkpoints and a required speed of 30 miles per hour.
Hudson Valley Harley-Davidson is the start/finish line, with the first participant leaving at 12:01 a.m. Sunday. While he rode to and from the event last year, Siciliano has accepted an offer from friend John Schnabel to trailer his rig to New York.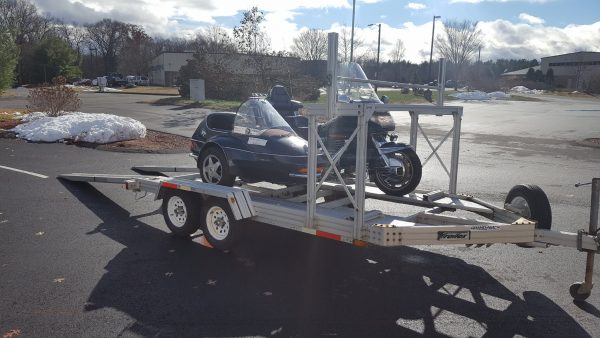 The extended forecast is currently calling for rain and/or snow, which Siciliano thinks may work to his advantage having three wheels. " I saw the weather and I got excited," he said.
The Crotona Midnight Run is put on by the Ramapo Motorcycle Club. It benefits the Rockland Home for Heroes but Siciliano is piggybacking the charity effort by raising additional money in memory of his mother for the Alzheimer's Association. Nearly 20 folks have already pledged $2,150. Donations may be made here.
Siciliano's hopes to improve his result in Crotona Midnight Run in his second effort. "Last year I got off course," he recalled, explaining that he mixed up directions on the route sheet, transposing one for 9.0 miles for one that said 0.9 miles. "I went 8.1 miles in the wrong direction," he said.