(Updated at 9 p.m. on Jan. 2, 2019 – Buzz Kanter reports tonight that the Indian Four has been sold to a collector and vintage Indian rider from the South and that it will be picked up on Thursday. "I got my price," he messaged. "Now I have to decide what to offer for sale next. Too many bikes, not enough time or garage space!")
STAMFORD, CT – "American Iron" magazine publisher and editor-in-chief Buzz Kanter is ending the year by thinning his personal stable. This morning on Facebook, Kanter offered up a gorgeous and rare 1930 Indian Four. "This is not a fire sale," he wrote in one of two posts promoting the Indian, saying he's looking for "offers over $80,000."
"It is a beauty and a great runner," wrote Kanter, who reported that he has owned the vintage Indian for more than a decade. "I have not ridden it in at least 2 years, so it is now available for sale."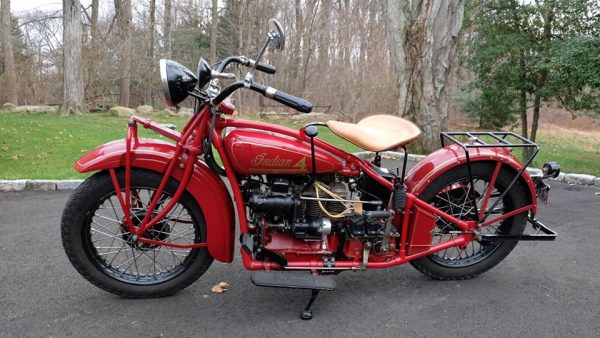 The Indian is lacking its original magneto, which is included in the sale. "A friend (literally a rocket scientist) designed his own ignition from automotive components. Works great and runs fine," according to Kanter.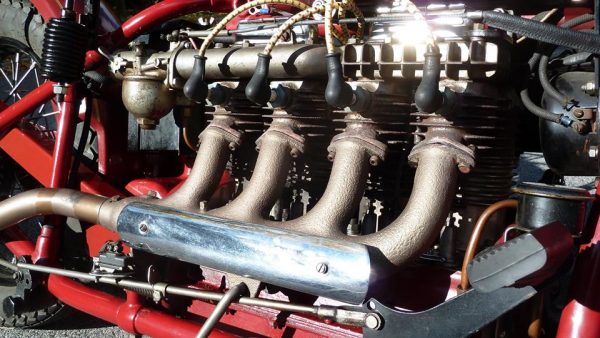 The bike will come with a title and is located in Connecticut. Kanter described the offering as being routine in that he regularly sells bikes in his collection to make room and to fund future purchases.
Indian built the Indian Four from 1928 until 1942 when civilian production of motorcycles was discontinued because of World War II. The model was based on a luxury Ace motorcycle. Indian purchased the partial assets of Ace Motor Corporation in 1927. Ace went out of business in 1924.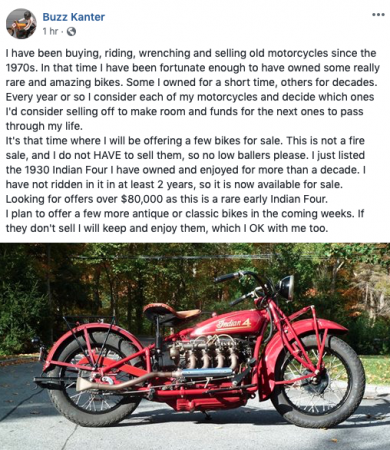 In a message early this afternoon to RIDE-CT & RIDE-NewEngland, Kanter said he's received "LOTS of serious interest. Would not be surprised if it sold in a day or three." Kanter may be reached through his Facebook page.
– By Bud Wilkinson