CHESTER, VT – A string of bright, sunny days here in February holds the promise of spring, yet we are still about a month away from the Vernal Equinox, or the first day of spring. This is my 46th year of holding a valid motorcycle license, so naturally these spring-like days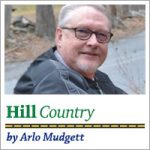 stir the motorcyclist inside to thoughts of two wheeled adventure.
Right now, I have five motorcycles stashed away in hibernation – an old 1977 dirt bike in fabulous condition, a project Honda Nighthawk, my Hinckley-built Triumph Bonneville, a Honda CB 550 cafe bike, and the Harley Sportster with the rubber mounted 1200 engine. While there will be several rides to choose from, I'm concentrating on the Harley this season. My focus is on changing the bike's color, which is currently is a bright, bright yellow with some very fine metal flake in it. The factory paint is beautifully executed, but I have other ideas.
In the depths of January I cruised the interwebs in search of some used Harley tins. My approach to the color change was to get a used tank and two fenders, strip off the original paint, take them to someone who can paint them to suit, then switch out the originals for the new stuff on the motorcycle.
Voila, new motorcycle, or at least the appearance of a new bike. The challenge has been to find the correct tank. It is not the usual Sportster peanut style, but a stretched and widened thing designed specifically for the 1200 Custom model.
It also had to be configured for a carbureted engine and not the fuel injected model. Fortunately, I found a Florida-based salvage yard called Fallen Cycles. They take a highly professional approach to selling used motorcycle parts. They make a video of each motorcycle, demonstrating all that does and does not function on the bike. Then they also post a bunch of photos of the parts as removed from the motorcycle, with circles drawn around dents, dings, and scrapes. The text contains accurate descriptions and further technical information.
I ponied up the money and bought the tank and rear fender off a model that had sustained a light front end hit. I found a front fender online from Epping, NH, and I was all set.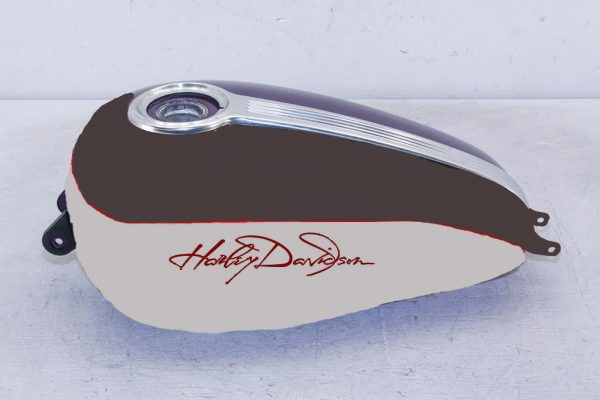 Using photos of my current bike, I experimented with different color combinations in Photoshop. After a bunch of iterations I came up with a two-tone paint scheme that looks good on paper. I'll have to talk with the painter to determine if there will be any problems with the design, but I don't anticipate anything being an issue.
The idea is to have a graceful section, about a third, of the top of the gas tank painted a flat black which is much easier on the eyes in bright sun. The lower two-thirds of the tank is to be sprayed in a simple battleship gray, no fancy metal flake, just solid color. The plan calls for a simple burgundy pinstripe to delineate the colors, and a burgundy text decal on the side of the tank that says "Harley Davidson." I've already got the decal, and we can match the pinstripe color from that.
The fenders will have a similar design. I do understand that the current yellow color is so bright that it is highly visible in traffic, which is a good thing, but I've got other ideas about conspicuous. I just wanted a toned down color on the motorcycle itself. Additionally, the idea is to recoup a portion of the cost of this project by selling off the yellow tins once they are removed. By doing it this way I shouldn't be missing more than a coupe days of riding while getting the tins switched over.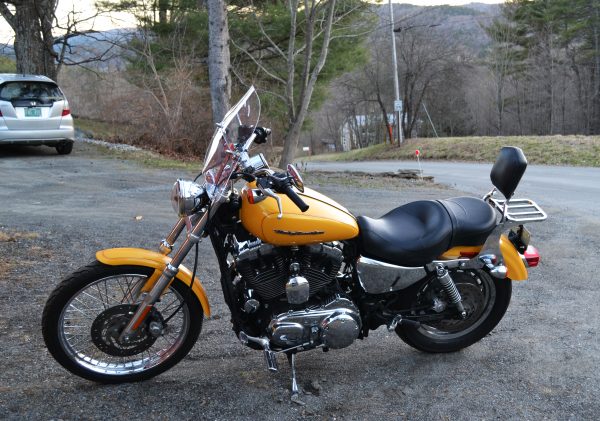 After all, riding is the whole point of having a motorcycle. It's a short enough riding season here in Vermont without finding ways to make it shorter! I can see the motorcycle sitting in the garage, missing a bunch of parts, and being unavailable to ride for what could be weeks or months. That's been my experience with certain other projects, and life is just too short to miss out on valuable riding weather.
There are a lot of folks in the riding community who would feel that doing these types of modifications to your motorcycle should be done yourself. To the hardcore types, I simply say that I do other things well, painting and replacing the tins on a motorcycle is best left to those who do that sort of thing well. Plus, it is a form of shopping locally. I use the money I earn from doing my work to pay another local person to do their work. Nothing against yellow, but it just isn't my preferred color, and that's why I'm looking forward to my Sportster becoming a bit of a chameleon.