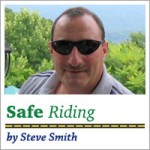 Engine braking is the phenomena experienced whenever a rider rolls off the throttle and the motorcycle slows down due to the resistance provided by the engine and transmission. The affect is enhanced by changing to a lower gear.
Prior to the downshift the wheels, engine, and transmission have a matched speed. The downshift changes this and causes the engine to rev up a bit as the clutch is released causing more slowing affect similar to braking to the rear wheel.
Engine braking can be used either alone or in combination with using the brakes, depending on the desired braking needed. If you're slowing using only engine braking, it is advisable to flash the brake light to alert traffic behind.
While engine braking is useful to slow down from higher speeds, there is an added benefit when using this technique when riding at low speeds. It is helpful when slowly approaching a red traffic light and having the ability to accelerate away if the light turns green before coming to a stop.
Another benefit is the continued development of the habit of being first gear whenever coming to a complete stop. The downshift to first sets up the rider up to be in the proper gear to start out or to accelerate quickly to avoid a collision from the rear if the vehicle behind doesn't stop.