DES PLAINES, IL – Motorcycle thefts in the U.S. continue to decline with 40,380 taken in 2019, according to a just-released report from the National Insurance Crime Bureau. That's a drop of 1,294 from 2018.
New England is a safe region to own a motorcycle with three states – Vermont, Maine and New Hampshire – ranking among the Bottom 5 on a list of the 50 states and the District of Columbia.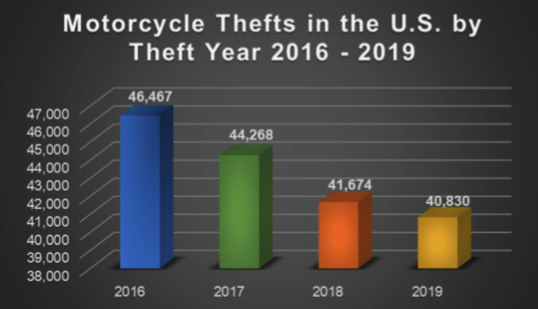 That wasn't true of New York, which was among the Top 5.
Bike thefts have fallen 12 percent since 2016, the NICB reported, while revealing that the recovery rate of motorcycles in 2019 was 46 percent with 18,857 recovered.
California ranked No. 1 for motorcycle thefts in 2019 with 6,913, followed by Florida (4,085), Texas (3,165), South Carolina (1,601) and New York (1,573).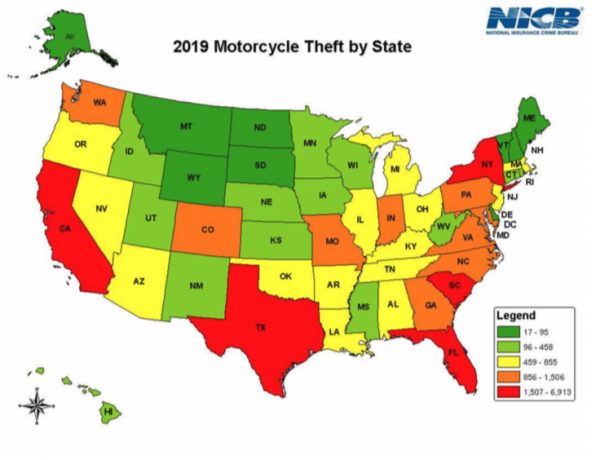 Vermont ranked at the bottom of the list (in 51st place) with 17 thefts, followed by Wyoming (23), Maine (33), North Dakota (65) and South Dakota (69).
New Hampshire was next in 46th place with 74 thefts. Among the other New England states, Rhode Island ranked 40th with 135 thefts, Connecticut came in 32nd with 412 and Massachusetts was 17th with 788.
The state of New York ranked 5th with 1,573 thefts. The city of New York held the top spot, though, on the report's list of cities with the most bike thefts, followed by San Diego, San Francisco, Miami and Los Angeles.
The top brands preferred by thieves were Honda (8,122), Yamaha (6,495), Harley-Davidson (4,737), Suzuki (4,686) and Kawasaki (4,641).
Most motorcycle thefts occurred in August (4,642), while the fewest were in February (1,972), a reflection of the weather.
The NICB's annual report is based on statistics compiled by the FBI's National Crime Information Center.
Hello! If you enjoyed this story, please share it by clicking on the social media buttons below.