DES PLAINES, IL – In a report that can be viewed as reassuring to riders in the region, the New England states were among the lowest in motorcycle thefts in 2018, according to the National Insurance Crime Bureau.
Nationally, 41,674 motorcycles (and scooters) were stolen in 2018, a six percent decrease from 2017 when 44,268 were swiped. California ranked No. 1 in thefts in 2018 with 7,035, followed by Florida (4,279) and Texas (3,073), the NICB reported.
Vermont Came In Last Place
Vermont came in last in the recently-released report – 51st place as the District of Columbia is included – with only 22 thefts. Maine was next in 50th place with only 30 thefts.
New Hampshire ranked 47th with 66 bikes stolen and Rhode Island came in 40th with 149. Connecticut ranked 30th with 422.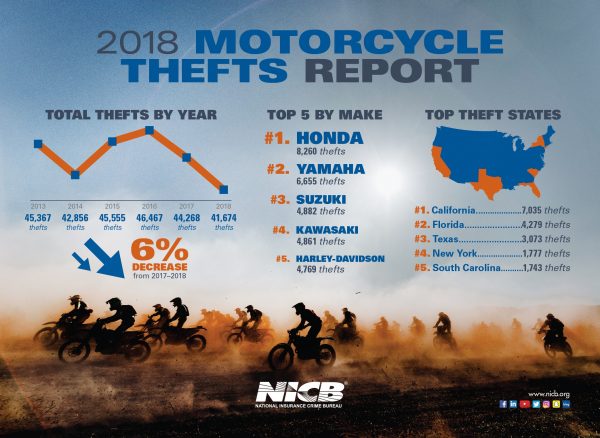 Only Massachusetts, with 862 thefts, ranked in the Top 20 among the New England states. It came in 14th in the report.
New York didn't fare as well. The state ranked 4th on the list with 1,777 thefts, and NYC was atop the list of cities for theft. The Top 10 cities were New York with 1,310, followed by Los Angeles (628), Miami (595), Las Vegas (540), San Diego (527), San Francisco (520), Houston (460), Philadelphia (404), Austin (329) and San Jose (322).
Honda Bikes Most Likely To Be Taken
Motorcycles made by Honda were most likely to be stolen, with 8,260 thefts reported.
Honda was followed by Yamaha (6,655), Suzuki (4,882), Kawasaki (4,861), Harley-Davidson (4,769), TaoTao (1,851), KTM (780), Genuine (515), Ducati (455) and Kymco (413).
Predictably, most thefts occurred during the warm months. Most of the thefts in 2018 occurred during the months of August (4,749), July (4,703) and September, followed by June (4,164) and October (4,062).
The fewest thefts occurred in February (2,273), January (2,361) and December (2,421).
Of the 41,674 motorcycle thefts in 2018, 18,534 or 44 percent were recovered. Triumph had the highest recovery rate at 64 percent.
Top 10 States For Theft
The Top 10 states thefts – California, Florida, Texas, New York, South Carolina, North Carolina, Indiana, Missouri, Georgia and Colorado – accounted for more than 60 percent of the total thefts in 2018.
The six New England states accounted for less than seven percent of the total thefts in 2018.